Harsh Primary Races Leave Republicans Bitterly Divided
@kerryeleveld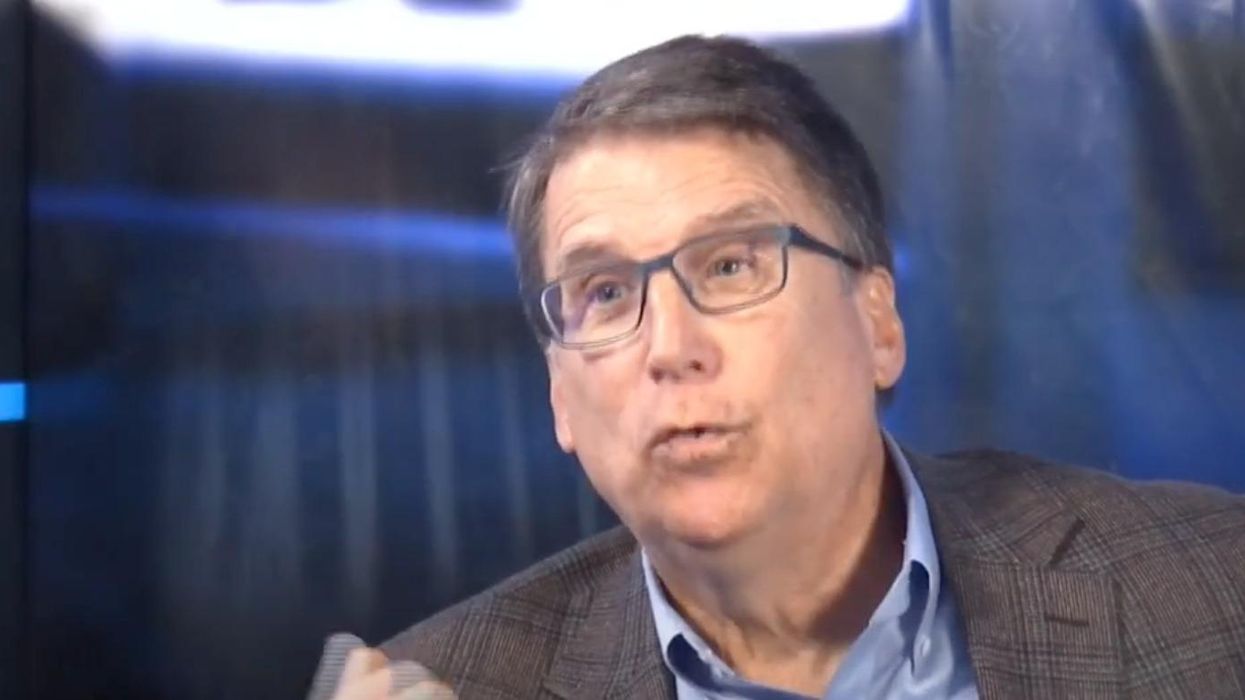 Youtube Screenshot
If former North Carolina Gov. Pat McCrory is any indication, the GOP primary wounds wrought in the last several months stand a good chance of bleeding into the general election this fall.
McCrory, who lost his bid Tuesday to become the Republican nominee for the Tar Heel State's open Senate seat, declined to endorse his GOP rival, Rep. Ted Budd, the Trump endorsee.
"What I need to do is get assurances from the current leaders in my state party that I haven't been cancelled, because for the past 13 months, I've been told I'm a RINO," McCrory said, using the acronym for Republicans In Name Only.
The term, once pejoratively used to describe Republicans who weren't conservative enough, has effectively become a slur hurled at Republicans who aren't considered loyal enough to Donald Trump.

But McCrory wanted the state party to "correct that" categorization, objecting to the insinuation that he wasn't a tried-and-true conservative.
"Maybe they didn't mean that," McCrory posited, "or if they meant it, I've gotta do some reevaluation. Because they not only said I was a RINO, they said I wasn't conservative—and I consider myself a pretty conservative guy."
But McCrory wasn't simply speaking for himself. He was using himself as a stand-in for the some 25% of GOP primary voters who cast their ballots for him and who will also make or break Republicans' chances of claiming that seat in November.
"This is going to be a very close general election," McCrory noted. "So I think my party, in order to win the general election, has still got to appeal to the conservatives like me—the Ronald Reagan conservative—in order to win North Carolina."
He challenged party leaders to come back to him and his supporters and embrace them as an "important" part of the Republican Party.
"But to do kind of a Mccarthyism within in our own party—saying some people belong and some people don't belong—man, we better correct that or we're not going to win the U.S. Senate or the White House in '24."
McCrory noted that GOP Sen. Thom Tillis won reelection last year by roughly 40,000 votes out of over 4 million cast.
"And that was with a flawed Democrat," he said of Cal Cunningham, who was dragged down in the final month of the race by a sexting scandal. "So the Republican Party is going to have to work hard here," McCrory said.
McCrory added that he wanted the Republican Majority in the Senate, but offered, "I think we're gong to have to have a little more courage in reaching out and not being so wrapped up in one individual."
And there's the rub. That one individual—otherwise known as "Individual 1" in criminal parlance—is Trump, who would much rather sacrifice the GOP Senate majority than welcome non-loyalists into a bigger tent party.
But McCrory isn't alone in his rejection of simply smoothing over intraparty ruptures in order to prevail in November. On the other end of the GOP spectrum is MAGA radical Kathy Barnette, who lost her bid Tuesday to become the Republican nominee for Pennsylvania's Senate seat. While her rivals, Trump endorsee Mehmet Oz and former hedge fund CEO David McCormick, are locked almost dead even at 31% each, Barnette still managed to commandeer some 25% of the GOP vote with her late rise to prominence in the race. It's nothing to sneeze at in a state that promises to host one of the most competitive general-election Senate contests in the country.
But Barnette is already on the record saying she doesn't intend to endorse either of her rivals, whom she has cast as MAGA posers even though Oz won Trump's endorsement.
Asked by right-wing Breitbart News Monday if she planned to back her GOP challengers, Barnette responded, "I have no intentions of supporting globalists. I believe we have ran out of room on this runway for this nation. I believe we have very little rope left to just roll the dice and we'll see how it works on the other end."
Barnette's slash and burn continued on Wednesday as she seized on Dr. Oz's election-night shout out to Fox News' Sean Hannity for offering his advice and consultation "this entire campaign."
That admission clearly got under Barnette's skin. "I do want to say, never forget what Sean Hannity did in this race," Barnette said in a video statement thanking her supporters. "Almost single-handedly, Sean Hannity sowed seeds of disinformation, flat-out lies, every night for the past five days. And that was just extremely hard to overcome."
By contrast, Rep. Connor Lamb of Pennsylvania, who lost the Democratic Senate primary Tuesday to Lt. Gov. John Fetterman by a roughly 33-point margin, issued an amicable statement conceding the race.
"I entered this believing PA Dems needed a real debate, and I'm proud of the campaign we gave you," Lamb tweeted Tuesday night. "Today, voters made it clear that John is their choice. I respect their decision and congratulate John on his victory."
But don't worry, folks, if you're enjoying the post-primary Republican infighting, more is surely coming after next week's GOP primary in Georgia, where Trump endorsee David Perdue appears poised to lose his effort to oust incumbent GOP Gov. Brian Kemp, whom Trump still despises with a white hot hate.
Here's McCrory's interview—very much worth the watch since he is taking up the mantle of old-school Republicans as ideological outcasts in today's MAGA-dominated GOP.
Reprinted with permission from Daily Kos.