Hawaii Sets Friday Make-Up Election To Decide Senate Nomination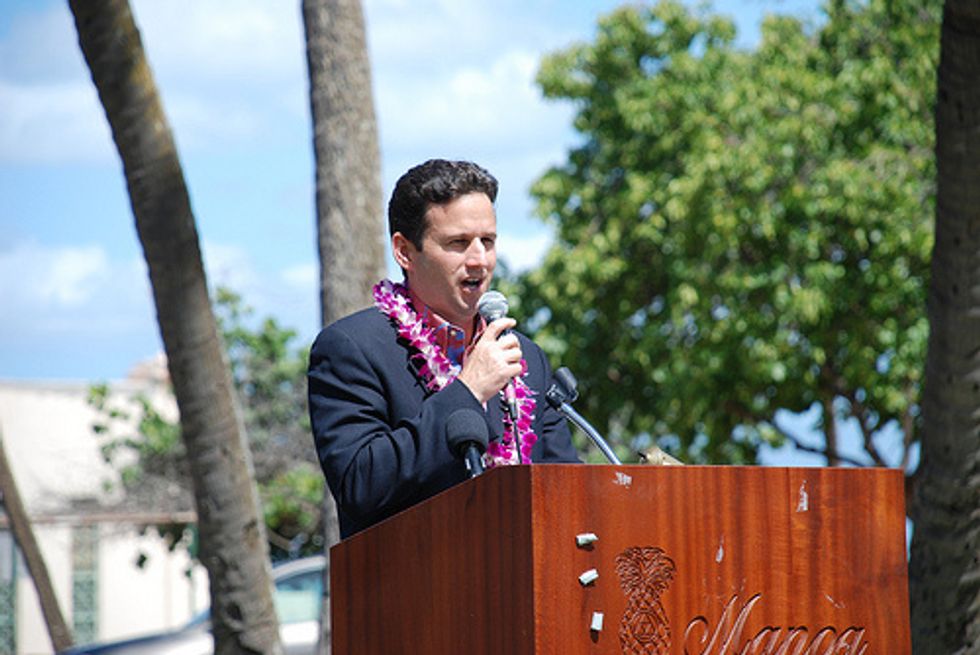 By Cathleen Decker, Los Angeles Times
A primary election in Hawaii that had threatened to extend weeks beyond last Saturday's balloting will conclude Friday when voters affected by Tropical Storm Iselle cast the remaining ballots that will determine the Democratic nominee for the U.S. Senate.
Appointed incumbent Sen. Brian Schatz held a lead of 1,635 votes, out of 230,000 cast, over challenger and U.S. Rep. Colleen Hanabusa when ballots from all but two precincts were tallied.
Voting in the two precincts in the Puna area of the Big Island had been postponed because of power outages and blocked roads caused by Iselle, which came ashore early Friday.
Initially, state officials had said they would mail ballots to those who had not heeded calls to vote before the storm, and give residents three weeks to return them.
But on Monday night, state election officer Scott Nago announced that voting would be held Friday, for storm-affected residents only, at the local Keonepoko Elementary School. Results will be announced Friday night, cutting short what otherwise would have been a lengthy wait to determine the majority party nominee.
Nago said in a statement that the change in plans followed consultations with the state attorney general, the Defense Department, and county election officials.
Although the Senate race technically has been too close to call, the election math is not in Hanabusa's favor.
Just over 8,000 voters reside in the two precincts, and many either already cast ballots or don't regularly vote. Among the remainder, Hanabusa would have to overwhelm Schatz, something she failed to do in any area of the state on Saturday. (Schatz has narrowly defeated her in Big Island ballots cast so far.)
The tumultuous finish was in keeping with the controversy that has surrounded the seat. It became open with the December 2012 death of longtime Sen. Daniel K. Inouye, who just before he died sent a letter to Gov. Neil Abercrombie asking that Hanabusa take the seat.
But Abercrombie instead appointed Schatz, who was his lieutenant governor. Abercrombie further inflamed Hanabusa's supporters and the state's Japanese-American political establishment by questioning in a Los Angeles Times interview whether Inouye actually was the author of the Hanabusa request. (He later apologized to Inouye's widow but insisted the senator had given him free rein to appoint whomever he wanted.)
The Schatz appointment and Abercrombie's subsequent comments were factors in the governor's landslide primary loss Saturday to fellow Democrat and state Sen. David Ige.
Schatz, not burdened by Abercrombie's record of antagonizing key elements of his own party, managed to carve out enough of an independent image to survive the initial balloting and, analysts on the island expect, the closing votes on Friday. (Even before Friday, Schatz had carried 40,000 more Democratic votes than the governor.)
"He's been in office a year — and then to them he's a senator, he's not running as Neil Abercrombie's lieutenant governor," said California-based Democratic pollster Ben Tulchin, who has done extensive work in Hawaii for independent groups.
The Democratic nominee will face Republican Cam Cavasso in November for the right to serve out the final two years of Inouye's term. But even Republican analysts have suggested that, no matter who wins the Democratic nod, the party's advantage is such that the general election is a formality.
Photo: Waikiki Natatorium via Flickr
Interested in U.S. politics? Sign up for our daily email newsletter!