Heading Into Endgame, Mcconnell Declares 'Dysfunction Is Over'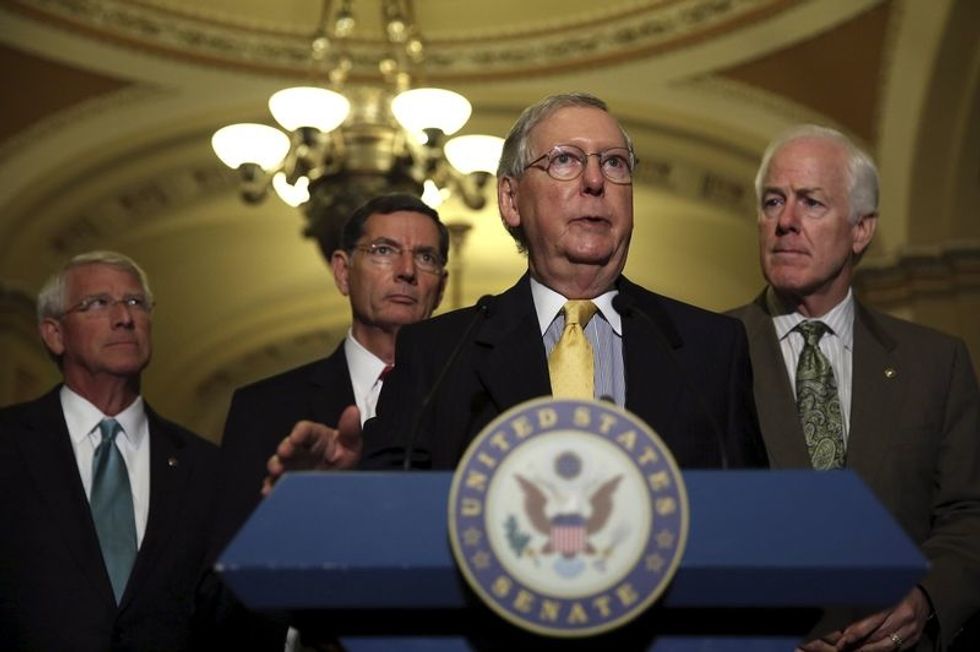 By Bridget Bowman and Niels Lesniewski, CQ-Roll Call (TNS)
WASHINGTON — He may be fond of saying there's no education in the second kick of a mule, but Senate Majority Leader Mitch McConnell is plotting another run at a functioning appropriations process in 2016.
Despite Congress blowing past multiple deadlines to finalize funding the government for the year, the Kentucky Republican said holding more than 200 amendment votes and adopting a budget resolution were successes, though he acknowledged there's plenty of work left to do before Christmas.
Though President Barack Obama signed a short-term funding resolution to keep the government open until Dec. 16, tough negotiations remain in getting a year-end deal.
But McConnell was undeterred in arguing that the Senate functioned better with a more open process. "I think I can safely say here at the end of the first year of this new majority, dysfunction is over," he said.
In an interview with Roll Call on Dec. 11 in his Capitol office, McConnell touted successes in restoring the Senate's productivity, even as negotiations dragged on for a catch-all omnibus spending bill to wrap up before Christmas.
He said that the contours of the budget plan agreed to earlier this fall should prevent the standoff with Democrats over top-line funding levels. That standoff prevented McConnell from bringing each spending bill to the floor one at a time.
"Now that we know how much we're going to spend next year, I'm prepared to tell you I'm willing to spend a lot of floor time on passing individual appropriation bills. I hope and expect there will not be that kind of obstruction next year since we already know how much we're going to spend," McConnell said. "They've got the ultimate backstop. The president can veto a given bill."
McConnell is intent on keeping the Senate running next year, even as the presidential election and hotly contested Senate races threaten to divert lawmakers' attention from legislating to campaigning. There's also an unusually long August recess to contend with given the national party convention schedule. Those conventions start in July.
"I don't think we ought to use the fact that there's an election coming up as an excuse for not being productive," McConnell said.
But McConnell also pointed out that being productive is sure to assist the senators running for re-election in key swing states. Of the 24 Senate Republicans up for re-election in 2016, nine of them are among the 10 most vulnerable senators. Seven Republicans are also running in states that Obama won in 2008 and 2012.
"I would have honestly run the Senate this way anyway, because I think it's what's in the best interest of the American people," McConnell said. "But it's also accurate that the key to our majority lies in purple states."
"So I think you can ask any of our members from purple states and they'll tell you they want us to accomplish things, to be effective on behalf of the American people — as much as we can, given the fact that we have a president with whom we don't agree on very much," McConnell added.
Always the political tactician, McConnell rattled off the vital swing states, including New Hampshire, Pennsylvania, Ohio, Wisconsin, Nevada, Colorado and Florida. He also said the traditionally Democratic Illinois is a key state for Republicans.
"Except for Virginia, which doesn't have a state Senate race, every one of those states is going to determine who the president is and also who is in the majority in the Senate," McConnell said.
Democrats have long argued that they have been far more cooperative in advancing legislation than McConnell and his conference ever were when in the minority.
In reflecting on accomplishments for 2015, McConnell counted not only bipartisan success stories that became law (including the overdue re-write of the education law previously known as No Child Left Behind that was signed into law just last week), but also bills that forced Obama to use his veto pen.
In addition to the recently Senate-passed budget reconciliation bill undercutting the Affordable Care Act, that list includes the legislation that would have approved of the Keystone XL pipeline from Canada and several joint resolutions of disapproval against Obama administration regulations.
McConnell is well aware there's much left to do in order to declare his first year as majority leader a success, since government funding remains unresolved. With negotiations ongoing on the fiscal 2016 endgame, McConnell demurred on the prospects that individual contentious policy riders would make the final omnibus package.
Asked about a proposal he favors to allow more coordination among party political organizations, McConnell said, "it would be a major benefit to both the political parties in a period during which more and more information flow is conducted by outside groups."
"Weaker parties, I think, is not a good idea for America," said McConnell.
©2015 CQ-Roll Call, Inc., All Rights Reserved. Distributed by Tribune Content Agency, LLC.
Photo: (L-R) Senate Republican leaders Senator Roger Wicker (R-MS), John Barrasso (R-WY), Senate Majority Leader Mitch McConnell (R-KY) and Senate Majority Whip John Cornyn (R-TX) take questions from the media regarding the upcoming budget battle on Capitol Hill in Washington September 29, 2015.   REUTERS/Gary Cameron