Heather Nauert Withdraws Troubled Nomination For UN Ambassador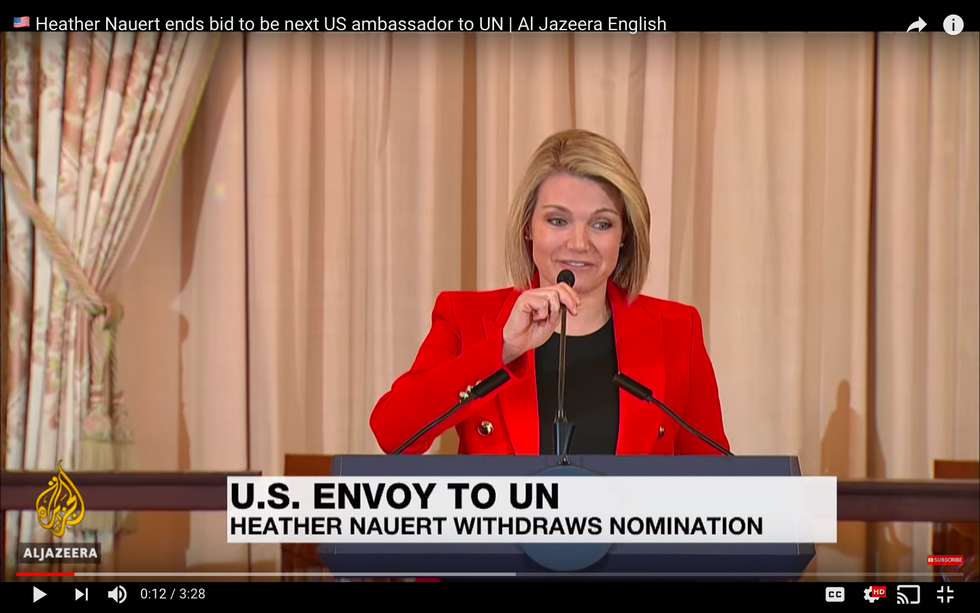 Reprinted with permission from Alternet.
President Donald Trump's embattled nominee to become the next UN Ambassador Saturday evening officially withdrew her nomination after two months of rumors surrounding her hiring of a nanny not authorized to work in the United States, Bloomberg News reports.
Heather Nauert, who has served as spokesperson for the United States Department of State since April of 2017, also served for a good portion of 2018 as the Acting Under Secretary of State for Public Diplomacy and Public Affairs. Many had questioned her appointment to that position, given her thin resume.
"I am grateful to President Trump and Secretary Pompeo for the trust they placed in me for considering me for the position of U.S. Ambassador to the United Nations," Nauert, a former Fox & Friends co-host, said in the statement. "However, the past two months have been grueling for my family and therefore it is in the best interest of my family that I withdraw my name from consideration."
Nauert had previously hired a nanny who, although in the country legally, is believed to have been not authorized to work in the U.S., Bloomberg notes, calling the situation "politically untenable."
Nauert did not specifically admit to the illegal hiring, nor did she say she would resign her current State Department Position, something that would be automatically required in any other administration.
No doubt Nauert's Senate confirmation process would have been highly confrontational. In addition to the illegal hiring, Nauert made controversial decisions as State Dept. spokesperson.
During her tenure at "Foggy Bottom," as the State Dept. is often called, Nauert has attacked the press, lied about the U.S. voting against a death penalty resolution protecting LGBT people, and was apparently unaware that North Korea "has the bomb."