Heaven Help The Little Guy In This Administration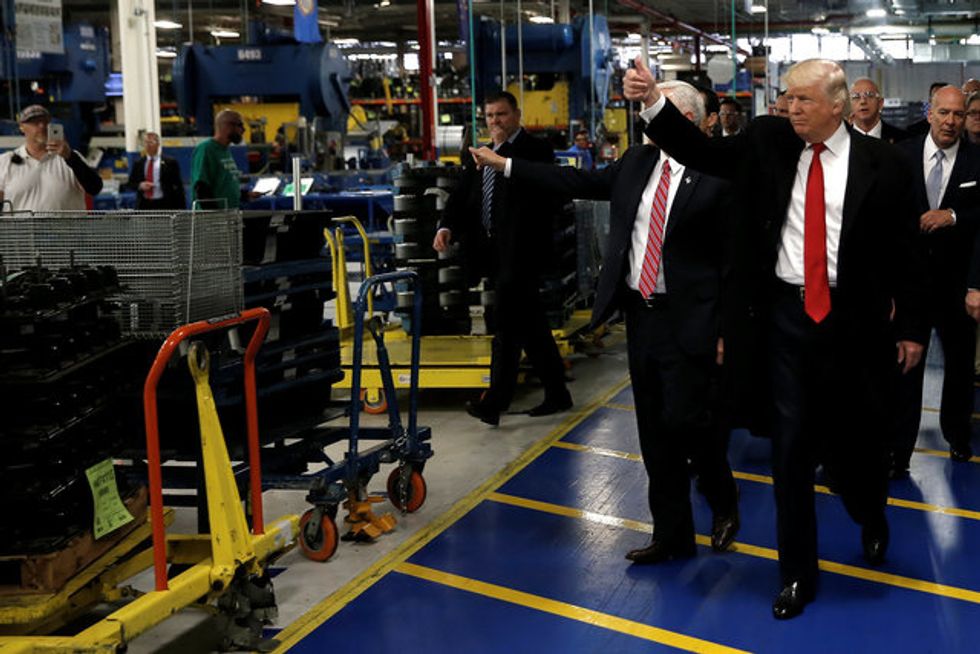 With Andrew Puzder's decision to withdraw from consideration as secretary of labor, advocates for America's working men and women are doing a little victory dance. Progressive senators, labor unions, and other allies of the working class believe they have managed an important win against an administration of robber barons.
Speaking to low-wage workers rallying near the Capitol on Thursday, Sen. Elizabeth Warren, D-Mass., said, "Our voices have been heard. That man will not be secretary of labor."
Unfortunately, the celebratory dance is premature. Just weeks into his tenure, President Trump has already stuck a sharp stick in the eye of his working-class supporters, and he won't stop just because one nominee was upended. Puzder's departure changes nothing.
The nascent Trump administration has generated so much controversy, so much chaos, and so much scandal in its first month or so that it's hard to keep up with all the damage being done to democratic norms and to basic decency. In a normal administration, the new president would already be undone by his administration's clearly inappropriate (and quite possibly treasonous) dealings with a foreign rival, Russia.
But this is no normal administration, and these are no normal times. In this hyper-partisan era, when the president and his henchmen dismiss clear and obvious facts, Republican officeholders and their constituents are standing by Trump's perfidy.
It doesn't seem to matter that he has already betrayed the promises he made to the white working class, whose economic anxiety is credited with vaulting him into the Oval Office.
Just take a look at the number of hands Trump has hired from Wall Street. He blasted Democratic nominee Hillary Clinton throughout the campaign for her ties to the nation's wealthy bankers, claiming she would be "totally controlled by Wall Street and all the people that gave her millions."
But in a stunning display of cynicism, even by political standards, Trump named a wealthy former Goldman Sachs partner, Steven Mnuchin, as secretary of the treasury. He has named Goldman Sachs' chief operating officer as the head of his Council of Economic Advisers. Indeed, Trump will have one of the wealthiest Cabinets in recent history, having named a lineup of billionaires and millionaires to fill out his team.
And what is that administration doing, with the aid of a Republican Congress? Why, they are busy rolling back the regulations that President Obama put in place to prevent another financial crisis of the sort that struck in 2008.
The financial meltdown was brought to you by Wall Street greed, but its misery was visited on ordinary Americans, who lost their jobs, their homes and their life savings. Trump's allies couldn't wait for the chance to reclaim the freewheeling environment that allowed them to make that mess.
And that's just the beginning. Speaker Paul Ryan and a coterie of ultraconservative Republicans in Congress have long wanted to take an ax to the government programs that aid the poor, including food stamps, housing assistance, and school lunch programs. Never mind that those programs have lifted more white Americans out of poverty than black or brown ones, according to a new study by the Center on Budget and Policy Priorities, a left-leaning think tank. Trump may block Ryan's efforts to trim Social Security, but he is likely to allow him to diminish other parts of the social safety net.
When all is said and done, then, Puzder's departure will matter little. Yes, his record showed a corporate leader whose rhetoric was uniquely reprehensible. He once said he preferred robots to human workers because "they're always polite, they always upsell, they never take a vacation, they never show up late, there's never a slip-and-fall, or an age, sex, or race discrimination case."
But Puzder's confirmation was not thwarted because of his egregious record on labor. He ran into trouble because he supports a generous policy on immigration and also hired an undocumented immigrant as a housekeeper, and several Republican senators objected to that.
Puzder's replacement, Alexander Acosta, hails from an immigrant background (his parents came from Cuba), and he is a former U.S. attorney. But there is no reason to expect him to have any great compassion or concern for the little guy. Trump's white working-class supporters are in for nothing but disappointment.
Cynthia Tucker won the Pulitzer Prize for commentary in 2007. She can be reached at cynthia@cynthiatucker.com.
IMAGE: U.S. President-elect Donald Trump and Vice-President Elect Mike Pence tour a Carrier factory in Indianapolis, Indiana, U.S., December 1, 2016. REUTERS/Mike Segar