Hedge Funds Have Taken Puerto Rico Hostage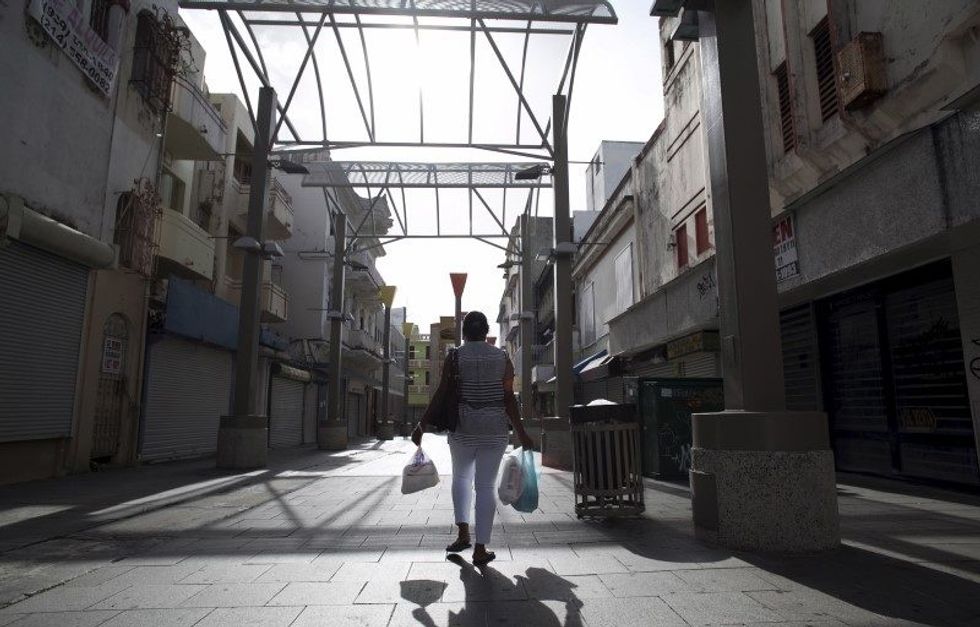 In February 2014, Puerto Rico's bonds were declared junk by Standard & Poor's — that's the technical term. The following month, the territory sold $3.5 billion of them, mostly to U.S. hedge funds.
It was the final deal in a selling frenzy: $126.6 billion worth of bonds were issued by the central government, various utility companies and other agencies, and the island's sales tax-based finance corporation, created with the help of investment banks. Wall Street has netted an estimated $900 million in underwriting fees since 2000.
And it was a terrible deal, with interest rates on the tax exempt bonds reaching just south of nine percent, constitutionally guaranteed to be paid back first and in full. Crucially, any litigation related to repayment would take place in New York.
Investors knew exactly what they were buying. Indeed, the prospectus stated that the island would likely need to restructure its debts. It was vastly oversubscribed.
For the hedge funds, described now as "vultures" by Puerto Rico's governor, Alejandro Garcia Padilla, it was a very good deal. When it was was struck, Garcia Padilla said it was just one step toward bettering the island's finances. In fact, it was Puerto Rico's last roll.
Despite deep cuts to services and layoffs of thousands of government workers, the cash infusion didn't provide the expected stimulus effect. Puerto Rico is $73 billion in the hole, and this month Padilla had to choose between paying for basic services or defaulting on the debt. Puerto Rico defaulted May 1 on $367 million in interest and principal owed.
A congressional panel led by ranking members of the House Natural Resources Committee met late Wednesday evening to try and craft a bill to allow Puerto Rico to restructure its debts and finances, overseen by a fiscal control board.
The island is barred from declaring bankruptcy, and a majority of lawmakers are not willing to back a bail out. But just about everyone agrees something drastic must be done, including a majority of the municipal and mutual funds that hold a huge amount of the debt.
"What we are seeing in Puerto Rico is if you push it off, the situation gets worse, the debt gets worse, the humanitarian crisis gets worse," the committee's chairman, Utah Republican Rob Bishop, told Reuters Wednesday.
Treasury Secretary Jack Lew, on a recent visit to the island, said a bailout may eventually be necessary in order to pay police officers and firefighters.
"What we can only look forward to, if Congress does not act, is things will get worse and worse," Lew said. "It can't stay where it is."
The supplier of gas for ambulances, police cars, and fire engines in Puerto Rico has threatened to cut of supplies for non-payment of bills.
Septic tanks, a breeding ground for Zika-carrying mosquitoes, are overflowing because there is no money to pay contractors to empty them
The territory has shuttered 150 schools in recent years, a number estimated to grow to 600 over the next five years.
Young, working age Puerto Ricans are fleeing. So are doctors, with one leaving every day, according to one study. In 2015, 85,000 people left the island, 2.5 percent of its population.
The unemployment rate is 12 percent and rising, as is the poverty rate, now close to 50 percent.
Puerto Rico's next repayment date is July 1, when close to $2 billion is due. Crucially, this includes $805 million in general obligation debt, which, under the constitution, must be paid before any other expenses, including services.
It was general obligation debt that the hedge funds, including Aurelius Capital, Brigade Capital Management LP; Perry Capital LLC, Fir Tree Partners and Centerbridge Partners LP, incorporated into the deal in March 2014. Now they want their money.
Some of these hedge funds are believed to be behind a campaign decrying the restructuring deal as a "bailout" — though we can't be certain, as the "dark money" group behind the ads doesn't have to disclose its donors.
In a position paper, the Center for Individual Freedom, a conservative think tank, acknowledged that restructuring Puerto Rico's debt wouldn't constitute a bailout by the federal government. But it does claim that action by Congress would take place "directly on the backs of individual investors and retirees in Puerto Rico and across the United States who own Puerto Rican bonds in mutual funds or other investment accounts."
Yet those managing other funds are largely in favor of a restructuring deal.
Oppenheimer, which runs various funds that bought billions in Puerto Rican bonds, said it "believes a strong fiscal control board, which should be beneficial for bondholders, should be included by any action Congress takes."
"The control board should have the power to require Puerto Rico to balance its budget, address pension liabilities and file restructuring petitions," it added in a statement on its website.
But Oppenheimer is opposed to a stay on litigation, which has been proposed by, among others, President Obama. It is designed to give the island at least some breathing room.
The hedge funds absolutely do not want a stay on litigation. In fact, that point is probably their highest priority. They have signaled their intention to immediately sue if Puerto Rico defaults on that $805 million.
And Argentina is their template: After the country defaulted on its debt in the early 2000s, most creditors agreed to deals, except a small number of hedge funds.
Fifteen years of litigation followed, in a court in New York, at the end of which the hedge funds emerged with huge profits from their investments. It was only finally resolved in February. It caused enormous problems for Argentina, which only managed to return to capital markets last month.
It will be clear soon whether this is how at least some of those hedge funds want to play the game again.