How To Help Puerto Rico, Even When The President Won't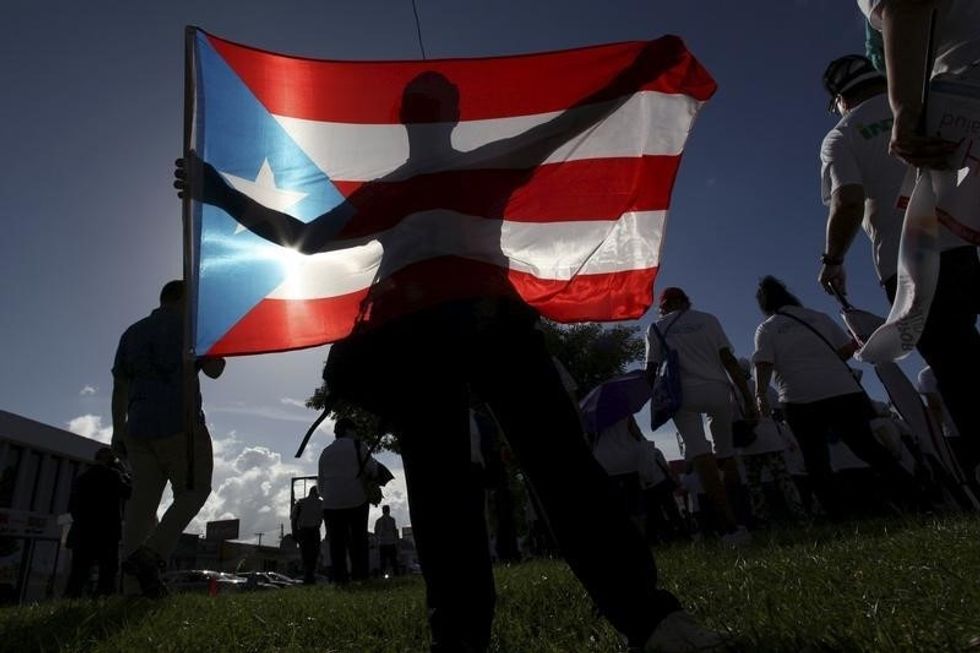 Reprinted with permission from AlterNet.
Donald Trump's idea of humanitarian aid to Puerto Rico is throwing paper towel rolls to a crowd. His callous and grandstanding attitude following Hurricane Maria's devastation is breathtaking, even for a man who uses a golden toilet. His cheap imitation of a T-shirt cannon was enough to make America collectively throw the phones we watched it on into the sea. If you're looking for less expensive ways to channel your rage, consider donating time, money or supplies to organizations and individuals on the ground in Puerto Rico. It's infuriating that America once again has to turn to private companies and non-profits to pick up the slack for the federal government, but until at least the 2018 midterms, we'll have to endure a few more months of government by GoFundMe.
Remember, this is going to take months, not days. Read on for ways to get started.
Donate Money to Organizations on the Ground 
The Hispanic Federation established the Unidos fund, with 100 percent of donations going toward relief for Hurricane Maria. Elected officials in New York City pledged $50,000 to begin, and donations are being collected for the foreseeable future. You can donate at the website, or text Unidos (space) Amount (space) and Your Name to 41444 (e.g., Unidos 100 John Doe).
Other options include the One America Appeal, started by five former U.S. presidents after Hurricane Harvey, which has expanded to include Irma and Maria relief efforts in Puerto Rico and the U.S. Virgin Islands; UNICEF; and the Center for Popular Democracy.
Crowd Funding
If you prefer to send money to individuals or want more direct control over where your donations go, search GoFundMe's Hurricane Maria hub.
Donate Supplies
The government of Puerto Rico has compiled a guide for how individuals and groups can donate everything from water and construction supplies to feminine hygiene products and diapers.
In New York City, which is home to a large population of Puerto Rican immigrants, fire stations are serving as drop-off centers for diapers, baby food, batteries, first aid supplies, and feminine hygiene products. Boston firehousesare doing the same, but even if you don't live in either of those cities, it's worth checking in with your local fire departments to see if they might be doing the same.
Even Real Housewife of New York and margarita mogul Bethenny Frankel is doing more for Puerto Rico than the president. As part of her B Strong Foundation, she sent four planes full of supplies and EMTs to Puerto Rico before Trump had thrown a single paper towel.
Spread the Word and Help Families Find Each Other
Large swaths of the island still don't have power, and might not for months. This makes it near impossible for families to get in touch with each other. Sometimes, as the Atlantic points out, residents of San Juan or other areas with fleeting cell phone service can manage a brief phone check-in or social media post, but these are few and far between. The Puerto Rico Maria Updates Facebook page has been a huge benefit for those who can obtain momentary wifi.
The Puerto Rican Federal Affairs Administration is asking people to contact the island's disaster relief team by emailing maria1@prfaa.pr.gov, and including, per its Twitter post, your contact information and as much information about your friends and family as possible.
#PRFAADisasterReliefpic.twitter.com/xumW2tYhFh

— PRFAA (@PRFAA) September 21, 2017
Ilana Novick is an AlterNet contributing writer and production editor.