Here's How To Push For Gun Control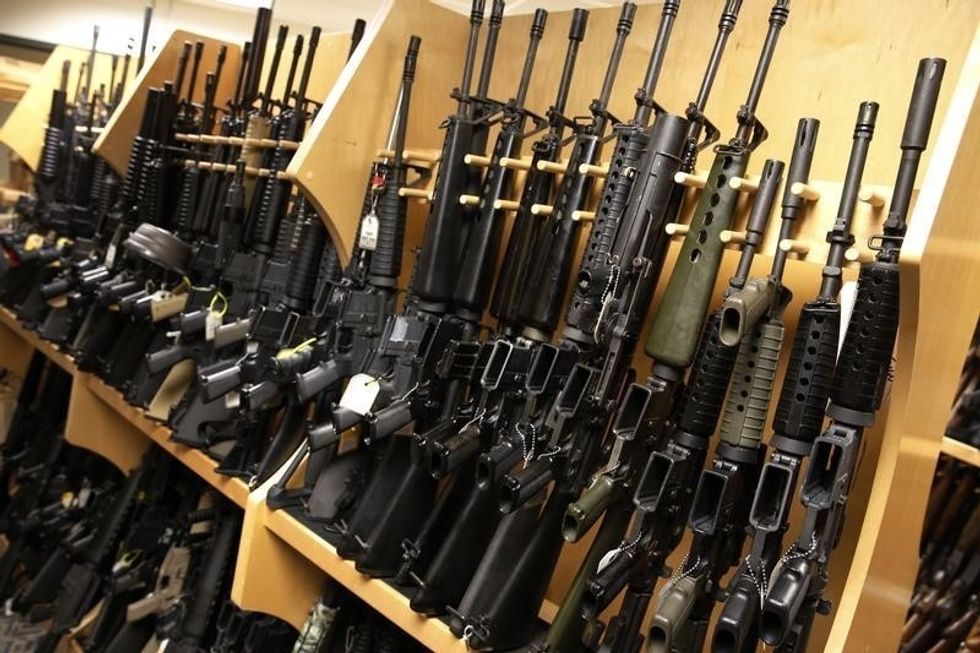 Reprinted with permission from AlterNet.
When the NRA finally emerged from its conspicuous silence following the mass shooting in Las Vegas, it showed a very slight crack in its anti-gun control armor. On Thursday, it released a statement in support of banning bump stocks, a device used by the Las Vegas shooter that allows semi-automatic weapons to fire like automatic ones.
Wayne LaPierre, the NRA's executive vice president and chief executive, issued a joint statement on regulating bump stocks with Chris W. Cox, executive director of the NRA Institute for Legislative Action, saying, "The NRA believes that devices designed to allow semiautomatic rifles to function like fully automatic rifles should be subject to additional regulations."
What the NRA didn't do, as the Daily Beast's Gideon Resnick and Sam Stein point out, is suggest Congress do the banning. Instead, NRA suggested that the Bureau of Alcohol make regulatory changes to bump stocks. Resnick and Stein write, "For individuals who have gone to war with the NRA in the past, the statement read like a master-class of misdirection. An organization built to promote gun ownership and gun rights wasn't acquiescing to political pressures so much as trying to shape them in their favor."
Still, some gun control advocates were cautiously optimistic.
"It's an encouraging first step," Mimi Carter, a spokeswoman for the Brady Campaign, an advocacy group for gun control, told AlterNet. "We look forward to identifying a comprehensive solution."
John Feinblatt, president of Everytown for Gun Safety, echoed the Brady Campaign, but added, "Congress should take action immediately to prohibit bump stocks and other conversion devices that end-run federal law by turning rifles into machine guns. This alone, however, will not solve our country's gun violence problem."
What will? Everytown for Gun Safety is encouraging gun control advocates to do the following:
Call your senators and demand that they vote no on "concealed carry reciprocity," the NRA's proposed legislation that would allow states to enforce their concealed carry laws over state lines, effectively allowing Americans to carry concealed weapons in all 50 states.
Call your congressional representatives and demand that they vote no on a proposed bill to gut gun silencer safety requirements.
If you want to go even further, you can encourage all of your representatives to revive legislation to expand background checks (which failed in the Senate following the 2013 Sandy Hook Massacre), or prevent terror suspects from obtaining firearms (which failed in 2015 following the attacks in San Bernardino), or bring back the assault weapons ban, which even Democrats voted against in 2013.
Ilana Novick is an AlterNet contributing writer and production editor.