"He's Only In It For Himself." Trump Turns On His "Friend" Steve Bannon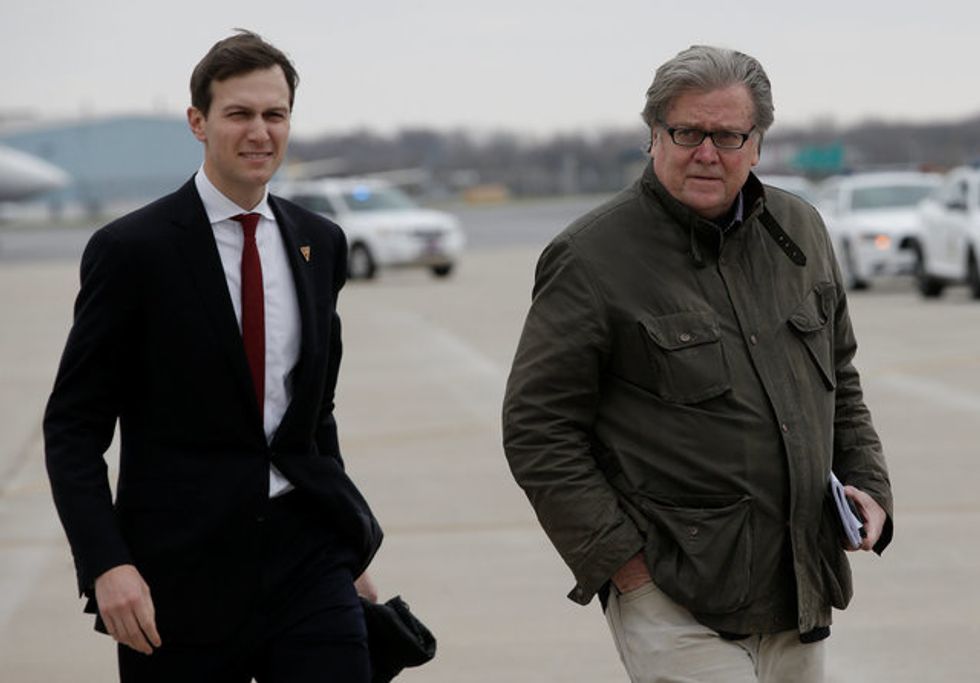 Reprinted with permission from Shareblue.com
It didn't take long for Donald Trump to strike back at his former White House strategist Steve Bannon over revelations from an upcoming book, and Trump did it in characteristically dishonest fashion.
In reports on Michael Wolff's upcoming book "Fire and Fury: Inside the Trump White House," Bannon is quoted as saying that Donald Trump Jr.'s meeting at Trump Tower meeting with Russians was "treasonous," and a lengthy article adapted from the book contains many more damning quotes.
 On Wednesday afternoon, Trump issued a scathing statement that included a lot of revisionist history, and a fair amount of projection (statement via email from The White House):
Steve Bannon has nothing to do with me or my Presidency. When he was fired, he not only lost his job, he lost his mind. Steve was a staffer who worked for me after I had already won the nomination by defeating seventeen candidates, often described as the most talented field ever assembled in the Republican party.

Now that he is on his own, Steve is learning that winning isn't as easy as I make it look. Steve had very little to do with our historic victory, which was delivered by the forgotten men and women of this country. Yet Steve had everything to do with the loss of a Senate seat in Alabama held for more than thirty years by Republicans. Steve doesn't represent my base—he's only in it for himself.
Bannon, once nicknamed "Trump's brain," was in fact a very senior adviser to Trump and exerted considerable influence over policy. And Trump effusively praised him from the White House as recently as October.
"I have a very good relationship, as you know, with Steve Bannon," Trump told reporters at a joint press conference with Sen. Mitch McConnell (R-KY), adding, "Steve has been a friend of mine for a long time. I like Steve a lot."
Now that Trump has so publicly burned Bannon to the ground, it will be interesting to see just how much more Bannon knows than he has been saying, and what he'll no longer hold back. That won't likely be good for either of them, but especially not for Trump.