Hezbollah Blames Israel For Killing Top Leader
@AFP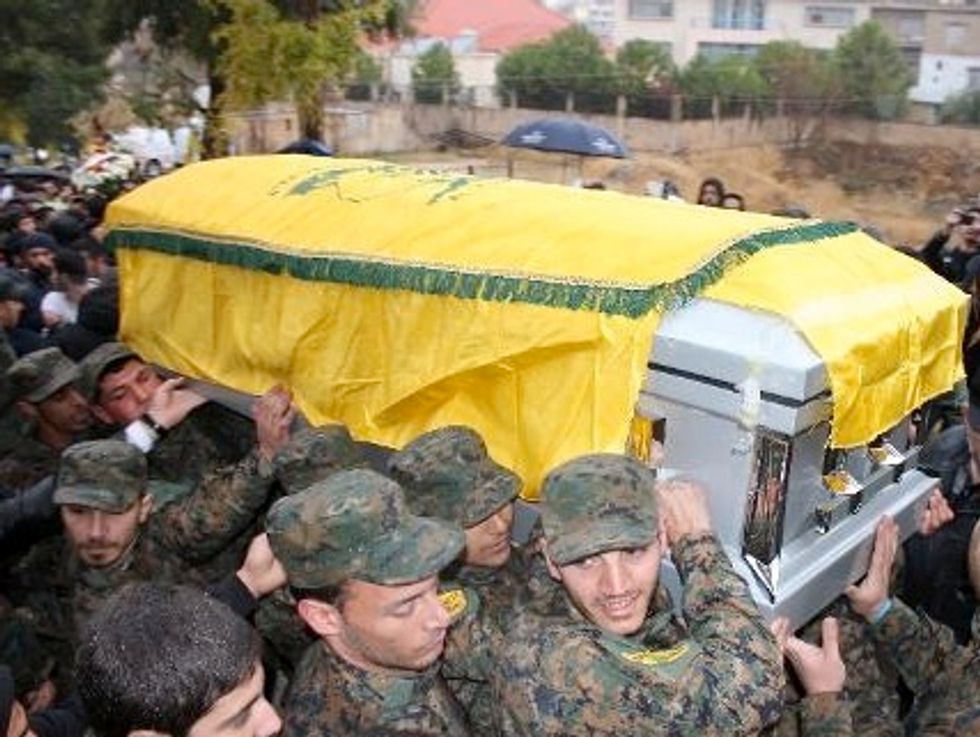 Beirut (AFP) – Hezbollah on Wednesday blamed Israel for murdering one of its top leaders near Beirut at a time of soaring tensions in Lebanon linked to the war in neighbouring Syria.
The dead man, identified as Hassan Hawlo al-Lakiss, was the group's most senior figure to be assassinated since Imad Mughniyeh in a Damascus bombing in 2008, when Hezbollah again blamed Israel.
Lakiss, virtually unknown before his death was made public, belonged to Hezbollah's secretive senior leadership.
"The Islamic resistance announces the death of one of its leaders, the martyr Hassan Hawlo al-Lakiss, who was assassinated near his house in the Hadath region" east of Beirut, Hezbollah said.
"Direct accusation is aimed of course against the Israeli enemy which had tried to eliminate our martyred brother again and again and in several places but had failed, until yesterday (Tuesday) evening.
"This enemy must bear full responsibility for all the consequences of this heinous crime," Hezbollah's Al-Manar television channel said.
Israeli foreign ministry spokesman Yigal Palmor dismissed the allegation as "yet another Pavlovian response from Hezbollah, which makes automatic accusations before even thinking about what's actually happened".
"Israel has nothing to do with this," Palmor said.
Damascus echoed Hezbollah's accusations, adding that it condemned the "terrorist, cowardly" assassination.
Two previously unknown groups identifying themselves as Sunnis issued separate claims of responsibility.
The Free Sunnis Brigade of Baalbek called the killing revenge for "abuses" of Sunnis in Baalbek, a Hezbollah bastion in eastern Lebanon and Lakiss's native city.
Ansar al-Umma al-Islamiya said it murdered Lakiss because he was "Hezbollah's field commander and directly responsible for the massacre in Qusayr", a Syrian rebel town that fell to regime forces in June with Hezbollah's help.
Hezbollah television said Lakiss was shot repeatedly with a silenced handgun after parking at the building where he lived, adding that there was more than one assailant.
A Hezbollah source called Lakiss a "personal friend and one of the closest people to (Hezbollah chief) Hassan Nasrallah, both on the personal and party levels".

The source added: "Part of his work was to ensure the organisation of Nasrallah's security."
Hezbollah emerged during Lebanon's civil war in the 1980s with the aim of driving Israeli forces out of the country and also battled the Jewish state to a bloody stalemate in a 2006 conflict.
Hezbollah said Lakiss's son was killed in that war, which claimed the lives of some 1,200 people in Lebanon, mostly civilians, and more than 150 Israelis, mainly soldiers.
Ali Fares, who lived in Lakiss's building, said his son saw from his window two men fleeing.
"I went downstairs with the other neighbours and I saw the body. It appears they attacked him when he was getting out of his car," Fares said.
Man of the shadows
Thousands of people braved heavy rain to attend Lakiss's funeral in Baalbek.
His coffin was carried through the crowds, draped in the Shiite movement's yellow and green flag.
Several Hezbollah leaders have been assassinated since the movement was created by Iran.
Like Mughniyeh, Lakiss operated behind the scenes.
His killing comes seven months after Hezbollah first openly admitted fighting in Syria alongside President Bashar al-Assad's forces.
Hezbollah's decision to intervene in Syria has fuelled tensions in Lebanon, which is bitterly divided over the war.
Its stronghold in the southern suburbs of Beirut was hit by two car bombings this summer, one of which killed 27 people.
And attacks in the mainly Sunni northern city of Tripoli in late August also killed 45 people.
Nasrallah again defended Hezbollah involvement in Syria on Tuesday in an interview with Lebanese broadcaster OTV, saying it was fighting to protect Lebanon from the Syrian rebels, who include jihadists linked to Al-Qaeda.
"Should Syria fall into the hands of these armed groups, what will Lebanon's future be?" Nasrallah asked. "We went to Syria to defend all of Lebanon."
Nasrallah also accused Saudi Arabia of being behind a double suicide bombing at Iran's Beirut embassy last month that killed 25 people and was claimed by an Al-Qaeda-linked group.
While Hezbollah and its regional backer Iran support Assad, Saudi Arabia backs the Sunni-led rebels seeking his ouster.
AFP Photo