On Our Highest Court, A Former Lobbyist Guts Campaign Finance Reform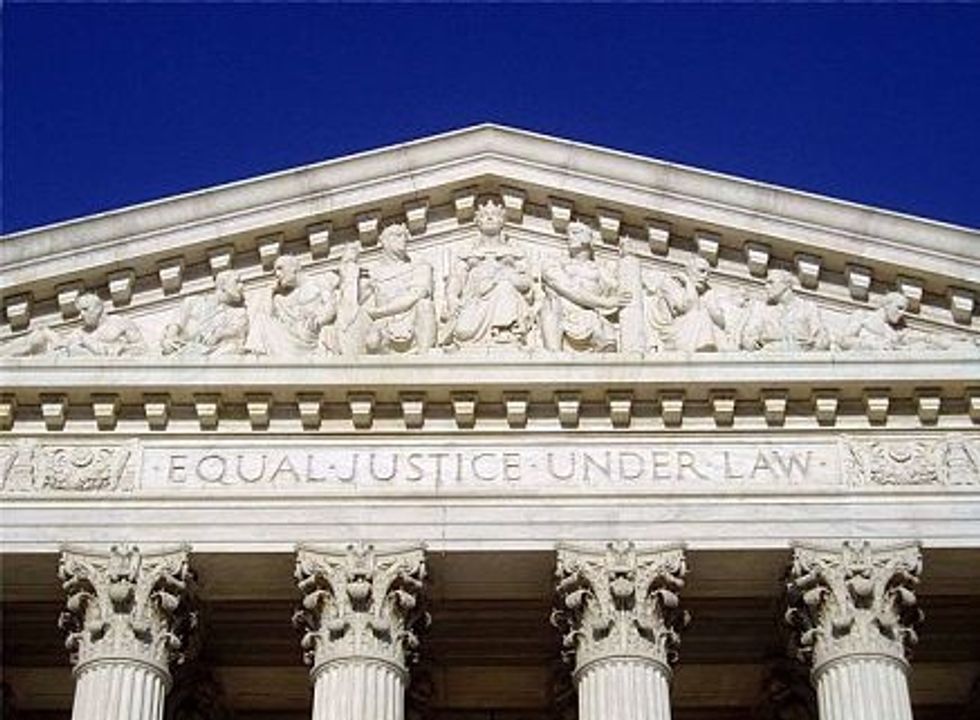 For a large and bipartisan majority of Americans, the increasing power of money in politics is alarming, but not for the conservative majority of the United States Supreme Court, whose members appear to regard the dollar's domination of democracy as an inevitable consequence of constitutional freedom — and anyway, not a matter of grave concern. Expressed in their decisions on campaign finance, which continued last week to dismantle decades of reform in the McCutcheon case, the Court's right wing sees little risk of corruption and little need to regulate the flamboyant spending of billionaires.
Given the behavior of certain conservative justices, such as Antonin Scalia, Clarence Thomas, and Samuel Alito – who flout the rules that govern partisan behavior among lower-court judges – it is easy to regard their rulings as partisan cynicism. But there is also an element of willful naiveté when the conservatives claim, for instance, that corrupt donations will be exposed by the instant transparency of publication on the Internet. Any reporter who has covered elections can attest that there are dozens of ways for wealthy donors to avoid public scrutiny until it is much too late to matter.
But if right-wingers like Scalia and Thomas are simply pursuing ideological objectives, what about Anthony Kennedy, the Reagan appointee from California who was long seen as a moderating influence and a "swing vote"? On the issue of campaign finance, Kennedy has marched along with the majority, seeming just as fervent in his urge to destroy every regulation and protection against the "malefactors of great wealth" erected since the days of Theodore Roosevelt.
It was Kennedy who wrote the majority opinion in Citizens United, which dismissed the notion that corruption will arise from unlimited political campaign contributions because they will all be disclosed. "Citizens can see whether elected officials are 'in the pocket' of so-called moneyed interests …and disclosure permits citizens and shareholders to react to the speech of corporate entities in a proper way," he wrote. "This transparency enables the electorate to make informed decisions and give proper weight to different speakers and messages."
But if any Supreme Court justice knows how ridiculous that sounds, it must be Kennedy – whose own background as a corporate lobbyist and son of a lobbyist has been forgotten in nearly three decades since his Senate confirmation in 1987.
Yes, Kennedy was a respected appellate court judge before Reagan appointed him to the high court. But before that, he grew up and then worked as an attorney in Sacramento, where his father became a "legendary" lobbyist in a state capital renowned as "freewheeling" (a polite term that means "routinely corrupt").
His father, Anthony "Bud" Kennedy, was a backslapping, hard-drinking partner in a powerful lobbying law firm run by one Arthur "Artie" Samish, "the "secret boss of California" who finally went to prison on tax charges in the mid-1950s, while young Tony was studying to enter law school. Samish liked to brag that he had amassed more power than anyone else in the state, including the governor, that he could buy any legislator with "a baked potato, a bottle, or a broad," and that he was able to "unelect" any lawmaker who didn't vote his way.
The major clients of Samish and Kennedy were racing, entertainment, and liquor interests, notably including Schenley Industries, then run by J. Edgar Hoover's mobbed-up pal Lewis Rosenstiel. When Bud Kennedy died suddenly in 1963, young Tony was only two years out of law school. But he went into the family business and inherited his late father's clientele.
While Kennedy always insisted that lobbying was only a "sideline" in his law practice, his billings were substantial – the equivalent of hundreds of thousands or more in today's dollars. In 1974, he pushed through a bill for Capitol Records that saved the company (and cost the state) millions in sales taxes.
How did he do it? The same way that special interests work their will today – by doling out huge wads of cash to lawmakers on behalf of his clients. The single largest recipient of Kennedy lobbying largesse, according to the Los Angeles Times, was a legislator who introduced a bill to benefit the opticians' lobby that Kennedy himself had drafted (it passed). He gave that guy alone about $6,500 in campaign contributions over six years, or roughly $40,000 in today's dollars.
So if anybody on the Court knows how the political and legislative process is greased in this country, that would be Anthony Kennedy. After all, he was reared in the game. And it shouldn't deceive anyone when he sounds as if he doesn't understand how things work or who wins in that perverse process – and how everyone else loses.
Photo: Matt H. Wade via Wikimedia Commons