Highway Repair Funds Hit Congressional Roadblocks
@AFP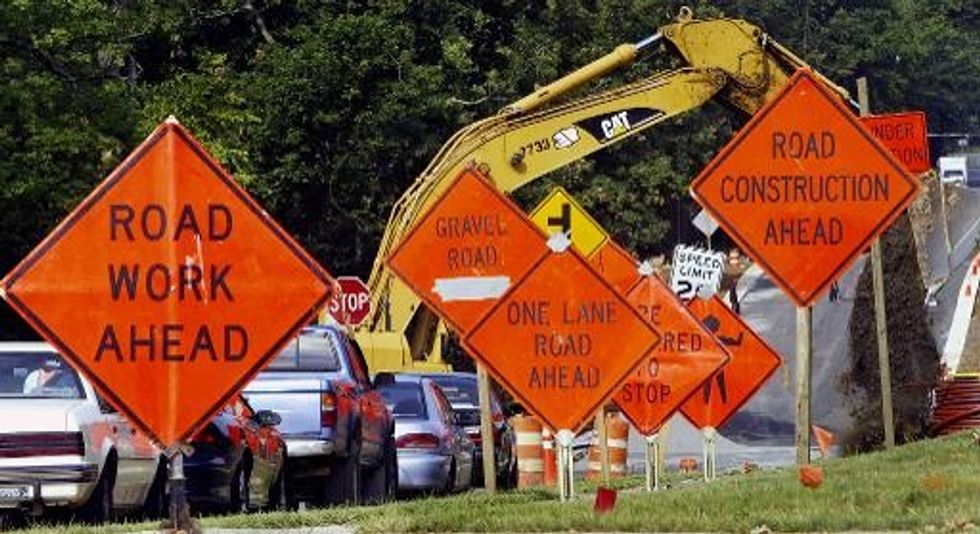 Washington (AFP) – Americans' love affair with the automobile endures, but the account that helps maintain their roads is going broke, and Congress is embroiled in a partisan scrap over how to pay for much-needed repairs.
Across the United States more than 100,000 projects are underway to pave new roads, upgrade or rebuild ailing bridges, and generally modernize a ground transportation infrastructure that was once the envy of the world but has crumbled into mediocrity.
Some 6,000 projects could grind to a halt, putting 700,000 jobs at risk, according to transportation officials, if the nation's Highway Trust Fund, which is projected to run dry by the end of August, is not replenished.
Doing so just months before a mid-term congressional election, with Republicans and Democrats taking very different approaches to spending and deficit reduction, will take substantial maneuvering in Congress.
The White House's $300 billion, four-year transportation bill stalled in the Senate, leaving lawmakers scrambling to agree on a temporary fix.
The money squeeze has already impacted roadwork. An expansion from four to six lanes on a treacherous stretch of Kentucky highway, where 11 people died in a single disastrous accident in 2010, is three months late.
The $165-million project has been postponed until August by Kentucky's governor, who is waiting to see whether Washington pays its share.
Federal and state governments spent some $156 billion to build, operate and maintain highways in 2013, according to the non-partisan Congressional Budget Office (CBO).
About one quarter of that came from the federal government.
One reason for the highway fund's depletion is that a tax on gasoline has not been adjusted for inflation since 1993, meaning the money gained from today's tax is worth about one-third less.
According to the CBO, the result is an $8 billion shortfall for 2014, and a projected $164 billion loss over the next decade — a federal funding reduction of nearly 30 percent for states.
Senate Democrat Tom Carper supports gradually raising the federal gas tax from 18.4 cents to 30.3 cents per gallon. But for House Republicans ideologically opposed to tax hikes, the strategy is a non-starter.
"Here we go again," rued Senator Sheldon Whitehouse, a Democrat from Rhode Island, on a conference call Monday.
"We seem to be reverting once again to the Republican strategy of governing by crisis," he added, citing last October's 16-day government shutdown blamed on the intransigence of conservatives.
Democrats also have struggled to find the perfect formula. President Barack Obama is opposed to raising the gas tax, preferring instead to fill the gap by ending some corporate tax breaks.
The president last week stood before the Key Bridge in Washington, where two of the five spans that connect the capital to Virginia have been deemed "structurally deficient," to tout his plan.
"We spend significantly less (on transportation infrastructure) as a portion of our economy than China does, than Germany does, than just about every other advanced country," Obama said.
"Soon, states may have to choose which projects to continue and which ones to put the brakes on because they're running out of money."
Some Republicans have demanded that cuts be made elsewhere before signing off on transportation funding. Right-wing conservatives have even proposed ending the federal role in infrastructure funding altogether.
Temporary fixes have been introduced in both the Senate and House and are being debated this week.
The proposals, including a "patch" to fill the highway fund through December, are short-term remedies that have the attraction of postponing a potentially unpopular vote on transportation funding until after November's congressional election.
But the 50 states are desperate to avoid lurching from one short-term funding patch to another.
"All states are in the same boat right now in terms of the difficulty in doing any long-range planning," Chuck Wolfe, spokesman for the Kentucky Transportation Cabinet, told AFP.
AFP Photo/Paul J. Richards