Hillary Clinton Emails Show A Friendly Face To Wall Street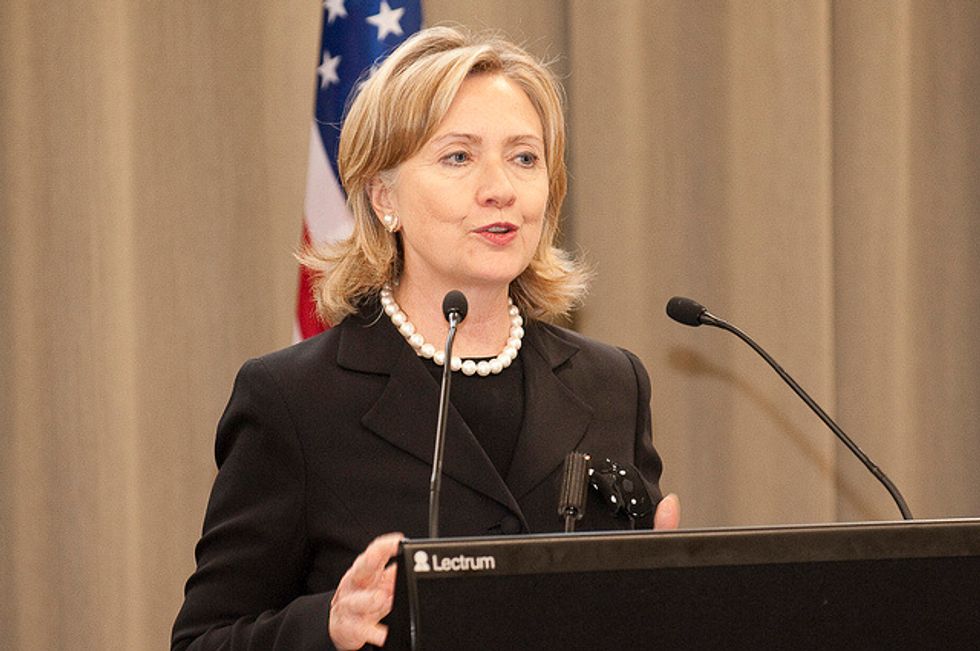 By Zachary Mider, Bloomberg News (TNS)
Hillary Clinton tried to help one private-equity boss with a visa problem and encouraged another on a project in China. She apologized to the chairman of a big corporation for failing to commit to an event right away.
"So sorry I haven't responded before but I've been hip deep in the rollout of the Afghanistan strategy," Clinton wrote to Terrence Duffy, executive chairman of futures market operator CME Group and a supporter of her 2008 presidential campaign. "I hope you, your family, and the futures markets are all well!"
The 3,000 pages of emails that the State Department released this week, dating from Clinton's time as secretary of state, show another side of Clinton from the one that was on display last month in New York.
There, the Democrat kicked off her campaign for the presidency with a swipe against overpaid CEOs and hedge-fund managers, saying "democracy can't just be for billionaires and corporations." She also said the nation's 25 highest-paid hedge-fund managers make more than all of American kindergarten teachers combined.
The emails, which mostly date from 2009, Clinton's first year running the State Department, show more willingness to work with big business and financiers, perhaps not surprising given that, in her previous job as a senator from New York, Clinton represented Wall Street and had financial firms among her top campaign donors, according to data compiled by the nonpartisan Center for Responsive Politics.
Even Stephen Schwarzman, the billionaire leveraged-buyout CEO who was a key fundraiser for George W. Bush, got a favor. After an event at the New York Stock Exchange in 2009, where she rang the opening bell, she emailed her staff to follow up on Schwarzman's request for help with a visa for a person whose name is redacted in the State Department release.
The Blackstone Group chairman is an outspoken defender of the preferential tax treatment that applies to some private-equity managers' pay known as carried interest, once likening a proposal to end it to Hitler's invasion of Poland. (He later apologized for that analogy.) Clinton is among those who have called for the carried interest treatment to be changed.
Still, Blackstone has given at least $250,000 to the Clinton Foundation and related charities over the years. And although Schwarzman gives mostly to Republicans, according to Sunlight Foundation data, he gave $500 to Bill Clinton's presidential campaign in 1992. (On Wednesday, Clinton reported raising a record-breaking $45 million for the first quarter of her presidential campaign. Names of donors won't be revealed until later this month.)
Another private-equity executive who appears in the emails is Admiral William Owens, who was appointed vice chairman of the Joint Chiefs of Staff by Bill Clinton. By 2009, he was a top executive in the Asian arm of AEA Investors, a private-equity firm founded by the Rockefeller, Mellon and Harriman family interests. He was working on a project to encourage dialogue between retired senior military leaders in the United States and China, and wanted Clinton to attend some meetings.
"Thanks for continuing this important project which I heartily support," Clinton replied. It's not clear from the emails if she took him up on his request.
Clinton had warm exchanges with Stephen Roach, a Morgan Stanley economist, and passed along a concern about a trade issue voiced by David Cote, the chief executive officer of Honeywell International.
Another pen pal was CME's Duffy, who made $6.7 million last year, and whose endorsement in her 2008 run came despite his being a registered Republican.
"We need a president like Hillary Clinton who understands the important role that financial markets play in our global economy," he said in a statement then.
Clinton knows more than a little about the futures markets in particular. Her series of well-timed trades in cattle futures became a topic of controversy during her husband's first term in the White House.
Duffy kept in touch after the 2008 campaign. "You're doing an incredible job," he wrote in May 2009, asking for her presence at a company event. "Once again," he said in September, inviting her to another event, "you're doing an amazing job."
"I am trying hard to accept this invite," she replied, "We will let you know one way or the other by the end of the week. Is that OK?"
It was OK with Terrence Duffy.
Photo: U.S. Embassy via Flickr