Hillary Clinton Meets With Health Care Workers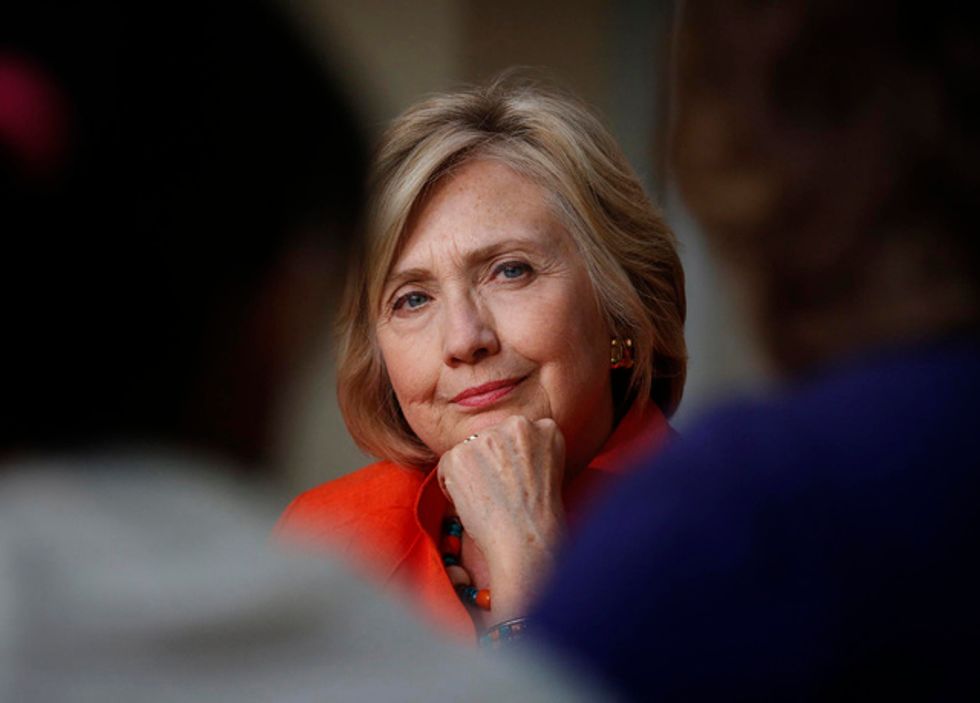 By Soumya Karlamangla, Los Angeles Times (TNS)
LOS ANGELES — Hillary Rodham Clinton brought her presidential campaign to Los Angeles on Thursday, telling home health care workers that she wants to improve their working conditions, training, and wages so more people can remain at home as they age.
Clinton met with eight women, all of whom had either worked in home health care or hired someone for care-giving, for a round table discussion at Los Angeles Trade Technical College.
It was a distinctly low-key event while most of the nation's political spotlight focused on the first debate between Republican candidates, which took place in Cleveland. Nearly every candidate there took aim at Clinton, who is leading in polls for the Democratic nomination.
Many of the women at the round table described working for low wages, with no or very little sick time, no training, and no benefits. Clinton said she thinks the workers aren't being valued enough.
"I'm hoping that this issue of care-giving will rise higher on the national agenda," Clinton said.
Clinton said her mother lived with her for the last 10 years of her life, instead of in a nursing home. Though many people would prefer to stay at home, she said, they don't have the resources to have that option, she said.
"We should be putting more money in the front-end to keep more people at home, to give more people a reason to live, and a reason to get up in the morning and a reason to have that smile on their face," she said.
Kindalay Cummings-Akers, who works in Massachusetts, urged Clinton to improve conditions for these workers, saying, "2016 is coming, and somebody is going to be president."
Clinton jumped in with, "Not just somebody!"
Lizabeth Bonilla, who works in Las Vegas, told Clinton that she'd been a home health care worker for more than 40 years. She said she finds her work gratifying, but that she isn't paid enough.
"If I quit tomorrow, I have nothing to show for 42 years of life," she said. She said that she recently started receiving food stamps.
Many of the workers told Clinton they make about $8 an hour.
"It's just so wrong," Clinton said. "There's no other way to say it. It's just so wrong." She said that raising the minimum wage is a central part of her campaign's economic agenda.
Susan Young, who works in Spokane, Wash., discussed successful efforts in her state to gain political support to raise workers' wages and get them retirement plans.
"Most of us here at this table, we will work until we die," she said.
Clinton said she wanted to figure out how more states can do what Washington did. She said that if more people use home health care workers, they can stay out of nursing homes, which saves Medicaid money.
"You're actually doing a service that should be both recognized and respected, as well as provide the argument for greater financial benefits," she said.
When Clinton referenced the savings, Young asked, "Do we always have to bring that up?"
"Yeah, I'm afraid you do," Clinton said, and the crowd started laughing. "That's OK, because you've got a good argument."
Photo: Home care providers and consumers meet in Los Angeles with former Secretary of State and Democratic presidential candidate Hillary Clinton on Aug. 6, 2015, at Los Angeles Trade Technical College. (Barbara Davidson/Los Angeles Times/TNS)