Hillary, Hungry For White House, Set To Launch Clinton 2.0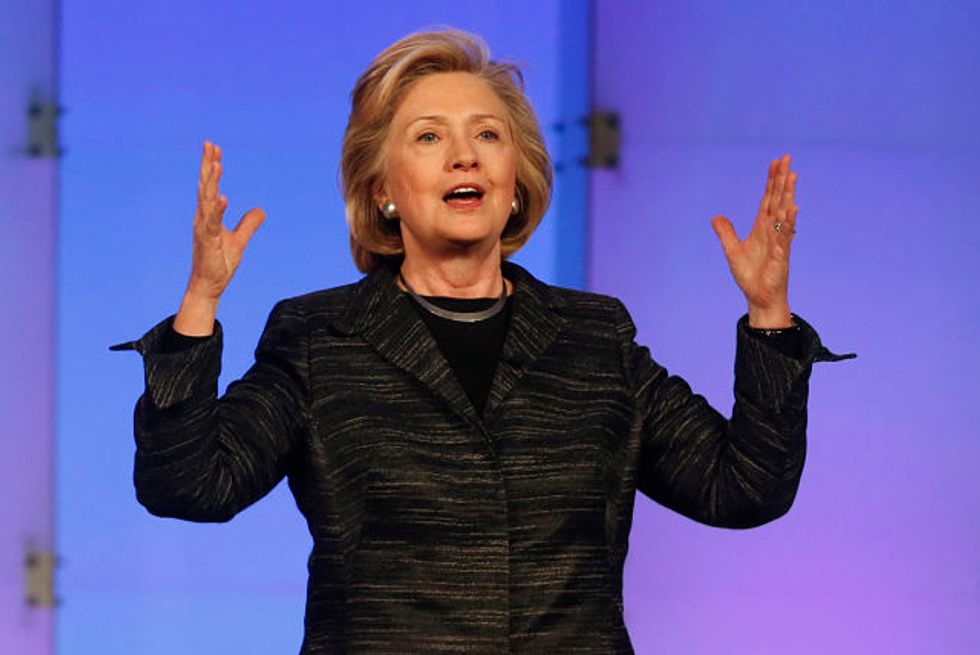 Washington (AFP) — Hillary Clinton is expected to finally announce her White House candidacy Sunday, empowering her to parry Republican attacks as she seeks to become the United States' first female president.
Seven years after her bitter nomination defeat to Barack Obama, the former Secretary of State and one-time First Lady would enter the race as the Democratic Party's overwhelming favorite, as Clinton and her rivals gird for a bruising 18-month campaign.
Her announcement is likely to be delivered via social media and accompanied by a video highlighting her political and economic philosophy, according to U.S. news outlets citing sources close to Clinton operations.
It will no doubt trigger a donor deluge from supporters who have long waited for her to officially enter the race, a move that would allow them to contribute directly to her 2016 election effort.
Clinton's campaign-in-waiting has quietly organized for months, bringing on key staffers and advisors, plotting outreach operations and strategizing.
On Saturday, the team hunkered down in Clinton headquarters in Brooklyn, New York, where upcoming campaign manager Robby Mook reportedly delivered a memo to staff urging teamwork in the months ahead.
Hillary Clinton speaks at the Annual Women's Empowerment Principles, entitled "Unlimited Potential: Business Partners for Gender Equality" March 10, 2015 at the United Nations in New York
"We are a diverse and talented family… and have each other's backs," the memo states, according to Politico, perhaps in an effort to avoid the infighting among top aides that marred Clinton's 2008 run.
The 2016 campaign goal, the memo adds, is "to give every family, every small business, and every American a path to lasting prosperity by electing Hillary Clinton the next president of the United States."
"An excellent president"
On Saturday, she earned praise from Obama, although experts warn she will have to tread a fine line in how closely she aligns herself with the incumbent.
"She was a formidable candidate in 2008…. She was an outstanding Secretary of State," Obama said at a regional summit in Panama. "I think she would be an excellent president."
Her announcement is expected to be followed by low-key campaign swings through Iowa and New Hampshire, states that hold the first votes early next year to determine the parties' nominees.
The soft approach would mark a deviation from the Clinton Inc. juggernaut that ultimately failed in 2008.
After the campaign launch, Clinton, 67, should "jump on a bus and barnstorm through Iowa touching all 99 counties and meet with people in cafes and other small venues" as she reintroduces herself to Americans, Iowa State University professor Steffen Schmidt told AFP.
The one-time U.S. senator and wife of former president Bill Clinton leads opinion polls among Democrats, some 60 percent of whom say they would vote for her in the primaries, according to website RealClearPolitics.
A humble approach may help dispel doubts about Clinton raised in recent weeks, after it was revealed she used a private email account while secretary of state from 2009 to 2013.
But she could face uncomfortable questions about the issue from voters, including why she deleted thousands of emails that she described as personal, then wiped her server clean.
Clinton, who has been in America's political spotlight for a quarter-century, has endured heavy criticism from Republican rivals, and launching her campaign would give her a platform to aggressively counter their punches.
"There is sort of a history of the Clintons… feeling like they're above the law," Senator Rand Paul, who announced last week he is running for president, told CNN Sunday.
On his website, Paul called Clinton "unfit to serve as president."
Conservative senator Ted Cruz made his own splashy presidential campaign launch last month, while fellow Senate Republican Marco Rubio is scheduled to make his own all-but-certain campaign declaration on Monday.
On Sunday, former Florida governor Jeb Bush teased his own expected campaign rollout.
Just hours before Clinton's announcement, the son and brother of two former presidents released a video saying he would lay out substantive policy proposals "in the coming weeks and months."
"We must do better than the Obama-Clinton foreign policy that has damaged relationships with our allies and emboldened our enemies," he said.
Clinton leads against her GOP rivals in nearly all polls, but famed political prognosticator Nate Silver on Sunday called the 2016 election a "toss-up."
Marcia Rogers, who hosted Clinton's first house party in Iowa in January 2007, recalled Clinton made a "terrific" impression on the 140 people who attended at her Cedar Rapids home.
"Hillary Clinton shines in small situations like that," she told AFP. "She was so attentioned [sic] to people and so focused and so engaging."
Photo: Conference for Women on Tuesday, Feb. 24, 2015, in Santa Clara, CA. (Karl Mondon/Bay Area News Group/TNS)