Hillary Thanks Our Foremothers
@JamieStiehm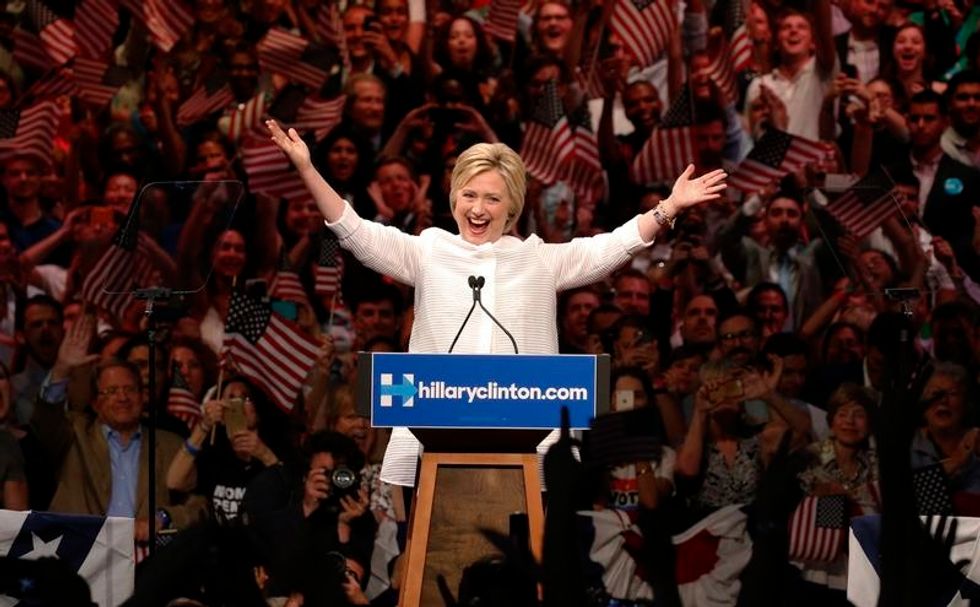 Hallelujah, we lived to see the day — as Hillary Clinton spoke with grace to claim her place in American history. Nothing's over yet, but as the Democratic Party standard-bearer, Clinton is riding high. And she worked for it.
Waking from the long gone, Quaker abolitionist firebrand Lucretia Mott reached for her favorite volume, "A Vindication of the Rights of Woman," a passionate polemic by Mary Wollstonecraft, written as she witnessed the French Revolution.
"Thank thee, Mary," she said quaintly in the Quaker way. "The journey to Philadelphia in July is almost done." Mott founded the women's equal rights cause in antebellum America. Clinton spoke of that convention's declaration like a secular prayer. Mott, famed for a revolutionary voice and vision, was the star at Seneca Falls.
Say the names: Mary, Lucretia, Sojourner Truth, Elizabeth Cady Stanton, Susan, B. Anthony, Alice Paul — all gave us suffrage, sisterhood and a legacy named Hillary, whom they have watched for years. There's no greater testament to how past is prologue. You'll be seeing their faces on the money — the new $10. The Treasury turns out to have nimble timing, what is the world coming to — and "Hamilton" on Broadway, too? Suddenly, history is cool.
To meet our foremothers in the right light, note they are among things they never told you in history class — likely, not even the teacher knew.
Clinton confidently hit the right notes, a promising omen for the general election. She was gracious to her opponent, Senator Bernie Sanders, who, with his campaign staff, resembled a sulky child.
Moving on lightly, she said how hard it is to lose a campaign when you've poured your heart into it: "I know that feeling well," she added, in rare public self-deprecation, a crowd-pleaser. She let her own walls down, in sync with her artful passage about bridges being better than walls, an arrow at Donald Trump, the presumptive Republican nominee.
Vindication is so sweet, readers, we must do this more often. The modern women's movement, such as it is, has been drowsy or dormant in the last decade or two. President Bill Clinton (Hillary's husband!) signed major legislation to allow parents (read, women) to take leave from work for family and medical leave — unpaid. That was almost 25 years ago.
From the onset, when a cheery Clinton went to Iowa for the summer political rituals for the state Caucuses, I asked my pundit friends if she couldn't skip the snowy state that dealt her a blow eight years ago. In my mind, she had every right to do cross Iowa off her map. No, she has to go to Iowa, a seasoned columnist told me. So she did. And so she won, barely. That showed character, to cross over to the fray.
A few points struck me as changed about Clinton's victory speech. Compared to her wrenching loss to Senator Barack Obama in 2008, she came across as softer round the edges, with subtle touches on her hair and dress. (Yes, that matters.) Pleasing to the ear, her voice was pitched lower. Her gratitude for great good fortune seemed genuine, which she shared with "all of you."
It was the best night for American womanhood since Alice Paul wrested the Votes for Women mass movement over the finish line in 1920. Despite Woodrow Wilson, no friend to woman suffrage, in the White House.
Clinton covered that nicely, noting her mother was born in 1919, with Congress on the cusp of passing the suffrage amendment.
As outsiders to American democracy, women could only count on themselves — there were few men in the suffrage movement. Many, like Paul, were part of the first wave of college graduates — Paul was in the Swarthmore class of 1905. They expected more from the turn of the 20th century.
Mott, a Quaker pacifist, has one reservation about Clinton: her support for the Iraq War authorization. Yet Clinton sent a message that she learns from her mistakes, and second, that she has done well along the way.
Revolutions happen on their own time, and it sure as heck feels like one is on the horizon. I might add Mott's parting promise about the Democratic convention: "It's 2016, not 1776. This July in Philadelphia, it will be ladies first."
Photo: Democratic U.S. presidential candidate Hillary Clinton speaks during her California primary night rally held in the Brooklyn borough of New York, U.S., June 7, 2016.  REUTERS/Lucas Jackson