Historic Mansions And Houses Of New York's Hudson River Valley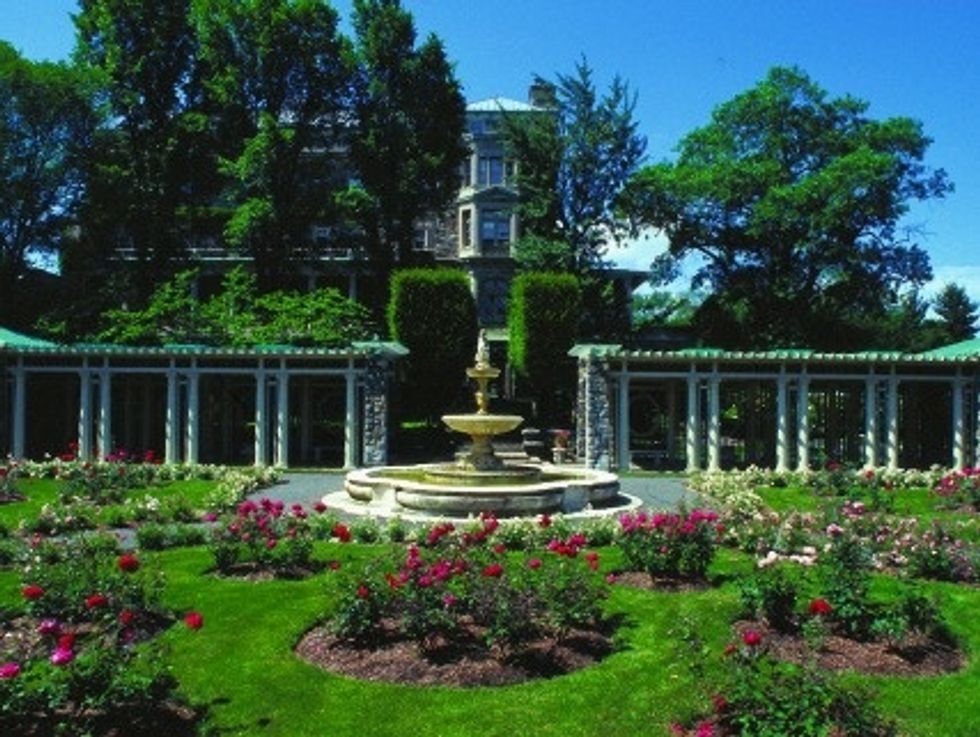 New York is so much more than its southernmost metropolis. Just a short trip from New York City, you can spend one or more days visiting some seriously gorgeous historic homes belonging to some of the country's movers and shakers.
In addition to elegant, often regal interiors the grounds and gardens of the sites are not to be missed. Some include spectacular views of the Hudson River and its surrounding hills.
These are all four-season attractions so whether you take in the fall colors, or wait for blankets of white snow, or plan ahead for lush spring and summer floral blooms, you can't go wrong.
Glenview
Glenview, just north of the city in Yonkers, is part of the Hudson River Museum. Much of the 1877 mansion is still being restored, but a number of rooms are open to visitors.
Photo: Hudson River Museum
Boscobel
If you're a fan of the Federal period and roses, Boscobel is the place for you. The grounds are filled with numerous rose varieties and the house is a showcase of Federal art and antiques.
Photo: hudsonvalleyandcatskills.com
Clermont
Home to the family of Robert Livingston, a signer of the Declaration of Independence, the house was burned by British troops in 1775. The mansion was restored in the 1920s and boasts an impressive collection of sculptures and portraits.
Photo: Clermont Historic Site
Kykuit
Kykuit (pronounced kyke it), is one of the Rockefeller family's many estates. The Georgian mansion and the Beaux Arts grounds house the late Governor Nelson Rockefeller's collection of 20th century sculpture including many by Calder, Picasso, and Noguchi. There is also a collection of antique cars and horse-drawn carriages.
Photo: newyorkstateofmind.com
Sunnyside
Washington Irving's home, where he created some of his wonderfully evocative tales of the Hudson Valley in the 18th and early 19th centuries is replete with Romantic-style gardens.
Photo: visitsleepyhollow.com
Springwood
The Roosevelt mansion at Hyde Park, is the birthplace of President Franklin Delano Roosevelt, the 32nd President. He spent much of his life here and today the house retains the rooms in which he and his family lived as well as his Presidential library. Both the President and Mrs. Roosevelt are buried on the grounds.
Photo: NPS.gov
Val-Kill
Val-Kill is a part of the Roosevelt estate, and it's where Eleanor Roosevelt had a cottage from 1926 until her death in 1962.
Photo: Wikipedia
Van Cortlandt Manor
John D. Rockefeller purchased this estate in the 1940s and saw to it that it was preserved. Today it stands as a stunning example of how the one percent lived in the earliest days of the United States.
Photo: Crotonhistory.org
Vanderbilt Mansion
The Vanderbilt mansion is a study in excess that rivals that of even some of today's billionaires.
Photo: NPS.gov
Wilderstein
This longtime home of the Suckley family was the residence of Margaret (Daisy) Suckley, FDR's distant cousin and his longtime friend and confidant.
Photo: Wikipedia