Holder Visits Ferguson, Mo., In Bid To Have 'Calming Influence'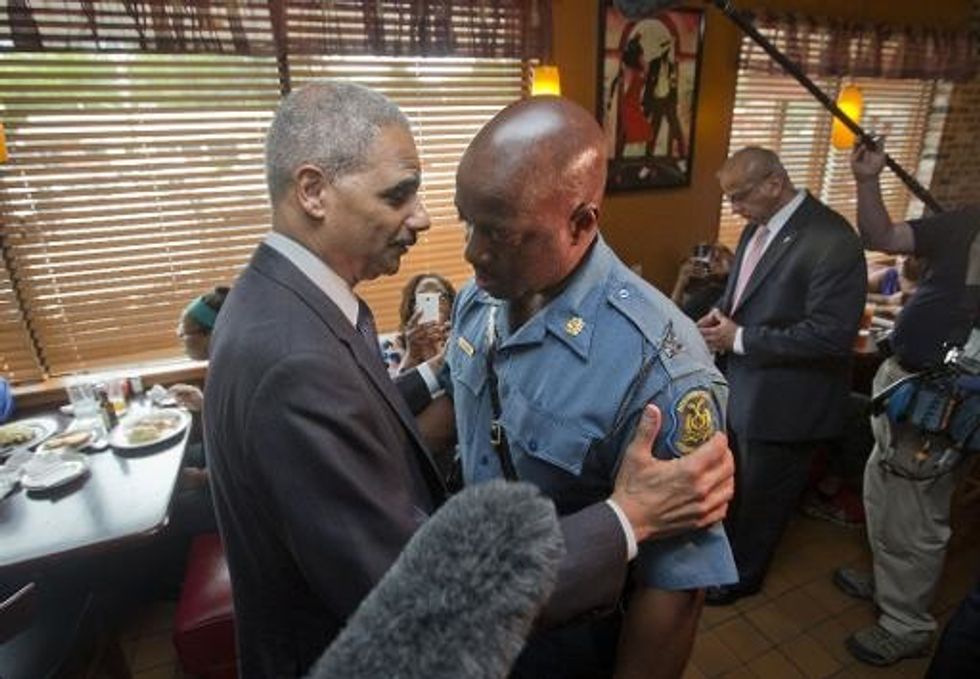 By Kevin McDermott, St. Louis Post-Dispatch
FERGUSON, Mo. — U.S. Attorney General Eric Holder met privately on Wednesday with the parents of Michael Brown, part of a one-day swing through the region by the nation's top law enforcement official in the wake of 12 nights of riots and strife.
The stated purpose of Holder's visit was to get a first-person update from Department of Justice officials here on the status of the pending federal investigation into Brown's Aug. 9 shooting death by a Ferguson police officer. After meeting with his own St. Louis-based underlings, Holder met with Missouri Gov. Jay Nixon and key members of the state's congressional delegation, including both its U.S. senators.
But the trip also had a clear tone-setting component, designed to show the White House is taking the Ferguson conflict seriously, in hopes of easing tensions in the community.
In addition to his private meeting with Brown's parents, Holder met with students at an area community college, chatted with patrons of a Ferguson diner and literally embraced Capt. Ronald Johnson, the Missouri state trooper whose attempts to defuse the nightly showdowns have made him a national figure.
"My hope is that the trip I'm making out here … will have a calming influence on the area," Holder told reporters. He said his appearance should be a signal to residents that "a thorough federal investigation is being done."
Holder stressed that the pending federal investigation has a fundamentally different angle than the local criminal investigation. "We're looking for violations of federal civil rights statutes," Holder said.
Holder landed in the region about 11 a.m. His motorcade headed first to St. Louis Community College at Florissant Valley in Ferguson. The attorney general met with about a dozen students, and hugged one of them after the meeting.
One of the students in the meeting, Molyric Welch, 27, a mass communications student, said Holder told them, "Change is coming."
"He told us we are the future and we need to stay focused on getting our education," Welch said. The attorney general also "wanted to know how it felt to be a resident of this area."
Student Dominique McCoy, 22, said, "We talked about how things can be changed, and how it has to start with us, the younger generation."
Shortly before 1 p.m, Holder attended a closed-door meeting at the school with members of the Ferguson community. The Community Relations Service organized the meeting with about 50 people, according to the attorney general's office.
"The eyes of the nation and the world are watching Ferguson right now," Holder told them, according to a transcript provided later by his office. "This is something that has a history to it and the history simmers beneath the surface in more communities than just Ferguson."
The attorney general shared his own experiences of being singled out because he was black, including one incident in which he was stopped by police while going to watch a movie.
"At the time that he stopped me, I was a federal prosecutor. I wasn't a kid," he said, according to the transcript. "I worked at the United States Department of Justice. So I've confronted this myself."
The attorney general later went to Drake's Place, a restaurant just a few blocks from the site of nightly violence in Ferguson. He greeted customers — including the mayor of nearby Cool Valley, who happened to be there for lunch — and asked how they were doing.
"We're doing pretty good, though it's affecting a lot of municipalities," Mayor Viola Murphy said of the protests and clashes in and around Ferguson. "We don't want the world to know us for what is going on here."
At the restaurant, Holder also encountered Johnson, who was put in charge of security in the Ferguson area by Nixon last week. Holder and Johnson embraced under the glare of television lights as patrons looked on.
Holder lauded Johnson for his leadership: "If you sustain that and get the community involved, we can turn this around."
Johnson said the situation was getting better. Holder told him to "Keep up the good work and get a little rest."
After Holder's appearance, Johnson said the visit "will show the people of Ferguson and the country that their voices are heard."
Holder then went to the FBI headquarters in St. Louis to meet with U.S. Attorney Richard Callahan and others. The attorney general briefly addressed reporters, saying that he wanted to be able to "look in the faces" of the agents who will conduct the federal investigation.
Late in the day, Holder went to the Eagleton Federal Courthouse in downtown St. Louis to meet with both parents of Michael Brown.
Afterward, in the same building, he met with elected officials, including Nixon, U.S. Sens. Claire McCaskill (D-MO), and Roy Blunt (R-MO), and U.S. Reps. Lacy Clay and Emanuel Cleaver, both Missouri Democrats.
AFP Photo/Pablo Martinez Monsivais
Interested in national news? Sign up for our daily email newsletter!