Hollande, Merkel Urge Clear Vision For Addressing Europe's Weaknesses
@reuters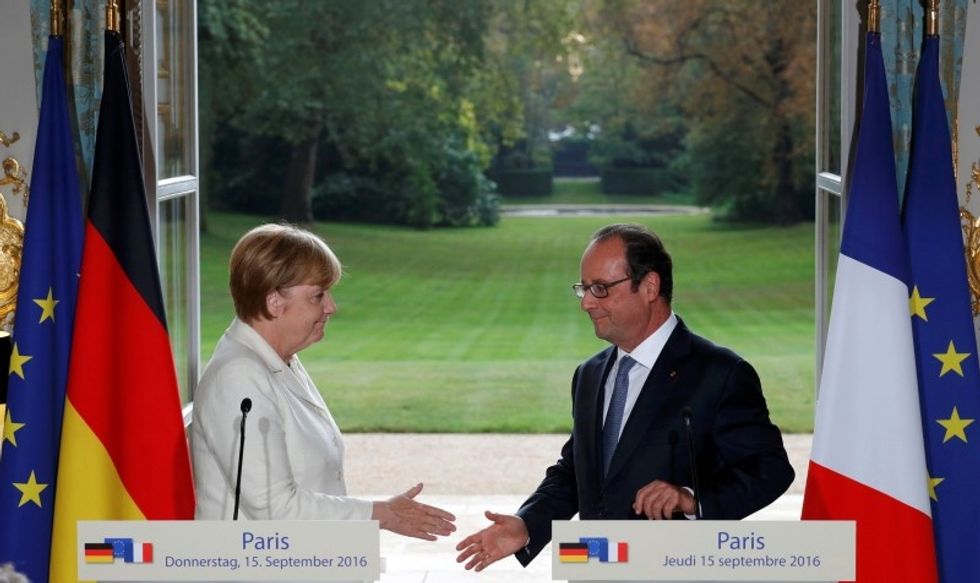 PARIS (Reuters) – German Chancellor Angela Merkel and French President Francois Hollande said on Thursday that it was crucial an upcoming European Union summit, the first since Britain voted to leave the bloc, addressed the EU's weaknesses with a plan for reforms.
Britain's Brexit vote sent shockwaves through the European Unions long deemed by many voters to be overly bureaucratic and unresponsive to their concerns, while energizing the continent's anti-immigration, eurosceptic parties.
"It is now about applying an agenda for Bratislava that makes clear we are determined to react together to the weaknesses, to the tasks we face," Merkel told reporters in Paris after meeting Hollande ahead of Friday's summit.
Hollande said Britain's vote to divorce with the EU had triggered a crisis that threatened bloc's very existence and pressed on the 27 member states due in the Slovak capital to establish a calendar and road-map for reforms.
Security would be one of three key themes under discussion in Bratislava, he said.
"The first priority is security … our border security, our security against external threats," Hollande said.
Germany and France have outlined plans to deepen European military cooperation as Britain's departure removes one of the biggest obstacles to stronger EU defense in tandem with NATO.
Merkel said France and Germany would ask the Council to pursue their proposals but added: "We want to work inclusively so all of the 27 member states should of course have the opportunity to take part and to decide on things together."
She said an answer was needed on migration, with some people coming to Europe for economic reasons, rather than as political or war refugees. "We need to be able to protect our external borders and we of course need to jointly take responsibility on that."
EU Parliament President Martin Schulz said in an interview with German magazine Der Spiegel published on Thursday that it was imperative EU members talked with one voice.
"As soon as the Brits have determined their strategy for talks with the EU, we will be confronted with a unified British line. That must not then meet with an un-unified EU because there are certainly people in London who would like to play us off against each other and that would be fatal for the EU," Schulz was quoted as saying.
(Reporting by Richard Lough in Paris and Michelle Martin in Berlin.; Editing by John Irish and Raissa Kasolowsky)
Photo: French President Francois Hollande (R) and German Chancellor Angela Merkel attend a joint news conference ahead of the upcoming EU summit at the Elysee Palace in Paris, France, September 15, 2016.  REUTERS/Philippe Wojazer