Hollywood Likely To Line Up Behind Clinton In Presidential Race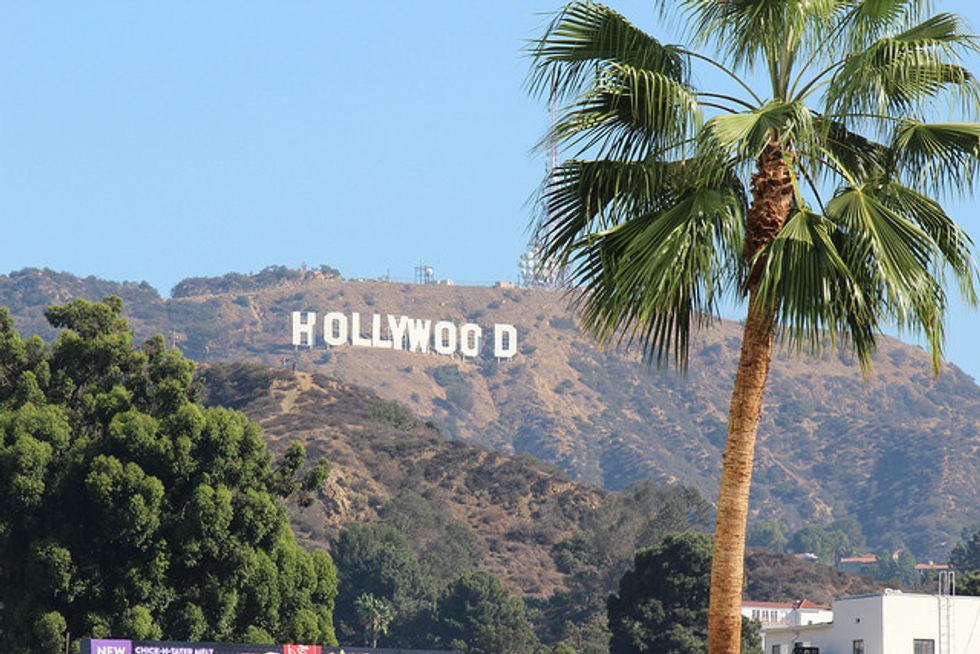 By Richard Verrier and Daniel Miller, Los Angeles Times (TNS)
LOS ANGELES — What a difference eight years makes.
In the campaign for the 2008 Democratic presidential nomination, Hollywood's loyalties were divided between Hillary Rodham Clinton and Barack Obama.
This time, Clinton is expected to face little primary competition — and the left-leaning entertainment industry is poised to become a major source of campaign cash.
Clinton has already lined up support from some of the industry's most prominent leaders, including Jeffrey Katzenberg, Steven Spielberg, and Girls creator Lena Dunham.
"I've got an inbox full of people offering to hold events for Hillary," said Andy Spahn, whose political consulting firm Gonring Spahn & Associates advises Katzenberg and Spielberg. "There is great respect and admiration and excitement around Hillary and also a very clear understanding of what the stakes are."
Hollywood is considered one of the most important sources of money for Democratic presidential candidates — a single fundraiser for President Obama at the home of actor George Clooney in 2012 famously raised $15 million for Obama's re-election campaign, among the biggest single-night hauls in political fundraising history.
Some prominent Democratic backers are still on the fence. But political consultants said they expect that Hollywood power players — most of whom are squarely on the left — will come out in full support for a Clinton presidency.
"The passion for ensuring the election for a Democrat will be extremely high — it will almost be an obsession," Los Angeles-based Democratic political strategist Donna Bojarsky said. "Republicans have both houses of Congress, and we are being treated to the prospect of the tea party and right-wing Republicans advocating things that are distinctly unpopular around here."
In the 2008 Democratic primary race, several high-profile Hollywood figures, including mogul David Geffen and Katzenberg, supported Obama. It led to bruised egos in the Clinton camp given the candidate's long-standing ties to the industry.
In widely publicized comments, Geffen, once one of Bill Clinton's biggest supporters, called then-New York Sen. Hillary Clinton an "incredibly polarizing figure." He criticized her husband's 2001 pardon of fugitive financier Marc Rich and suggested that the former president's personal habits would damage his wife's campaign.
"Everybody in politics lies, but they do it with such ease, it's troubling," Geffen said of the Clintons in an interview with New York Times columnist Maureen Dowd in 2007.
The comments caused such a stir that Hillary Clinton's campaign chairman, Terry McAuliffe, warned that Clinton would remember those who did not back her. "You're either with us or against us," McAuliffe told potential donors during a dinner at the home of media mogul Haim Saban.
A spokeswoman for Geffen said he would vote for Clinton but declined to comment further.
Democratic political consultant Chris Lehane, who served as an attorney in the Clinton White House, believes that Hollywood donors are now united by a sense of common purpose.
"In 2008, there were two green-light actors vying for the lead role," Lehane said." In 2016, there is one green-light actor vying for the lead role, which makes it very easy for those in show business to know where they are going on this."
Clinton's strong record of support for Israel — a topic of great concern to Tinseltown players such as Saban — should help the former secretary of state, he added.
Also, the chance to elect a female president could prove a rallying point for women in the entertainment industry.
"It's a moment for women in Hollywood — just like women everywhere else — to show their daughters that this is possible," Bojarsky said.
Some prominent Democrats, however, aren't yet ready to jump on board the Ready for Hillary campaign. They would prefer a more contested Democratic primary rather than handing the nomination to Clinton.
"I hope Elizabeth Warren comes in and does a primary, because I think that would be good," actor Mark Ruffalo said at the Hollywood premiere of Avengers: Age of Ultron. "If Hillary is nominated, I will be pulling for her."
In addition, left-leaning liberals view Clinton as too moderate on important issues, such as climate change and defense.
Still other Democrats are loyal to Obama and would like to see him accomplish some of his remaining goals, rather than publicly rallying around Clinton.
Some high-profile Hollywood Democrats — such as Netflix Chief Content Officer Ted Sarandos and his wife, Nicole Avant, a former U.S. ambassador to the Bahamas — have yet to publicly declare their support for Clinton.
"Key players are demonstrating a range of views about her running, from caution to optimism, and at this point offering armchair analysis of her playbook and campaign strategy," said Paul Pflug, whose firm Principal Communications Group/Sky Advisory advises clients on political and philanthropic goals. "But through it all, the majority of this company town will ultimately rally around Clinton."
(Los Angeles Times staff writers Meg James, Ryan Faughnder, Saba Hamedy and Amy Kaufman contributed to this report.)
(c)2015 Los Angeles Times, Distributed by Tribune Content Agency, LLC
Photo: Shinya Susuki via Flickr