Hollywood Mogul Harvey Weinstein's Response To Sexual Assault Allegations Against Him Doesn't Inspire Confidence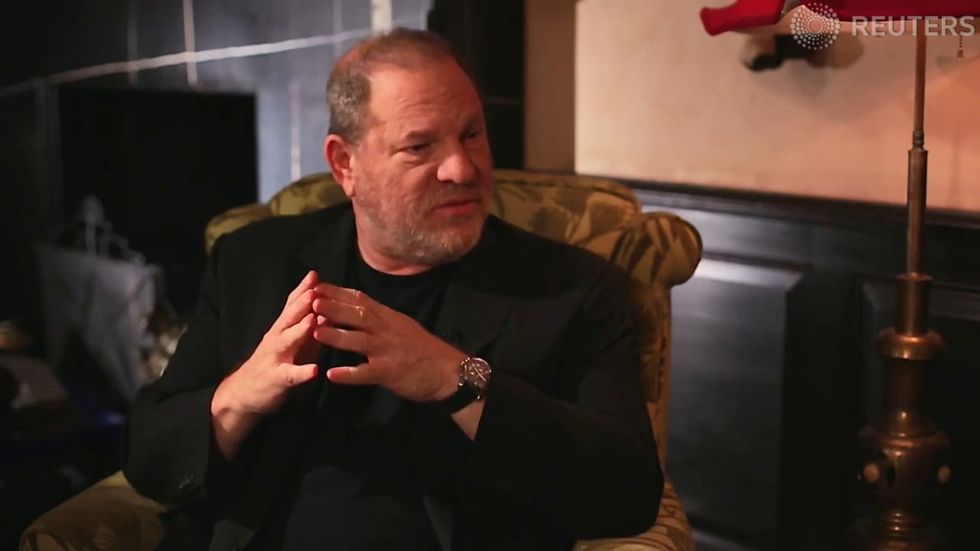 Reprinted with permission from AlterNet.
For decades, Harvey Weinstein has served as the real-life inspiration for every tyrannical, foul-mouthed, hot-headed fictional movie studio executive. For pretty much just as long, according to a bombshell report from the New York Times, Weinstein has been serial sexually harassing aspiring young actresses who come into his orbit. The Times offers a lengthy list of women, some of them now famous, who were allegedly subjected to Weinstein's lewd overtures, including Ashley Judd, who says Weinstein requested she watch him shower and Rose McGowan, whom Weinstein gave a settlement in 1997 following "an episode in a hotel room during the Sundance Film Festival." There were at least eight more hush money pay outs, per the Times, to recipients including "a young assistant in New York in 1990, an actress in 1997, an assistant in London in 1998, an Italian model in 2015 and [former Weinstein Company employee Lauren] O'Connor shortly after." With a traceable track record like that, it's almost impossible to believe that there aren't other women who chose to keep quiet rather than take on one of the most powerful men in Hollywood.
In response to the Times report, Weinstein released a statement that is an ostensible mea culpa but reads more like a perfectly written example of things not to do when you are apologizing. Let's run through some of the highlights, shall we?
"I came of age in the '60s and '70s, when all the rules about behavior and workplaces were different. That was the culture then."
I came of age at a time when the workplace was where men went to compare dick size with other men, and then we'd have our secretaries—or "skirts," as we called them—judge who won. Was that bad? Me confused by all these new rules.
"I have since learned it's not an excuse, in the office—or out of it. To anyone."
I've learned it's not an excuse, and yet I still offered it as an excuse, because I'll level with you here: I've learned nothing.
"I realized some time ago I that needed to be a better person, and my interactions with the people I work with have changed. I appreciate the way I've behaved with colleagues in the past has caused a lot of pain, and I sincerely apologize for it. Though I'm trying to do better, I know I have a long way to go. That is my commitment. My journey now will be to learn about myself and conquer my demons."
Well, this seems like progress, right?
Just wait.
"Over the last year, I've asked [celebrity lawyer] Lisa Bloom to tutor me, and she's put together a team of people. I've brought on therapists, and I plan to take a leave of absence from my company and to deal with this issue head on."
Lisa Bloom told the Times that Weinstein is "an old dinosaur learning new ways" and that she "explained to him that due to the power difference between a major studio head like him and most others in the industry, whatever his motives, some of his words and behaviors can be perceived as inappropriate, even intimidating."
What's weird about this is that I'm pretty sure Weinstein already understands the power differential at play between him and "most others in the industry," particularly hopeful actors. One woman who temped for Weinstein said he told her that "if she accepted his sexual advances, he would boost her career." O'Connor said that Weinstein's targets were almost invariably "vulnerable women who hope he will get them work." Weinstein—a six-time Oscar winner and titan in the film industry—understood with crystal clarity his own status vs. those he allegedly dangled careers in front of for varying sexual favors. Alleged sexual harassers and abusers such as Bill O'Reilly, Bill Cosby and Roger Ailes, among many others, use their power against those who have none. That's how this whole awful thing works.
Also, for the record, the fact that Weinstein reportedly used his fortune to pay off women and keep all those charges quiet suggests he's well aware that his behaviors are "inappropriate, even intimidating."
"I so respect all women, and regret what happened."
God. That "so" is really not helping here. Someone should've read this thing out loud before they sent it out.
"Jay Z wrote in 4:44 'I'm not the man I thought I was, and I better be that man for my children.' The same is true for me."
Honestly, Harvey Weinstein borrowing a Jay-Z lyric about his marital infidelity to Beyoncé to describe his contrition about harassing who knows how many women over the last 30 years is just too much to get into right now. (Who is that arbitrary insertion even for? The "kidz"? Maybe in his next sorry-not-sorry letter he'll quote Lil Yachty or something.) It is worth noting that the line isn't an actual Jay-Z quote, just to give you a sense of the real time and heartfelt labor that went into this thing.
"I want a second chance in the community, but I know I've got work to do to earn it." 
What community? You mean Hollywood? Mel Gibson is on the up-and-up these days and the Golden Globes gave Woody Allen a Lifetime Achievement Award just three years ago. Fox News fired Bill O'Reilly six months ago and then welcomed him back last month like an esteemed honoree at a medal ceremony. As I'm sure you already know, "the community'" is just waiting a sign from the echo chamber on when it's okay to be cool with you again.
"I have goals that are now priorities. Trust me, this isn't an overnight process. I've been trying to do this for 10 years, and this is a wake-up call."
Wait, so according to Harvey Weinstein, he's been trying to "do this"—meaning "be better" we presume—for "10 years"? I would genuinely love to hear what kind of all-powerful pervy forces have been forcing Harvey Weinstein—the man whom 90 percent of Hollywood is legit afraid to piss off—to keep sexually harassing women for the last decade.
Here's where it really gets good by which I mean off the g.d. rails.
"I am going to need a place to channel that anger, so I've decided that I'm going to give the NRA my full attention. I hope Wayne LaPierre will enjoy his retirement party. I'm going to do it at the same place I had my Bar Mitzvah. I'm making a movie about our President, perhaps we can make it a joint retirement party."
On the heels of the latest mass shooting, many of us welcome any takedown of the NRA. And considering his historic unpopularity, it's always nice to hear mention of Trump no longer having access to the nuclear codes. But the whole tone of this section verges on the bizarre, that is until you remember you are in the midst of a pissing match, midstream. "I'm going to throw you a party in the same place where I became a man, which you should consider a direct threat to your own manhood through some convoluted illogical thought stream I won't explain." Or something.
Anyway, if there are three people who seem perfect for some sort of man-off, it's Weinstein, Trump and the head of the NRA. So there's that.
"One year ago, I began organizing a $5 million foundation to give scholarships to women directors at USC. While this might seem coincidental, it has been in the works for a year. It will be named after my mom, and I won't disappoint her."
I guess that's a good thing. Let's just be sure every scholarship includes a clause that states, "You are in no way now, nor in the future, beholden to Harvey Weinstein." Just be safe.
Kali Holloway is a senior writer and the associate editor of media and culture at AlterNet.