Holograms Would Let You Appear At Your Own Funeral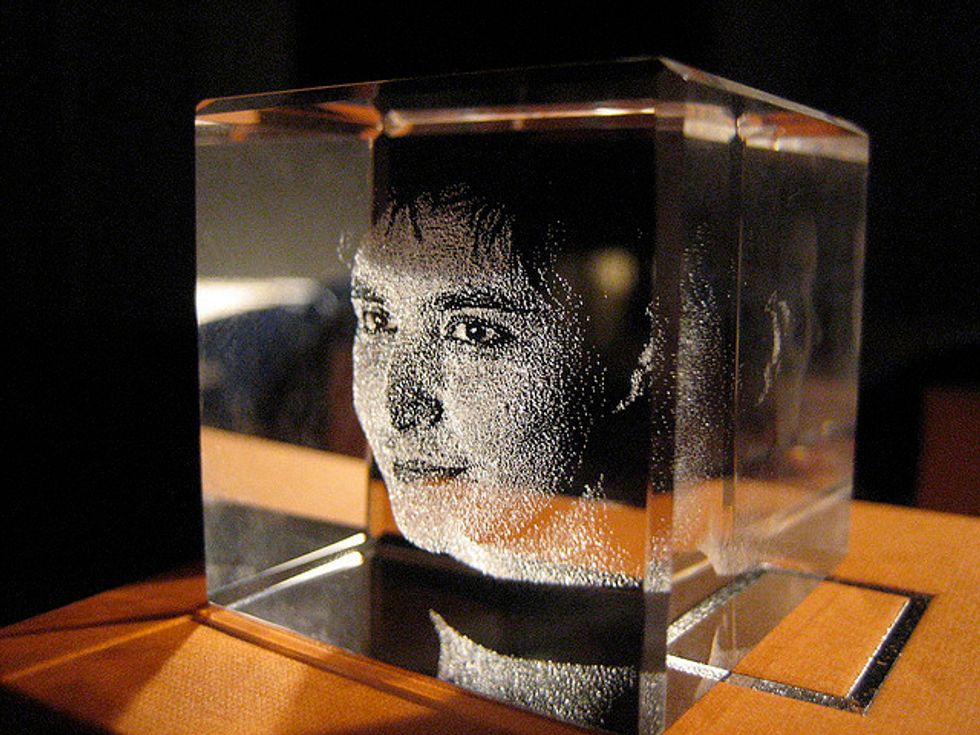 By Johnny Diaz, Sun Sentinel (TNS)
When Carl Minardo dies, his life-size hologram will deliver his eulogy to family and friends.
"Hi, I'm talking to you today personally because I want to express to you from my heart how important you all were in my life, and how much better my life has been with you in it," Minardo's hologram says.
The real Minardo thinks the hologram concept could be the answer for people who want to leave a lasting legacy to their loved ones.
Through Artistry In Motion Holographics Inc. in West Palm Beach, Fla., he and business partner Steven Harless are planning to offer hologram machines or platforms that will project prerecorded images onto a stage or inside a portable box.
Think of the postmortem performances by "King of Pop" Michael Jackson and rapper Tupac Shakur.
"It's not like when you saw Princess Leia saying Obi-Wan Kenobi, and it was grainy … this is 3-D without glasses," said Minardo, president of the company that launched just over a year ago. "It's as real as it's going to get without you walking right out and slapping me in the face."
Harless and Minardo said they are working out licensing arrangements with the hologram manufacturers but hope to begin selling packages in October. Prices would start at $3,000 for a small unit or a box that plays the hologram. A large, life-size hologram package — to project the image inside what looks like a 7-foot-tall doorway or small stage — would be more than six figures, or as Minardo put it, "more than a Bentley and a little less than a Maserati."
The service would be sold to the funeral homes or individual clients. It would take less than a week to shoot, edit and produce the hologram, he said.
Minardo, 63, said the idea came about while playing golf with Harless, a friend and certified public accountant who lives in Palm Beach. They had talked about creating holograms for mausoleums when they began brainstorming the possibilities.
Harless said he had seen Michael Jackson's hologram performance at the 2014 Music Billboard Award. He also was inspired by the experience of losing his father, a World War II veteran, to cancer.
"How wonderful it would be to have a situation where my dad could be in a life-form format just like that," said Harless, 63. "To be able to capture the story of the person before they leave us. I wish I could have captured my dad."
Leaving a personalized legacy is nothing new. Some people have written their own obituaries in advance, or recorded videos to be shown after they've passed.
"It's not terribly unusual for people, before they die, to leave messages for loved ones, whether that be a letter, an audio recording of their voice, or a video recording. This has been around for some time," said Jessica Koth, public relations manager for the National Funeral Directors Association, a nonprofit industry group based in Wisconsin. "However, using holographic technology is something that is new to the profession."
She added that "because it is so new, it is difficult to say how the public will respond. I am sure funeral directors will be watching this new technology to see how other funeral homes and the public will use it during funerals and memorial services."
A South Florida funeral home owner was speechless upon learning of the hologram eulogy service.
"I just think that might be a little bit freaky," said Rory Epstein, owner of Eden Funeral Services and Cremation, a family owned business in Pompano Beach and Miami. "People write their own eulogies and they're delivered by somebody else. I can't imagine my words coming out of my mouth, standing up there as a hologram."
Still, Epstein said he is open to checking out the service. "If they want to test-drive it, they are more than welcome to come here."
Minardo, a fundraising executive who has worked for Nova Southeastern University and the American Red Cross, admits the concept intrigues as well as disturbs some people.
"Sixty-five percent of people say, 'Wow, that's great.' But 35 percent say, 'Geez, it sounds a little creepy,'" said Minardo, whose eulogy features him dressed in a suit and holding an iPad that displays photos of his children and grandchildren. Another segment of his eulogy features him dressed in a Hawaiian shirt and shorts while playing the ukulele.
"There isn't anything you can't do anymore at a funeral. It's not dark walls, dark carpet. It's a celebration of the person's life," he said.
So, why not just record a video?
"Video is flat, even high-definition TV, which is nice but it's not in 3-D," he said.
The point is to help people leave their footprint, Harless said.
"You are going to say what you want to say to who you want to say it in your own words and your own image," said Minardo, the man, not the hologram.
Photo: Imagine this at a funeral, talking to the mourners. Lenara Verle via Flickr