Home-Delivered Diet Meals Not The Final Answer For Healthy Weight Loss, Maintenance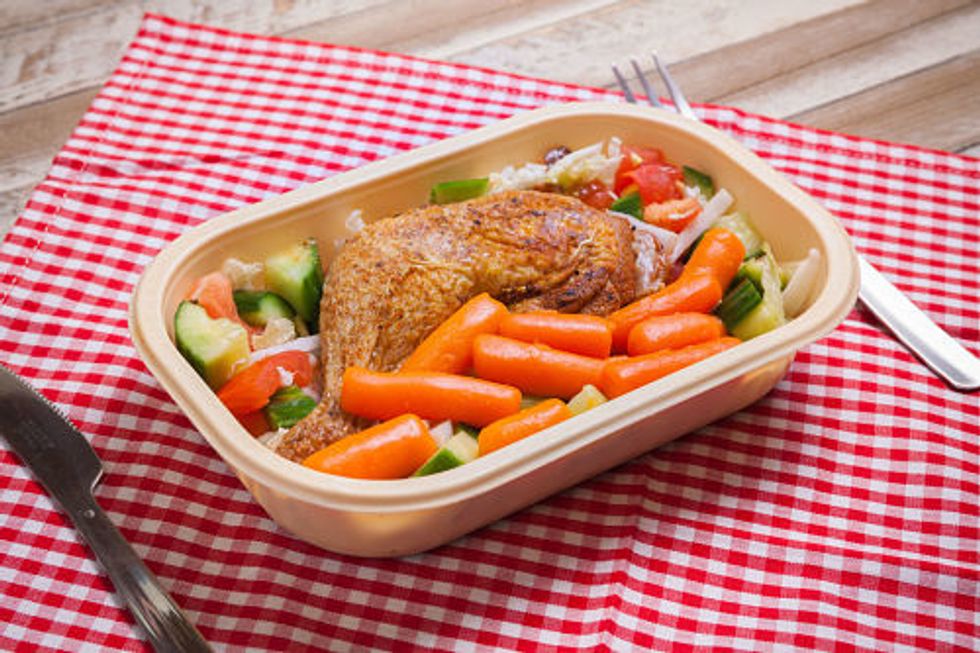 By Environmental Nutrition Editors, Environmental Nutrition Newsletter (TNS)
Diets wouldn't be nearly as challenging an undertaking if you removed all of the planning, shopping, measuring and counting involved.
Delivery programs do all of that for you, and meals appear right on your doorstep. No preparation, no impulse shopping buys, no worries — and the weight comes off! Great as these services can be, however, there are a lot of programs out there that may or may not be realistic for sustainable and healthy weight loss and maintenance.
The Pros
"The number one thing people really like is the convenience. They don't have to think about what they're going to eat; they don't have to prepare it," says Ruth Frechman, M.A., R.D., past spokesperson for the Academy of Nutrition and Dietetics and author of The Food Is My Friend Diet
. Consuming fewer calories on diet delivery programs, which are calorie- and portion-controlled, will lead to weight loss if followed, she says.
According to a study in the April 2014 Diabetes Care, participants with type 2 diabetes lost three times more weight in a commercial weight loss program with prepackaged foods in a planned menu as those in a "usual care" group, which had two counseling sessions and diet instructions.
In addition, 72 percent of those taking insulin reduced or eliminated their medication on the planned menu compared to only 8 percent of "usual care" participants, and significantly reduced their blood glucose levels compared to the "usual group."
The Cons
Frechman says any program that reduces calories will lead to weight loss if followed. So, when considering a diet delivery program, examine it carefully before making a decision. She recommends ensuring the program satisfies any special dietary needs, such as gluten-free, vegetarian, or low sodium.
People may be so swayed by a plan's popularity and potential benefits, and be so desperate to lose weight that they soon find they don't like the taste of the food and tire of it.
"The ultimate goal," says Frechman, "is to learn how to live a healthy lifestyle and not regain the weight. After all, why go to the trouble (and expense) of losing weight, if you're going to gain it back!"
EN's Diet Meal Delivery Guide
1. bistroMD.
Strategy: Physician-created plan provides 1,100-1,400 daily calories: 50 percent lean protein, 20-25 percent healthy fats, and 30-35 percent complex carbohydrates.
Pros: Choose from over 150 seasonal entrees, all fully cooked and frozen. Weekly support emails and optional chats with registered dietitians.
Cons: Snacks cost extra.
Price: $179.95 for seven-day program: Seven breakfasts, seven lunches, and six dinners.
2. Diet-to-go.
Strategy: Customized weight loss plan begins with a Diet and Body Analysis to determine the best fit between three meal plans: Traditional, Vegetarian and Low-Carb.
Pros: Additional customizations, such as allergens, taste and dislikes are available.
Cons: Some plans require fresh vegetables, so grocery shopping may be necessary.
Price: $157.99, plus shipping, for seven-day plan of 21 meals.
3. Jenny Craig.
Strategy: Dietitian-developed meals are designed to be larger, more satisfying portions, but low calorie, in a program that pairs clients with education and lifestyle consultants.
Pros: Weight loss is backed up with a money-back guarantee. Consultants offer one-on-one guidance toward goal setting and tracking progress.
Cons: Consultants are not credentialed nutrition professionals.
Price: $15-$23 per day, plus delivery. Members add their own fruit, vegetables and dairy.
4. Nutrisystem.
Strategy: Metabolic rate, determined by questionnaire, determines the calorie range to personalize plans made up of nutrient-rich, pre-portioned foods.
Pros: Personalized calorie ranges are designed to keep energy up, while leading to a 1-2 pound weekly loss.
Cons: Plans require purchase of fruits, vegetables, protein and dairy.
Price: $259 for four-week Women's Basic Meal Plan: four meals a day.
5. Chef's Diet.
Strategy: Daily home delivery of balanced meals (40 percent protein, 30 percent carb, 30 percent fat) made with fresh ingredients.
Pros: Each day, four freshly prepared meals and two snacks arrive at your door in an insulated cooler bag.
Cons: Daily delivery of fresh food may not meet all schedules. There are several weight loss guidelines to follow, such as limiting coffee.
Price: $51.99 per day plus tax, for the 14-day Chefs Du Jour program.
6. Medifast.
Strategy: Meal replacements are formulated with vitamins and minerals, low-fat protein, and healthy fiber for nutrition and fullness, putting the body in a fat-burning state to quickly lose weight.
Pros: Research shows that it may be safe and effective for weight loss and weight maintenance.
Cons: Many meal replacements are mixed in a mug. Lots of processed bars, snacks and shakes. Plans include at least one meal prepared at home with fresh ingredients.
Price: $363.90 for the 5 and 1 Plan four-week Starter Kit.
7. Fitzee Foods.
Strategy: Gourmet, fresh, and natural meals that are healthy and portioned to suit caloric needs specific to a variety of health, fitness and diet needs.
Pros: Choose your meals by size and nutrition requirements by using Fitzee's nutrition calculator. Meals can be specified to special dietary needs, such as dairy-free and vegetarian.
Cons: This diet delivery is made to order. Each item or meal must be selected individually. There is no premade plan.
Price: $10 average per medium sized meal.
8. Healthy Chef Creations.
Strategy: Weight loss plan follows the Mediterranean diet, which includes lots of fruits, vegetables, fish, whole grains, nuts and olive oil. Meals are delivered fresh (not frozen) weekly.
Pros: These chef-created meals have won awards for taste and quality. Meal plans also include healthy living options.
Cons: Expensive. Fresh foods won't keep as long.
Price: Creations $299.95 for a five-day, 15 meal plan.
(Reprinted with permission from Environmental Nutrition, a monthly publication of Belvoir Media Group, LLC. 800-829-5384. www.EnvironmentalNutrition.com.)
Photo: Diet delivery programs provide calorie- and portion-controlled servings (Tribune News Service)