Home Improvement Hot Spots: Who's Rebuilding?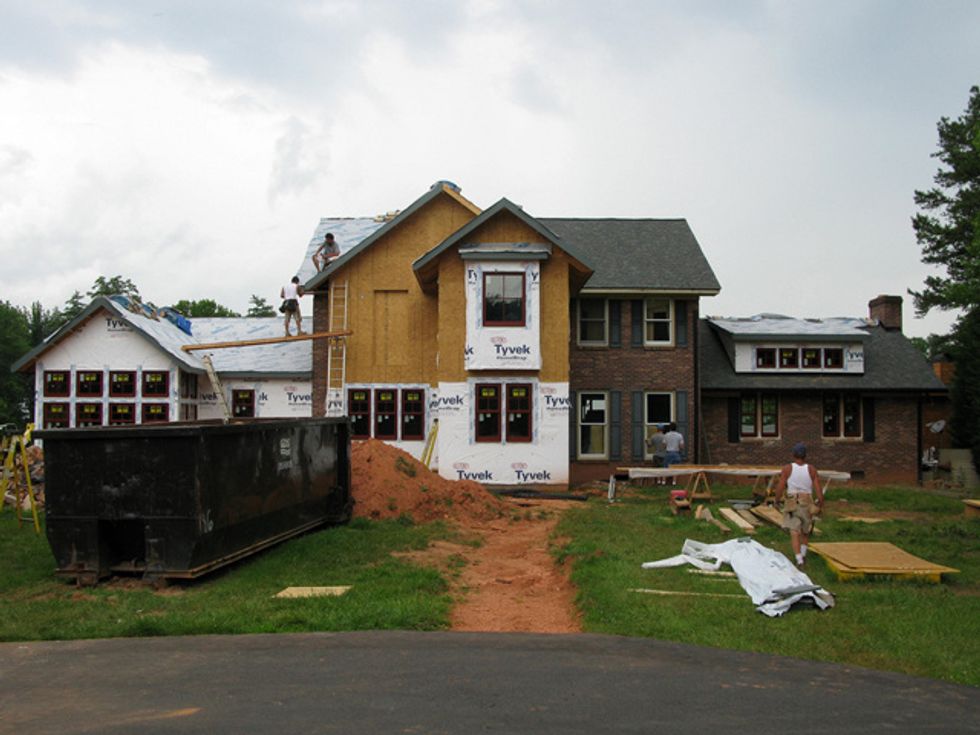 By Janna Herron, Bankrate.com (TNS)
After doing just enough to maintain their homes in the wake of the Great Recession, Americans are starting to ramp up spending on backyard decks, spa-like bathrooms, and other vanity improvements.
The amount people spend on home remodeling and repair is anticipated to hit $325 billion this year, a level that hasn't been reached since 2007, according to the Harvard Joint Center for Housing Studies. Hanley Wood, a marketing services company that owns real estate design and construction publications, including Remodeling magazine, offers a similar outlook, predicting the industry will fully recover this summer following 12 straight quarters of steady growth.
"The forecast looks very bright for the remodeling market," says Tobias Morrison, national sales manager for Hanley Wood. "Thanks to rising consumer confidence, an improved economy, and an aging housing stock, we anticipate that the remodeling market will continue to improve steadily over the next several quarters."
That's good news for a lot of homeowners — whether or not they have a remodeling project in mind. According to the Joint Center, neighborhoods with high levels of remodeling activity enjoy stronger levels of price appreciation than areas with less activity.
Conditions Ripe For Remodeling
There are two big reasons for the recent surge in home improvement: rising sales of previously owned homes and increasing prices, says Abbe Will, a research analyst at Harvard's Joint Center.
Sales of existing homes rose 3.2 percent in June to the highest pace since February 2007. The level was 9.6 percent higher than a year ago and pushed the national median sales price to an all-time record of $236,400. The latest Standard & Poor's/Case-Shiller national home-price index showed values have risen 28.4 percent since February 2012, when prices bottomed after the downturn.
"Previous research has shown that a lot of remodeling happens around the time of sale, either before the sale or within a couple years after the sale," Will says.
Sellers make improvements in hopes of getting a higher price, while recent buyers renovate what they don't like in their new homes. "Home price is the other part of that because homeowners feel they can or should [renovate] their homes," she says.
Where Are The Home Improvement Hot Spots?
Across the country, homeowners are expanding rooms, rewiring, and modernizing electrical circuits, and adding new floors and fixtures.
Yet, some communities are more active than others. Will says America's remodeling hot spots tend to be areas where home prices have remained relatively stable during the downturn. They're also places where the local economy is improving at a healthy clip, specifically many metro areas on the East and West coasts, she says.
Bankrate found a similar pattern when analyzing loan applications for home improvement projects from 2009 to 2013. The applications, which come from the Consumer Financial Protection Bureau's trove of Home Mortgage Disclosure Act records, show that much of the renovation activity is centered in California. When ranking counties in terms of loan applications for home improvement, eight of the top 10 were located in coastal areas.
But even in Milwaukee, smack in the center of the country, remodeling is heating up, thanks to a parallel rise in homebuying, says David Pekel, president and CEO of Pekel Construction & Remodeling.
"We keep hearing from clients that they put in several offers above the asking price and are still losing out on houses," Pekel says. "So, they decided to stay put and add space to their current home instead with an attic conversion or an addition."
How To Prioritize Your Renovation
So far, much of the remodeling activity has been focused on necessary projects, such as roofing or siding, Will says. Seven out of 10 remodelers say postponed projects, which are often maintenance projects, were driving growth in the industry this year, according to a survey from the National Association of the Remodeling Industry, or NARI.
But industry experts are starting to see a shift.
Morrison says kitchens are the top growth category, followed by heating and air conditioning, roofing, and bathrooms, while Pekel reported a surge in bathroom renovations in his community.
"Now we're seeing homeowners moving back to discretionary spending projects, really for the first time in the last few years," Will says.
For homeowners considering making improvements, the ones that recoup their cost at resale are often the least sexy, according to Remodeling magazine's 2015 Cost vs. Value index. Home office remodels and sunroom additions are among the worst makeovers for the money. Replacing your front door is the best.
Take A Check?
Homeowners have been content to pay contractors out of their own pocket, though some in the banking industry say they'd expect an uptick in loan applications, especially if the housing market improves.
A NARI survey conducted at the end of 2014 found that 96 percent of remodelers were paid by check, while only a quarter say they were paid with credit cards, home equity loans, bank home improvement loans or cash.
A Bankrate analysis of government mortgage data also found that only 1.22 percent of cash-out refinances in 2013 — the latest available figures — were for the purpose of remodeling. That's less than half the frequency reported in 2007, when the brunt of the housing crash had not yet taken its toll.
As lending requirements loosen and home values increase, mortgage brokers say they expect more homeowners will look to pay for improvements with home loans.
John Stearns, a senior loan officer at American Fidelity Mortgage in Wisconsin, recently arranged a cash-out refinance for a homeowner who wanted a new roof and windows.
"I even got him a lower rate," Stearns says. "Yesterday, I had a guy email me looking for a home equity loan to remodel his bathroom. He wanted $10,000 to $20,000."
Photo: Brock Builders via Flickr