Homeland Security Promoted False Information To Reject Refugees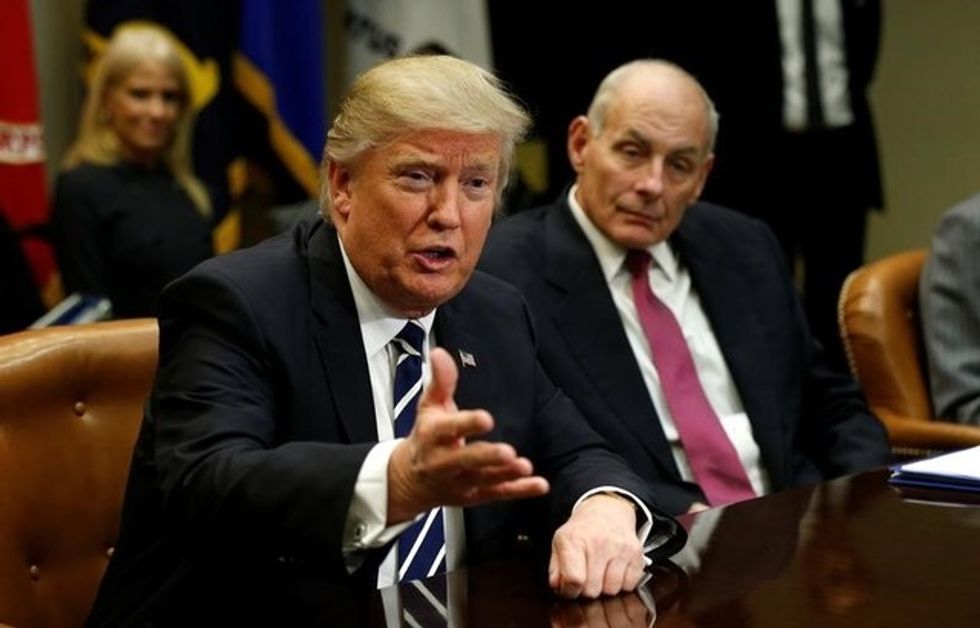 Reprinted with permission from Shareblue.
The Department of Homeland Security (DHS) was caught issuing orders to distort information, and in some cases outright lie, to say war-torn nations were safer, in an effort to justify refusing refugees as part of the Trump administration's aggressive efforts against immigrants.
In a lawsuit naming DHS Secretary Kirstjen Nielsen and her deputy Elaine Duker as defendants, the ACLU retrieved internal messages in which the DHS asked staff to extract "positive gems" about war-torn nations.
The documents obtained by the ACLU outline a plan to justify sending back over 300,000 refugees trying to escape dangerous situations, according to NPR reporting. The nations included Sudan, Nicaragua, Haiti, and El Salvador. Under the Obama administration, thousands of immigrants from those nations were given safe haven after fleeing natural disaster and civil conflicts.
But Trump rescinded their protected status as part of his anti-immigrant drive. Trump has justified his xenophobic policies with racism, including assertions that Mexicans are "rapists."
Trump has been pushing hard to cut down on the number of refugees coming to America, despite the data showing they make important contributions to society once they're here.
The uncovered communications also expose the Orwellian double-speak DHS used while trying to turn away people seeking help.
DHS chose to use the word "challenges" instead of "disasters," and they asserted that conditions in the ongoing Sudan conflict had "sufficiently improved" so that Sudan "no longer meets" the standards for a situation which would allow asylum applications — which was a lie.
Paul Sutphin, a career foreign service officer for Sudan, wrote to DHS to warn that their language was dangerous.
He said the Sudanese government "could view the current language and inaccuracies as a green light" to "force the return" of internally displaced people to "deadly conflict-affected areas."
ACLU lawyer Ahilan Arulanantham told NPR that the propaganda campaign and the related immigration policy are "motivated by racist, white supremacist agenda" where Trump wants to "expel as many immigrants as possible."
The administration has pursued callous and harmful immigration policies, most notably forced child separation, which included holding children in baby jails.
The DHS's Nielsen also famously lied about the cruel Trump administration policy of separating families when she announced, "We do not have a policy of separating families at the border. Period."
The latest DHS propaganda campaign reveal showed just how committed the Trump administration is to turning away groups of people who saw America as a beacon in the darkness.
Trump has been trying to turn that beacon off and give the U.S. an entirely different sort of reputation — one that centers cruelty and hate.
Published with permission of The American Independent.