Homelessness, Demand For Food Increase In U.S. City Survey
@AFP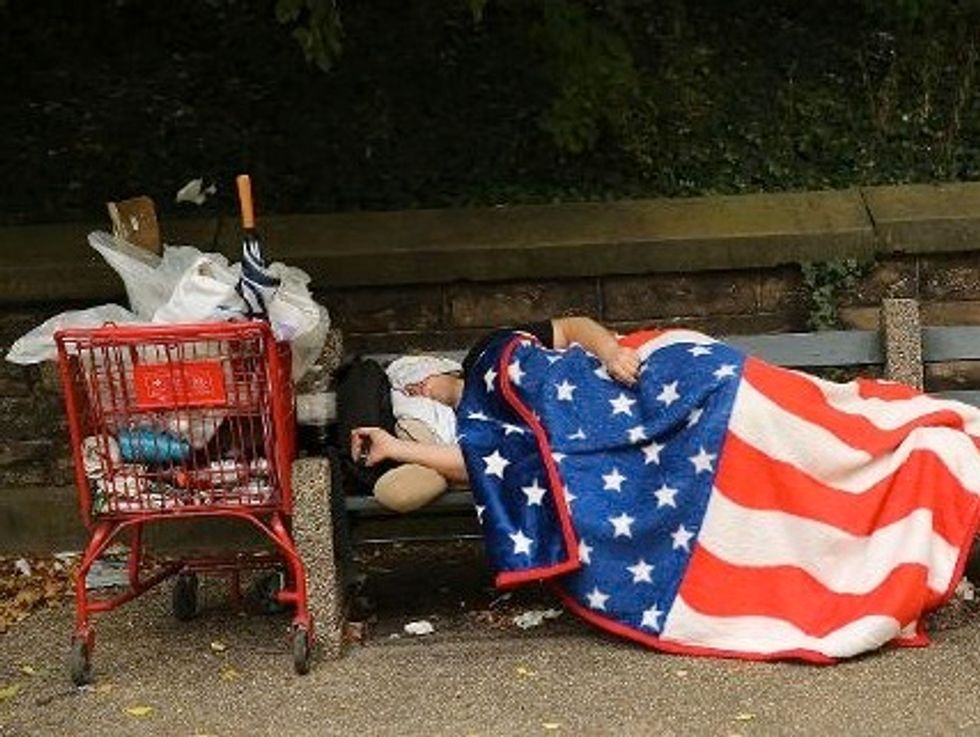 Washington (AFP) – A survey of 25 American cities, including many of the nation's largest, showed yearly increases in food aid and homelessness.
The cities, located throughout 18 states, saw requests for emergency food aid rise by an average of seven percent compared with the previous period a year earlier, according to the U.S. Conference of Mayors study, published Wednesday.
All but four cities reported an increase in demand for assistance between the period of September 2012 through August 2013.
"There's no question that the nation's economy is on the mend, but there's also no question that the slow pace of recovery is making it difficult — and, for many, impossible — to respond to the growing needs of the hungry and the homeless," said the group's president Tom Cochran.
Around 43 percent of people who asked for food aid were employed, 21 percent were elderly and nine percent were homeless.
The increase in demand grew because of unemployment, lower salaries, poverty and higher prices for housing.
Although the quantity of food distributed a year ago rose seven percent, organizations' budgets to purchase food increased only one percent this year.
In food distribution centers, per-person portions decreased as a result.
And a recent major cut in benefits from SNAP, the U.S. assistance program formerly known as food stamps, is also decreasing food available for the most vulnerable, who are now forced to turn to organizations less prepared to face demand.
Homeless families and individuals increased by an average of four percent in the cities studied, which included Chicago, Dallas, Los Angeles and Washington.
The number of homeless families climbed in 64 percent of the cities and stayed the same in only eight percent of the cities.
One in five homeless people had a job and 13 percent were war veterans.
Unemployment was the leading cause of homelessness, followed by a lack of affordable housing, mental illness and poverty.
Nearly a third of homeless people suffered from mental illness, 17 percent were handicapped, 16 percent were victims of domestic violence and three percent were HIV-positive, according to the survey.
AFP Photo/Spencer Platt