Hometown Paper Rips Rep. Devin Nunes For Being 'Trump's Stooge'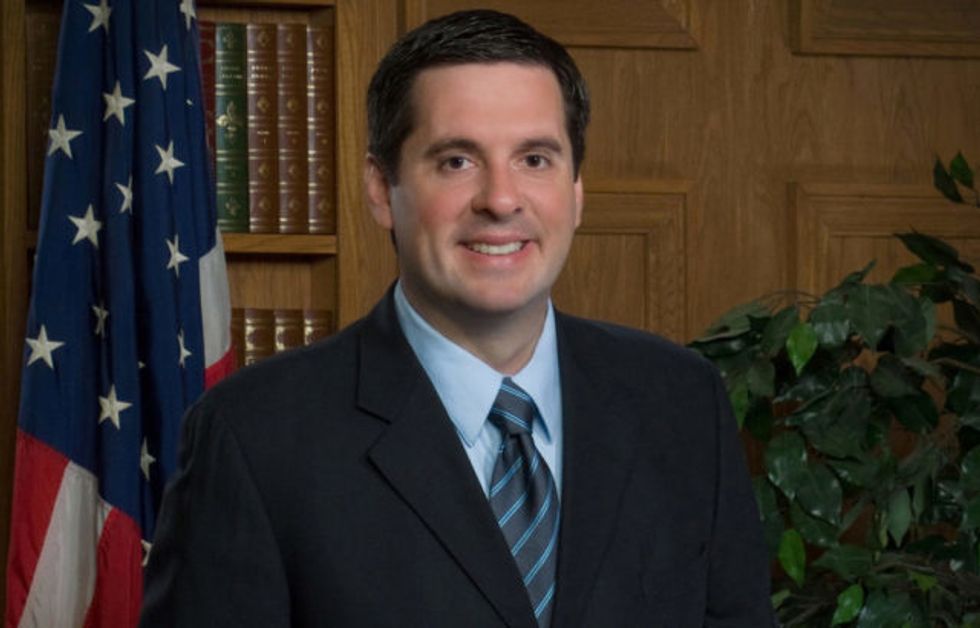 The Fresno Bee, a daily newspaper in Fresno, CA, issued a savage takedown of GOP Rep. Devin Nunes on Friday, blasting the congressman for being "Trump's stooge" and "doing the dirty work" of the White House.
"What, pray tell, does Rep. Devin Nunes think he's doing by waving around a secret memo attacking the FBI, the nation's premier law enforcement agency?" the paper asked, referring to the memo that Nunes wrote alleging — without evidence — that the FBI engaged in major surveillance abuses during its investigation of the Trump campaign.
"He certainly isn't representing his Central Valley constituents or Californians, who care much more about health care, jobs and, yes, protecting Dreamers than about the latest conspiracy theory," Nunes' hometown paper said.
"Instead, he's doing dirty work for House Republican leaders trying to protect President Donald Trump in the Russia investigation."
The scathing editorial went on to say that it's "no accident" that Nunes and his fellow partisan hacks started hyping the memo right around the same time that special counsel Robert Mueller's investigation appears to be ramping up, particularly in its focus on Trump's potential obstruction of justice.
As the paper notes, Mueller's team interviewed former FBI Director James Comey and Attorney General Jeff Sessions last week — coinciding with the GOP's disingenuous push to 'release the memo,' which is actually just a note written by Nunes.
The stunt, led by Nunes and Rep. Matt Gaetz (R-FL) — with an assist from Russian-linked Twitter accounts — is just the latest attempt to "discredit the FBI and distract the public," the editorial board wrote.
"There are reasons to be very skeptical of this memo," they added. "The FBI hasn't been sent a copy or given a chance to respond. Democrats who have seen it, including Rep. Adam Schiff of Burbank say it's full of inaccuracies and innuendo."
Schiff, also from California, serves as the ranking Democrat on the House Intelligence Committee. Nunes is the head of the committee but was forced to recuse himself last year after pulling a similar stunt in which he attempted to provide cover for Trump's lie about being "wiretapped" by the Obama administration.
"Nunes … may believe he will pay no political price for unfairly attacking law enforcement and protecting Trump," the editorial board wrote. "But his performance as chairman of the highly sensitive House Intelligence Committee has been nothing short of embarrassing."
"Instead of taking Russian interference in the 2016 presidential election seriously and leading an impartial and bipartisan inquiry, Nunes has colluded with the White House."
The editorial went on to slam the GOP for launching baseless, politically motivated attacks on the men and women of the FBI, all in an effort to provide cover for Trump.
"[I]t is supremely ironic that the GOP — which long has proclaimed itself the party of law and order — is serving to undermine public trust in agents who risk their lives, combat organized crime, ferret out public corruption, and protect us against terrorism."
Republicans' misleading allegations of wrongdoing are bad enough, but their push to release an intelligence memo that could reveal sources and methods is nothing short of dangerous. The Department of Justice wrote a letter on Thursday warning Nunes not to release the memo without giving the DOJ and FBI time to review it, calling the idea "extraordinarily reckless."
But none of that seems to concern Trump apologists like Nunes, who care more about putting on a show than doing the work they were elected to do.
In its conclusion, the fiery editorial offered a simple recommendation for Nunes and his fellow Republicans. "[D]o our democracy a favor," the paper said. "Stop with the hyperventilating and let Mueller finish his investigation and get to the truth."