Hong Kong Braces For Protests As Vote Fuels Pro-Democracy Movement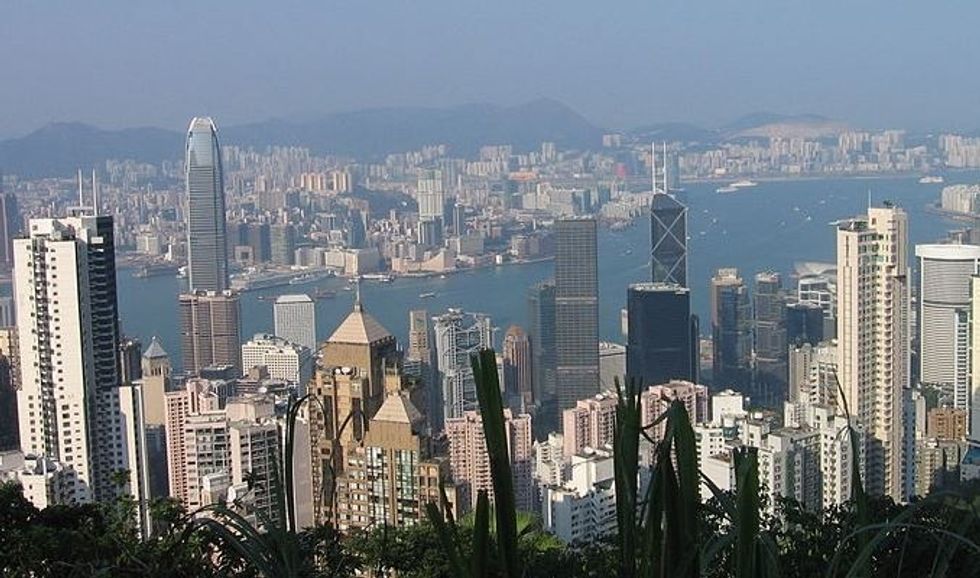 By Julie Makinen, Los Angeles Times
HONG KONG — Nearly 800,000 people voted in a nonbinding Hong Kong referendum aimed at agitating for greater democracy, organizers said early Monday, and the semi-autonomous Chinese city was bracing for hundreds of thousands of people to march through the streets Tuesday to continue pressing their cause.
The 10-day vote in the former British territory — conducted online, via mobile phones, and in person — asked residents to cast ballots for one of three mechanisms for directly electing the city's chief executive. About 787,000 people — more than 10 percent of the city's population — participated, organizers said. Mainland authorities have denounced the balloting as illegal.
Under the "One Country, Two Systems" framework governing the city's return to Chinese rule in 1997, direct voting for the chief executive is to begin in 2017. Rules for the election have not been hammered out yet between Hong Kong officials and mainland authorities, but organizers of the referendum fear that the guidelines for the vote will be written so as to allow leaders in Beijing to screen out any potentially objectionable candidates.
All three proposals on the ballot called for some means of allowing Hong Kong residents to directly nominate candidates for the city's top job. In addition, voters were asked whether the local legislature should veto any proposal that "cannot satisfy international standards allowing genuine choices by electors." More than 87 percent of voters said yes.
China's State Council, or Cabinet, on Monday released a statement rebuking the referendum, calling it "illegal and invalid," adding that those who organized the referendum were pursuing "self-interests through breaching the rule of law, disturbing Hong Kong's social order, and holding back the progress of universal suffrage."
"Our standpoint is firm that the position of chief executive must be shouldered by one who loves both the country and Hong Kong," the statement added, reiterating Beijing's position that it may rule out any candidate it believes does not "love" China.
Since 1997, protest rallies have been held annually on July 1 in Hong Kong. Generally pro-democratic in nature, their emphasis has shifted from year to year. In 2003, an estimated half-million Hong Kong residents turned out to march after proposed anti-subversion legislation sparked heated debate among locals. After the massive turnout, the proposal was shelved indefinitely. Last year's July 1 rally attracted about 93,000 participants, according to estimates from the University of Hong Kong's Public Opinion Program.
This month's 10-day referendum, organized by a group called Occupy Central with Peace and Love, has sparked fierce denunciations from Beijing authorities as well as from some business groups in Hong Kong. The voting website came under fierce cyber-attacks, and media outlets that expressed support for the vote experienced similar assaults.
Occupy Central leaders have proposed staging sit-ins and other forms of nonviolent civil disobedience at some unspecified date in the future in Hong Kong's main financial district if the election rules fall short of what they call "international standards."
Some businesses have expressed alarm at the possibility that the city's financial hub could be paralyzed by such a protest. Last week, the local offices of the so-called big-four accounting firms took out ads in Hong Kong newspapers, saying they were concerned that Occupy Central "would have a negative and long-lasting impact on the rule of law, the society, and the economy of Hong Kong. We hope that the disagreements could be resolved through negotiation and dialogue instead." On Monday, some employees of the companies took out advertisements of their own, saying they disagreed with their bosses' ads.
Although Occupy Central leaders have not designated any particular time yet for a civil disobedience campaign, concern is growing that some supporters of the movement are preparing to launch such activities imminently.
On Monday, local broadcaster RTHK reported that two student groups that have been active in the Occupy Central referendum planned to stage overnight "rehearsal" sit-ins from Tuesday evening to Wednesday morning to put pressure on authorities in Beijing and Hong Kong to accept the results of the 10-day vote.
"We believe we need a more progressive act to push the government to recognize our voice and our suggestion, and only through an act of civil disobedience could really propel or change the mind of the government," secretary-general of the Federation of Students, Alex Chow, told RTHK.
Photo via WikiCommons
Interested in world news? Sign up for our daily email newsletter!