Hope For Mudslide Survivors 'Almost Nonexistent' As Search Continues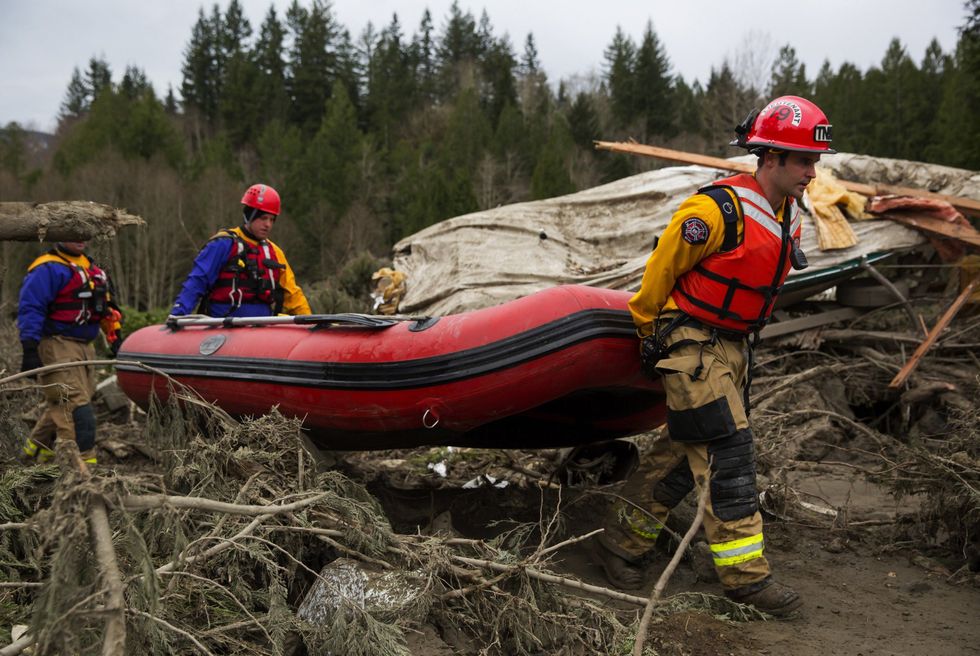 By Lornet Turnbull and Jennifer Sullivan, The Seattle Times
SEATTLE — The man often called upon to deliver heartbreaking news to families of mudslide victims says some relatives hold out hope that their loved ones might still be pulled out alive from the rubble.
But 12 days after a massive hillside gave way and engulfed a riverside community near Oso, Larry Nickey knows an inescapable reality awaits them.
"We are trying to be as honest as we can with the families as we talk to them each night about what we find, " said Nickey, incident commander for an interagency team working at the mudslide site from the Arlington side. "We have prepared the families and some are holding out hope, but most likely there will not be any survivors and we want that message out there."
Rescue crews have not found anyone alive amid the mud, splintered trees and crushed homes since the first hours after the March 22 slide. The official death toll stood at 29 on Wednesday, with 13 listing as missing.
"We will continue searching. But we know the probability of finding anyone alive is almost nonexistent," he said.
Survivors and others impacted by the mudslide received some good news on Wednesday when President Barack Obama declared it a major disaster, opening up extensive help, ranging from money to pay for temporary housing, making essential home repairs, replacing household items and providing child care. It also includes up to 26 weeks of unemployment benefits for those who otherwise might not qualify.
Grants for temporary housing are capped at three months for homeowners; renters will get at least a month. The aid could be extended later by request.
In addition, low-cost loans of up to $200,000 from the Small Business Administration will be available for primary residences, and $40,000 for lost personal property. Small businesses can qualify for up to $2 million in loans.
The Federal Emergency Management Agency (FEMA) also will provide counseling, help with income taxes and legal advice.
Those needing help can register online at www.DisasterAssistance.gov or by calling 1-800-621-FEMA (3362).
In addition, John Pennington, head of Snohomish County's Office of Emergency Management, said two or three disaster-recovery centers will be set up around the county where people can seek assistance.
"I think my message is clear: Anyone impacted by this disaster really in any form up and down the 530 corridor, really should register with FEMA," he said during a media briefing in Arlington. "If you don't register for federal assistance, you can't get federal assistance."
Washington State University has offered to waive tuition for the coming academic year for any students affected by the Oso mudslide, and the University of Washington said it will also help with tuition costs.
WSU's offer, extended by WSU President Elson Floyd in a letter to Darrington Mayor Dan Rankin, waives tuition for students whose permanent addresses are in Oso, Arlington or Darrington. The offer is good for the 2014-15 academic year.
WSU officials say they believe about 75 to 100 students could qualify for the waiver, including incoming freshmen and transfers.
WSU officials said they don't yet know how many students would qualify. "These are very small communities, so we are not talking hundreds of students," said spokeswoman Kathy Barnard in an email.
UW spokesman Norm Arkans said the UW will also help families affected by the slide, although the UW is not offering a blanket tuition waiver to Oso and Darrington students. Arkans said the university has emergency funds in place to help families affected by disasters, and that those who took a financial hit because of the slide should contact the UW's financial-aid office.
Undergraduate, in-state tuition and fees for a year at WSU and the UW are about $12,000. Both universities said incoming freshmen would be included in the offer.
In the letter, Floyd also notes that WSU's Snohomish County Extension office is helping with the evacuation and care of farm animals.
"Oso, Darrington and Snohomish County have been good neighbors to WSU," Floyd wrote. "We will continue to build on that spirit through and beyond … this difficult time."
Nickey, the incident commander, and his team have been at the mudslide site since last Thursday. They have responded to a host of other disasters across the country — wildfires, hurricanes, the 1980 eruption of Mount St. Helens and the 9/11 terrorist attacks.
He calls the tragedy that befell Oso "unprecedented."
"We've never had a mudslide of this magnitude that has taken out that many homes and taken that many lives," he said. "Nobody has ever done this (scale of rescue work) to my knowledge anywhere in the U.S."
Searchers are trying to match human remains as well as cars, even household items like books, with the house they were in to determine the flow of the slide so they can better focus their search.
The cadaver-search dogs rescuers had been using to help find those remains are tired and are being spelled by a new group coming in from out of state. About 20 of them, he said, are set to arrive Thursday.
"We are looking for the deceased and those dogs are specially trained cadaver dogs with a good success ratio in helping to find human remains," he said.
Remains that are recovered at the mudslide site on a daily basis are all sent to the Snohomish County Medical Examiner's Office, where staff has been working long hours identifying the dead and determine cause of death.
"We've not seen anything of this magnitude," Dennis Peterson, deputy director of the medical examiner's office, said Wednesday. "This has overwhelmed us."
Investigators, as well as extra staff from King, Pierce and Skagit counties, and the Washington National Guard's mass-casualty unit, carefully tend to each body with respect and compassion, officials said.
Upon arrival at the office, each person is wheeled into a large tent set up outside the office. Each person is washed in warm water to remove mud, debris and possible chemicals and other hazardous materials, Peterson said.
All 29 victims identified by the office died of some sort of "blunt-force trauma," officials said. Five additional sets of remains have not been identified.
Sheriff's Detective Brad Walvatne said that of the 29 victims identified, nearly all were identified by dental or X-ray records and two were identified through DNA.
Sheriff's detectives working closely with the medical examiner's office initially investigated tips that 531 may have been missing in the slide. Pointing to a spreadsheet on a large screen, Walvatne pointed out that they pared 489 people from that list.
Pierce County sheriff's Sgt. Ed Troyer, who is acting as a spokesman for the Medical Examiner's Office, said Wednesday that of the five people not identified, one may be a challenge. All they know is that the person is a man who has had extensive dental work with gold fillings in his mouth.
The set of remains does not fit with the description on the missing persons list.
They can't even identify his age range. Without possible family members to compare, DNA tests are useless. At this point, gold teeth are all they have to go on.
"It's a huge puzzle. You don't want to get anything wrong," Troyer said.
Marcus Yam/Seattle Times/MCT