House Democrats Look For Answers, Accountability After Midterm Losses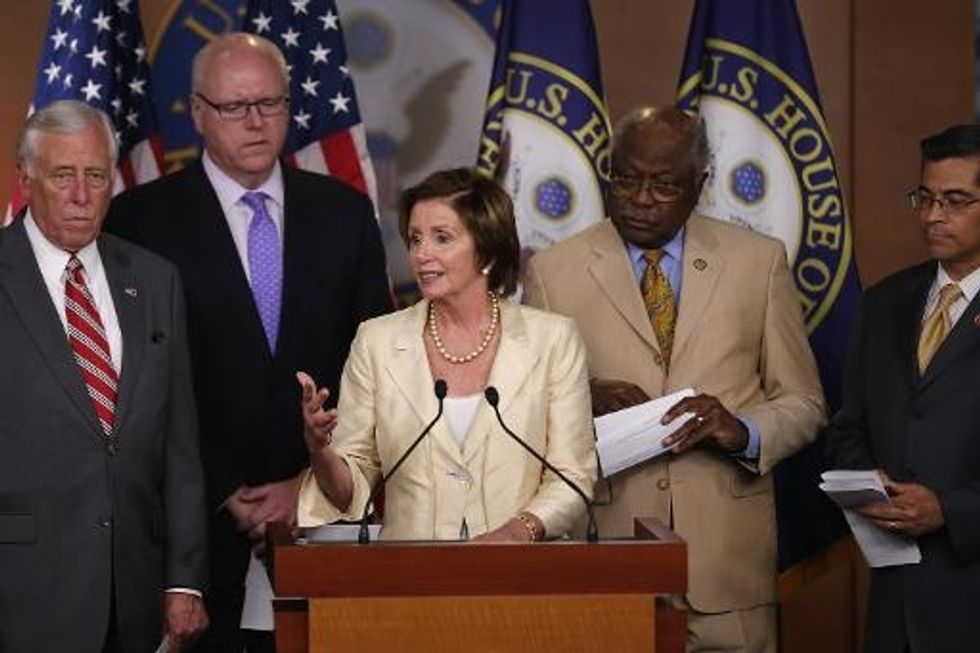 By Emma Dumain, CQ Roll Call (MCT)
WASHINGTON — House Democrats came back to work Wednesday still reeling from last week's bruising election results — and they're looking for answers about what went wrong.
But for many lawmakers, it isn't enough to blame the loss of at least a dozen House seats on an unpopular president, gerrymandered districts and a host of other factors beyond the party's control. They want their leadership to do some soul-searching, and so far it hasn't happened.
Several Democratic lawmakers and aides told CQ Roll Call they chafed at the postmortem conference call Minority Leader Nancy Pelosi convened on Nov. 6, in which she, Democratic Congressional Campaign Committee Chairman Steve Israel of New York and other senior members sought to deflect responsibility for the election results that gave House Republicans their largest majority in nearly a century.
A few members challenged Pelosi for her suggestion that voter suppression accounted for low Democratic turnout, a source on the call said.
A handful of Democratic aides said there was general frustration that the DCCC, at the eleventh hour, had to shift precious dollars around to help incumbents who should have been safe — or should have been warned by the DCCC much earlier to get back to their districts and protect their seats.
Meanwhile, Rep. Bill Pascrell Jr. (D-NY) was telling his local newspaper the party's messaging needed to change. Democrats wouldn't win elections, he said, talking about Pelosi's favored "When Women Succeed, America Succeeds" agenda.
"Where the hell were the Democrats? What were we talking about?" he said. "We're losing white men. Why are we not talking about that? Why are we always concerned with what's the politically correct thing to say?"
"Where's the humility?" a senior Democratic aide lamented. "Don't we want to self-assess here?"
Over the weekend, it looked like party leaders were starting to come around to the idea. Democratic National Committee Chairwoman Debbie Wasserman Schultz of Florida announced that a special panel of "key party stakeholders and experts" would perform a "top-to-bottom assessment"of what went wrong this cycle and how to do better next time.
The news was welcomed by Rep. Gerald E. Connolly (D-VA), who tweeted that Wasserman Schultz "is right: Dems need a thorough, honest analysis of what went wrong. … Business as usual is not the clarion call we need now."
Even the House's third-ranking Democrat, Assistant Leader James E. Clyburn of South Carolina, acknowledged there should be some examination of how the messaging strategy was executed.
"A couple of weeks before the election, my travels around the country, in and out of these congressional districts, led me to the conclusion that our message, or a lack thereof, was causing a problem," Clyburn told CQ Roll Call on Monday. "Where was the Democratic message in this campaign? People couldn't tell you."
A leadership aide pushed back against the thesis that House Democrats lacked a compelling narrative on the campaign trail, and that leaders are required to self-flagellate to prove they're disappointed.
The aide told CQ Roll Call that the caucus had numerous opportunities to collaborate on a party platform ahead of the midterms, with Pelosi and Israel holding listening sessions to hone talking points and messaging strategy. The result was the "Middle Class Jumpstart" economic agenda, which House Democrats promised to implement within their first 100 days of regaining control of the chamber.
Attendance was always high at these special planning meetings, the leadership aide continued; if members now are saying they didn't like the message or appreciate the tone, it's not because they never had the chance to make their feelings known.Also, grousing about a lack of message, the aide said, is par for the course for Democrats every two years.
At least one tradition, however, is missing from this year's election aftermath: Calls for an imminent change at the leaders' table.It's a far cry from 2010 when Democrats lost control of the chamber and there was considerable chatter about whether it the time had come for Pelosi to step aside after 12 years in leadership.
For the time being, even ambitious lawmakers clamoring to move up in the House's party power structure are keeping their powder dry, perhaps expecting 2016 to be the year where a sea change finally takes place at the very top.
There are also fewer members in elected office willing to risk even a symbolic challenge of Pelosi, Clyburn or Minority Whip Steny H. Hoyer of Maryland.There is now a shortage of fiscally conservative Blue Dog Democrats willing to "take one for the team," as ex-Rep. Heath Shuler of North Carolina did four years ago.
But it doesn't mean that Democrats don't want to see some changes. That's especially true for the dozens of members who were elected in 2012 eager to compromise and get things done, even if it meant working with Republicans.
One member of that class, Rep. Michelle Lujan Grisham (D-NM), said there needs to be a "whole different level of engagement" between members and leadership going forward, and she predicted the caucus would be confronted with the challenge of evaluating the status quo.
"I am ready to talk and have an action plan ready on Wednesday," Lujan Grisham told CQ Roll Call on Nov. 8, adding that she wanted to see the 2016 cycle built around talking points that focused more on positive ideas and less on partisan finger-pointing.
In a separate interview on Tuesday, first-term Rep. Patrick Murphy, D-Fla., one of the most vulnerable incumbents of the cycle, said members were undeniably getting antsy with business-as-usual in the senior ranks.
"I think you're going to have some of the more senior members frustrated about when we're going to get the House back," said Murphy, "and you got some younger, newer members who kind of want to be set free and don't want to be tied down as much.
"They want to talk about the things that got them elected in the first place," he continued. "This is a new generation of leadership."
AFP Photo/Chip Somodevilla