House Democrats Won't Seat 'Victor' In Tainted NC Election
@FAWFULFAN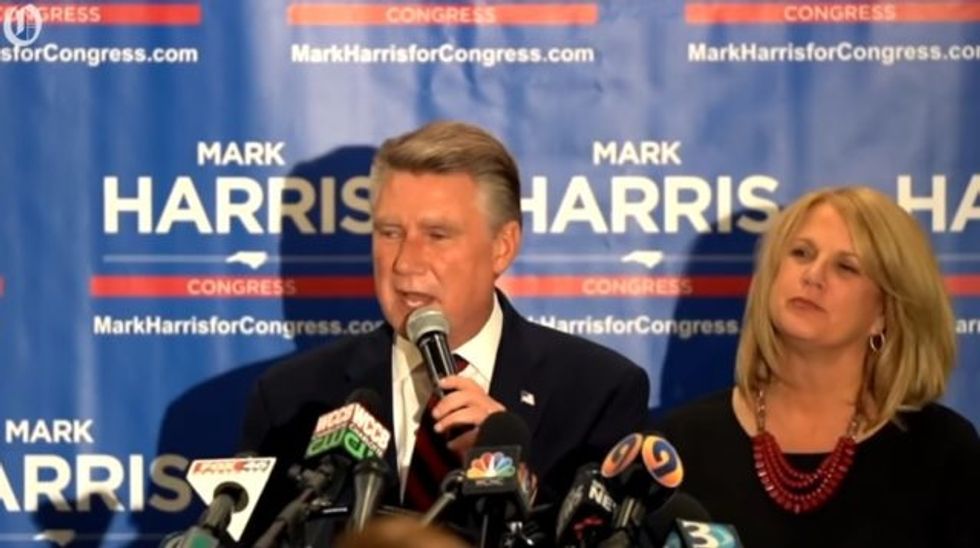 Reprinted with permission from AlterNet.
On Friday, the Washington Post reported that incoming House Majority Leader Steny Hoyer (D-MD) has confirmed Congress will not seat Mark Harris, the GOP candidate for North Carolina's 9th Congressional District.
"Given the now well-documented election fraud that took place in NC-09, Democrats would object to any attempt by Harris to be seated on January 3," said Hoyer in a statement. "In this instance, the integrity of our democratic process outweighs concerns about the seat being vacant at the start of the new Congress."
The election in North Carolina's 9th District is now the subject of a criminal investigation, as affidavits and testimony revealed that a man hired by the Harris campaign, local strategist Leslie McCrae Dowless, Jr., sent paid ballot harvesters to the homes of absentee ballot voters — including elderly people of color — and illegally delivered the ballots to the campaign. More than 1,000 ballots may have been destroyed, in a race where Harris beat his Democratic opponent Dan McCready by just 905 votes. The alleged fraud took place in Bladen and Robeson counties, where Harris won an extremely high percent of absentee ballots despite Democratic voters leading in ballot requests.
This news comes just as the North Carolina Board of Elections and Ethics Enforcement, which refused to certify the election results in the district due to irregularities, is officially dissolved to comply with a court order finding the GOP's prior attempts to restructure it unlawful. Without the board, which had the authority to call a new election, what happens next for the 9th District is unclear.
Democratic Gov. Roy Cooper recently vetoed a GOP-backed bill that would revert the elections board to its previous configuration, on the grounds that the bill also contained a provision crippling state campaign finance law. He has stated he intends to appoint an interim elections board.
The North Carolina Republican Party, though initially suggesting they were open to holding a new election, are now demanding that Harris be seated in Congress, with executive director Dallas Woodhouse claiming the election board "failed in their duty," and asserting with no evidence that "Harris got more legal votes."