House Oversight Committee Wants DeVos Emails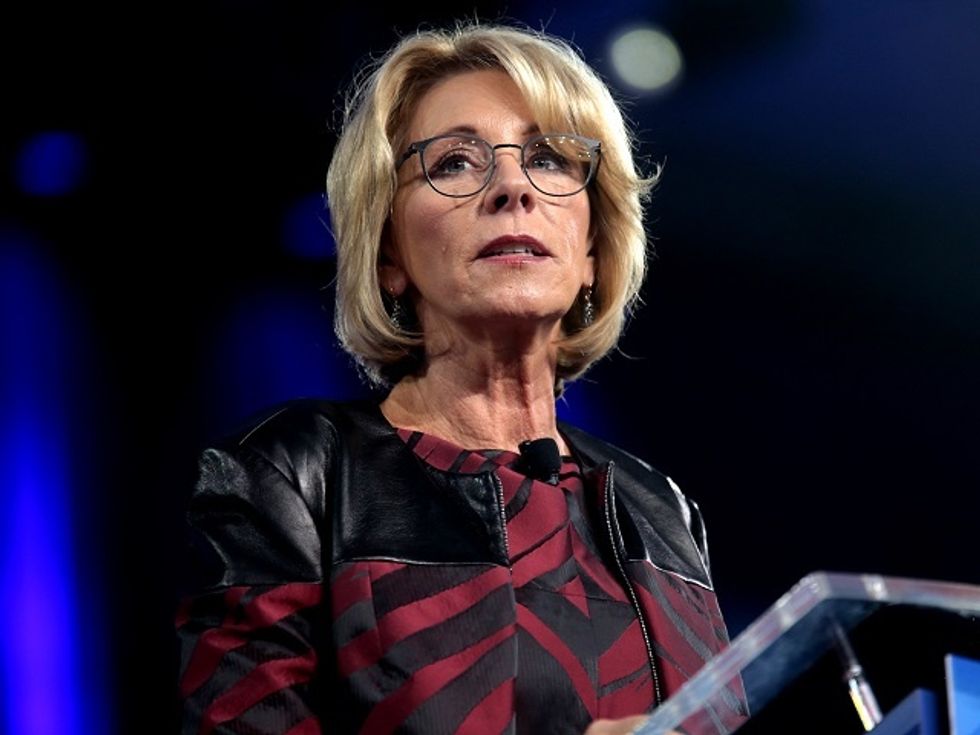 Congress is demanding more information from Education Secretary Betsy DeVos, who may have violated federal law with her use of personal email to conduct official business, according to a letter from the House Oversight Committee.
The committee's chair, Rep. Elijah Cummings (D-MD), explained to DeVos that he is expanding the current investigation and seeking additional records because of "disturbing new revelations that you violated federal law and withheld information from the Committee" when the Department of Education did not hand over emails from a personal account DeVos used to conduct official business.
As a result, Cummings is demanding "all records from your personal email accounts that relate to official government business."
The letter cites an internal Education Department investigation that revealed DeVos used her personal email roughly 100 times to conduct official business, but failed to properly preserve those records as required by both department policy and federal law. Further, the Department of Education violated the Freedom of Information Act when it failed to produce relevant documents in response to public requests.
And DeVos' bad behavior is mirrored by her staff, with the investigation finding 78 percent of political appointees at the department used personal email and/or messages to conduct official business.
Cummings has given DeVos until July 29 to turn over all her work-related emails from personal accounts.
In keeping with Trump's obstructionist attitude toward Congress, an Education Department spokesperson sought to minimize the potentially criminal behavior of her boss.
"There is nothing to see here," Liz Hill told Politico, adding that the investigation by Congress was "nothing more than political grandstanding."
The issue of using personal email to conduct official business was a major issue in the 2016 campaign, when Trump and his fellow Republicans repeatedly attacked Hillary Clinton for using a personal server to conduct official business at the State Department.
But now that Trump and his team are in power, spokespeople like Hill are seeking to minimize the repeated violations by not only DeVos but a multitude of other Trump officials.
Trump's own daughter Ivanka Trump, and her husband, Jared Kushner — both White House senior advisers — used a private email server for government business. In another instance, a member of Trump's national security team used her AOL email account to discuss giving nuclear technology to Saudi Arabia.
Now DeVos joins that list, and the only question that remains is whether or not she will cooperate with Congress, or continue to hide from accountability.
Published with permission of The American Independent.