House Passes Law To Impose Ethics Rules On Ivanka And Jared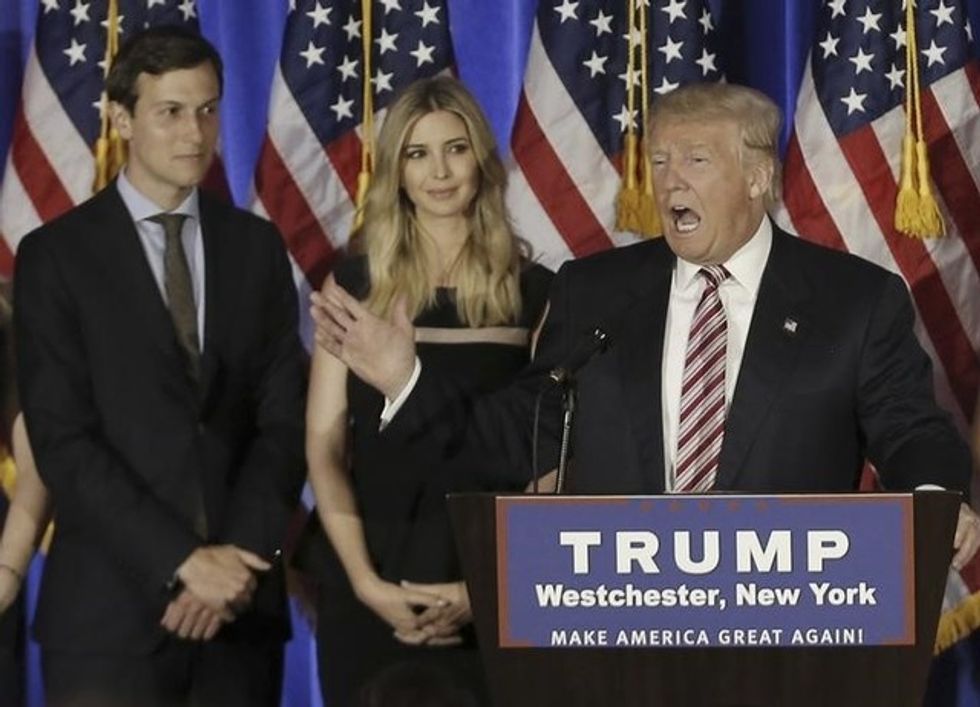 House Democrats on Friday passed a sweeping new bill aimed at making elections freer and fairer by making Election Day a holiday, promoting automatic voter registration, ending gerrymandering, and protecting election equipment from foreign attackers.
But also included in that bill is an amendment that would make Trump's daughter and son-in-law, Ivanka Trump and Jared Kushner, adhere to White House ethics laws. It's part of the bill's other anti-corruption provisions, which would force presidential and vice presidential candidates to release their income tax returns.
Both Kushner and Ivanka Trump currently serve as unpaid advisers in the White House. Ethics experts raised concerns that their roles were ethically suspect, as Trump's two family members could "avoid the ethics, conflict-of-interest and other rules that apply to White House employees."
Eventually, Kushner and Ivanka Trump said they were becoming official White House employees, though still unpaid, in order to comply with federal ethics rules.
However, this new amendment would codify into law that ethics laws will apply to "unpaid employees of the Executive Office of the President and the White House."
The amendment was introduced by Rep. Pramila Jayapal (D-WA), who said in a speech on the House floor her amendment will "ensure that conflicts of interest do not interfere in the operations of our government."
"I come to the floor today to speak on this amendment that simply requires unpaid government employees to comply with the same ethics rules as paid employees," Jayapal said. "President Trump has exploited this ethics loophole for his daughter Ivanka Trump and his son-in-law, Jared Kushner, who both work in the White House. Requiring your daughter and your son-in-law to be subject to the same ethics rules as everyone else is simply basic common sense."
Of course, Senate Republicans — led by Majority Leader Mitch McConnell (R-KY) — have no intention of bringing the broader bill that includes the amendment to a vote, absurdly claiming that a bill making access to voting easier for all Americans is a "power grab."
Really, McConnell just seems scared that his party can't win without voter suppression tactics — and that this sweeping bill would hamper Trump's ability to hide his conflicts of interest.
Published with permission of The American Independent.
IMAGE: Donald Trump speaks as his son-in-law Jared Kushner (L), daughter Ivanka listen at a campaign event at the Trump National Golf Club Westchester in Briarcliff Manor, New York, U.S., June 7, 2016. REUTERS/Mike Segar/File Photo