House Re-Elects Boehner For A Repeat Of The 112th Congress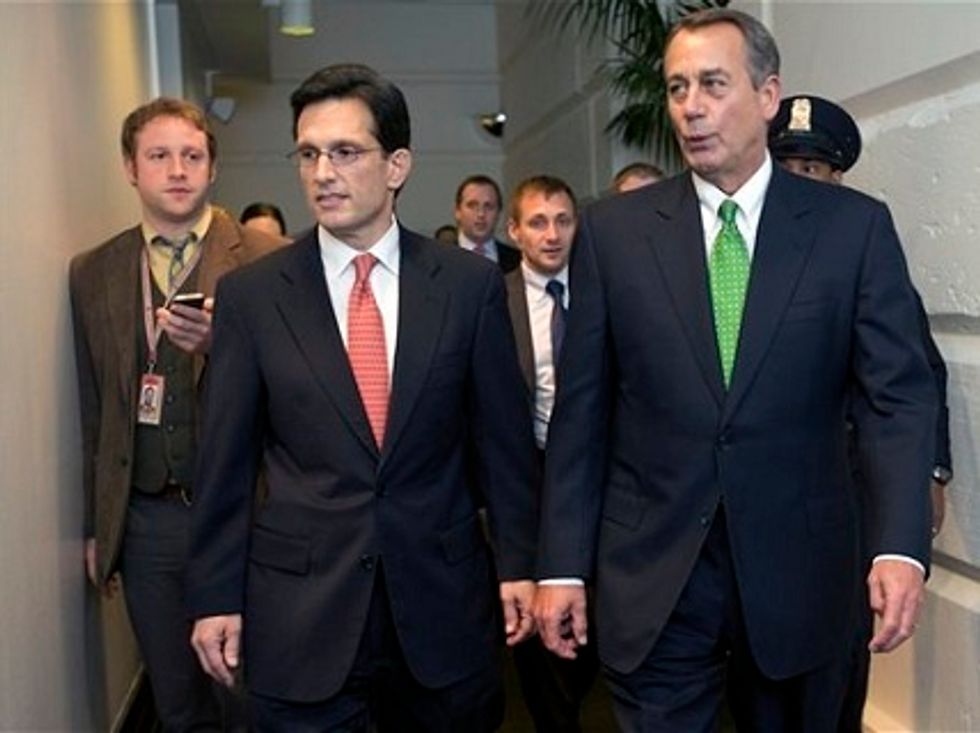 Surprising no one, except perhaps the readers of Breitbart.com, John Boehner, Republican from Ohio, has been re-elected Speaker of the House of Representatives with 220 votes, two more than he needed to win a second term.
Tea Partiers floated the rumor that an insurrection was brewing after the Speaker allowed the Senate's "fiscal cliff" compromise to be voted on with no major spending cuts. Rep. Peter King (R-NY) added fuel to the fire when he blasted the Speaker for not holding a vote on relief for the states affected by Superstorm Sandy before adjourning the 112th Congress, which will go down as the most unproductive session in recent history. Governor Chris Christie (R-NJ) then ignited another firestorm, holding a press conference for the explicit purpose of blasting the House GOP and Boehner for delaying aid to the Sandy-ravaged states.
The Speaker cooled the rift by scheduling two votes on the bills offering relief for Sandy's victims, the first coming Friday.
The far right of the party reportedly decided that there was no candidate to rally behind to replace Boehner, though they only needed 17 votes against him to put his Speakership in jeopardy. In the end, the two members mentioned as possible replacements — Minority Leader Eric Cantor (R-VA) and Tom Price (R-GA) — votedfor Boehner.
With 3 votes, Eric Cantor finished in third place behind Boehner and Minority Leader and former Speaker Nancy Pelosi (D-CA), who won 192 votes.
Now-former Congressman Allen West (R-FL) received 3 votes, including one from Louis Gohmert (R-TX). Justin Amash (R-MI), who was recently removed from the House Budget Committee as punishment from the House leadership, voted for Raul Labrador (R-ID).  Tom Massie (R-KY) voted for Amash.
Boehner won 241 votes for his first term in 2011. Republicans lost six seats in the House in the 2010, despite garnering a million fewer votes than Democratic candidates. Redistricting has made the GOP majority in the lower House so safe that it's estimated that Democrats would have to win the popular vote by 7 percent to retake the House.
Boehner accepted the gavel and gave a speech citing the $16 trillion debt as the country's biggest challenge. "Put simply, we are sent here not to be something, but to do something – to do the right thing," he said.
The 113th Congress begins without a few of the Tea Party notables that made the 112th so contentious — including West and Joe Walsh (R-IL). However, Michele Bachmann (R-MN) remains in the House and cast the deciding vote for Boehner. Bachmann began the session by immediately introducing another bill to repeal Obamacare, something the 112th Congress did more than 30 times.
Photo credit: AP Photo/Jacquelyn Martin