House Republicans Hesitate To Overturn D.C. Law On Reproductive Rights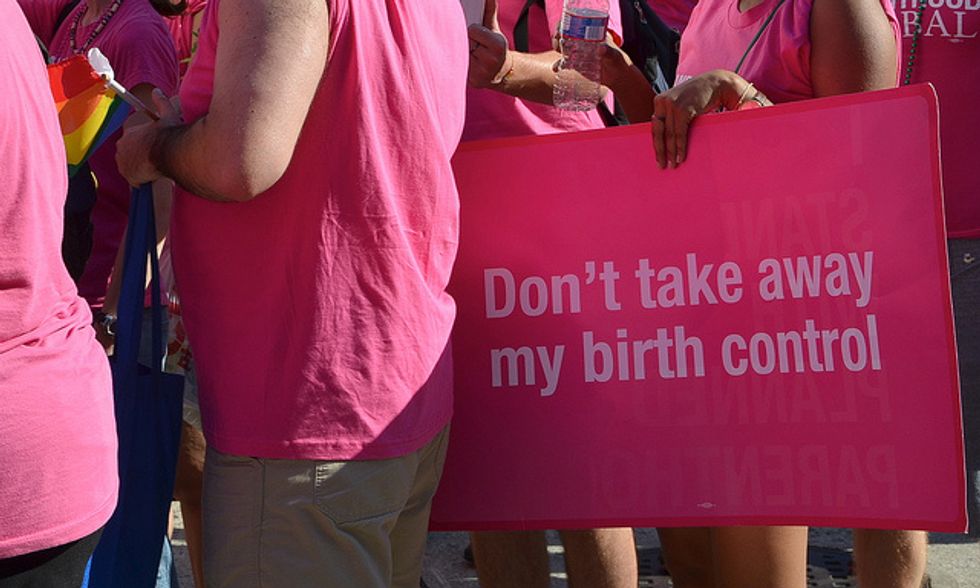 By Billy House, Bloomberg News (TNS)
WASHINGTON — Congress faces a Monday deadline to repeal a new Washington, D.C., law that would prohibit employers from discriminating against employees who obtain abortions or use birth control, and Republicans in the House seem divided about whether to make the effort.
Sponsored by Republican Representative Diane Black of Tennessee, the "resolution of disapproval" (H.J. Res 43) would undo the D.C.-passed Reproductive Health Non-Discrimination Act. The disapproval measure passed the Oversight and Government Reform Committee on April 21, by a 20-16 vote, according to House records.
The law, signed by Washington Mayor Muriel Bowser on January 25, protects employees in Washington, D.C., from being fired for reproductive health choices such as the use of birth control, or getting an abortion. Members of Congress who want to see the law overturned say that it discriminates against employers who have religious objections to birth control and abortion. They also argue that the law could force employers with religious objections to cover the abortions in their health care plans, or even hire abortion activists.
"We cannot let this bill stand," declared Oversight committee chairman Jason Chaffetz of Utah, in a statement prior to the panel's vote in favor of the resolution of disapproval.
The Oversight Committee's top Democrat, Elijah Cummings of Maryland, argues that Congress is resurrecting a legislative relic that allows Congress to disapprove laws enacted by the District of Columbia — something the lawmakers have not done in decades — for the purpose of infringing the rights of women, as well as local government control.
As of Wednesday afternoon, Chaffetz and Republican House leaders still had not discharged that resolution out of committee, which is a procedural requirement for a vote by the entire House. Because the bill has not been reported out of committee, no individual member of the House can invoke parliamentary privilege to call up the bill.
The delay caused a group of House conservatives Wednesday to press Speaker John Boehner (R-OH) for a floor vote "as quickly as possible." But aides to Boehner's chief deputy, Majority Leader Kevin McCarthy, and to other Republican leaders won't discuss their plans, saying only that the dispute is the subject of ongoing discussions.
In any event, the battle seems more politically symbolic — and perhaps indicative of GOP leaders' reluctance to continue fighting over divisive social issues — than substantive. Under federal law, a District law may be overturned if both houses of Congress vote to do so and the president agrees within 30 legislative days, something that hasn't happened in 23 years. The deadline for action has been determined by the congressional parliamentarians to be Monday. Even if the House does vote, it seems unlikely that the Senate would act quickly enough to get the legislation to the desk of President Barack Obama who, in turn, would be unlikely to sign it.
Mike Long, a McCarthy spokesman, would not directly say whether the Monday deadline for passage of the disapproval resolution would be met — and if not, why not.
Black said there are ongoing talks, but would not say what those discussions were focused on. She said she still hopes to see the bill brought to the House floor for a vote in the coming days, but acknowledged in an interview Wednesday that a deadline is imminent.
Chaffetz's committee spokesman did not respond to a request for comment about why his committee has not discharged the resolution of disapproval.
Internal tension being caused by the delay became public Wednesday when the conservative House Freedom Caucus released a statement calling on their Republican leaders to allow a vote on H.J. Res. 43. Their statement warned the D.C. law "could force religious and conservative employers in the District to cover abortions in their health care plans and require pro-life organizations to hire abortion advocates."
This could be stopped, they note, because "Under the Home Rule Act, 'Congress is statutorily empowered to review actions by the D.C. Council.' "
Photo: Adam Fagen via Flickr