House Republicans To Vote Oct. 8 For New Leaders
@reuters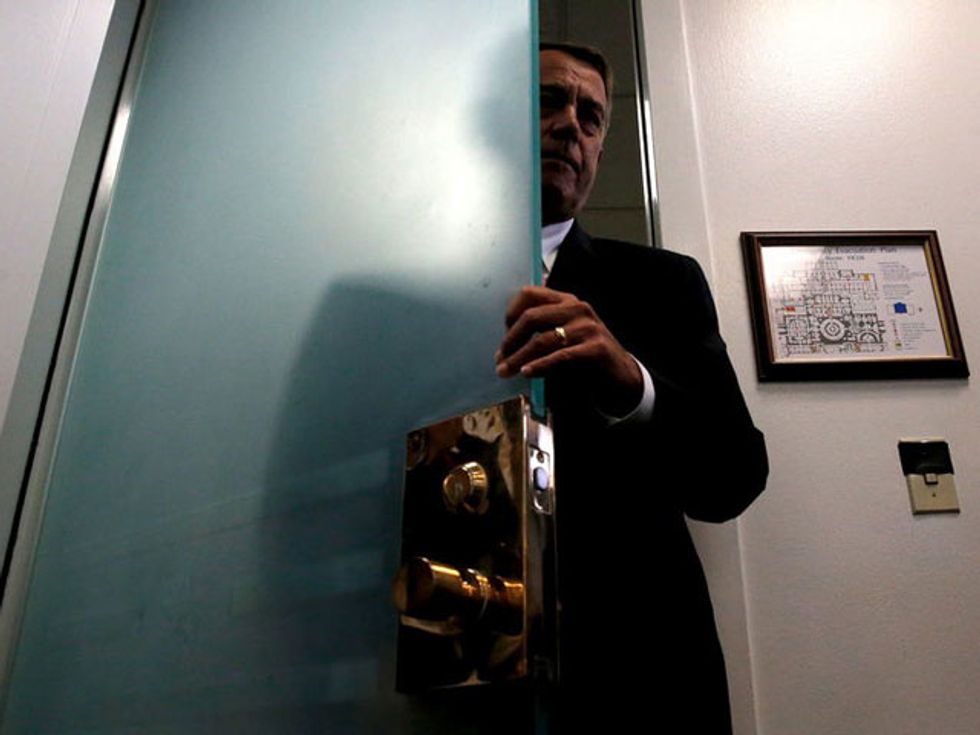 By Susan Cornwell
WASHINGTON (Reuters) — Republicans in the U.S. House of Representatives will hold leadership elections on Oct. 8, House Speaker John Boehner said on Wednesday, moving speedily to get a new team in place to deal with a series of fiscal challenges ahead.
"After consulting with our conference, a large majority of our members have made clear they want these elections held next week. With their considerations in mind, the House leadership elections will take place on Thursday, Oct. 8," Boehner said in an emailed statement.
Boehner announced last Friday that he will step down as Speaker and leave Congress effective Oct. 30, after struggling with repeated rebellions by conservatives during a tumultuous five-year reign as the chamber's top Republican.
On Oct. 8, the Republicans will choose their candidate for Boehner's replacement as well as their choices for other party positions. Sometime later in October, the full House is expected to vote on the new speaker.
Whoever becomes the top House leader after Boehner leaves will be next in line in the succession to the U.S. presidency after the vice president.
House Republicans are expected to choose Representative Kevin McCarthy, 50, the current House majority leader, as their speaker candidate. However, currently there are no rules binding Republicans to vote for the party's preferred candidate when the speaker election takes place in the whole House.
McCarthy's only declared competition within the Republican conference so far is Representative Daniel Webster. The 66-year-old former speaker of the Florida statehouse participated in a conservative rebellion against Boehner earlier this year in which Webster was nominated for speaker and received 12 votes.
While the full House formally elects the speaker, only House Republicans will choose the majority leader and majority whip.
The new leadership team will direct Republican efforts in upcoming fiscal battles, from a possible long-term budget deal to raising the U.S. debt ceiling.
If McCarthy moves up to speaker, he would leave an opening for majority leader, who determines what legislation goes on the House floor day-to-day. Representative Steve Scalise, the current Republican whip, and Representative Tom Price, the House Budget Committee chairman, are campaigning for that job.
Scalise's interest in the majority leader job has opened up a three-way contest for majority whip, between Representatives Patrick McHenry, Pete Sessions and Dennis Ross.
(Reporting by Susan Cornwell; Editing by Susan Heavey)
House Speaker John Boehner (R-OH) re-enters after excusing himself from a news conference following a closed Republican House caucus meeting at the U.S. Capitol in Washington, September 29, 2015. REUTERS/Jonathan Ernst