How A Refreshing 'Business Candidate' Succeeds Where Many Others Failed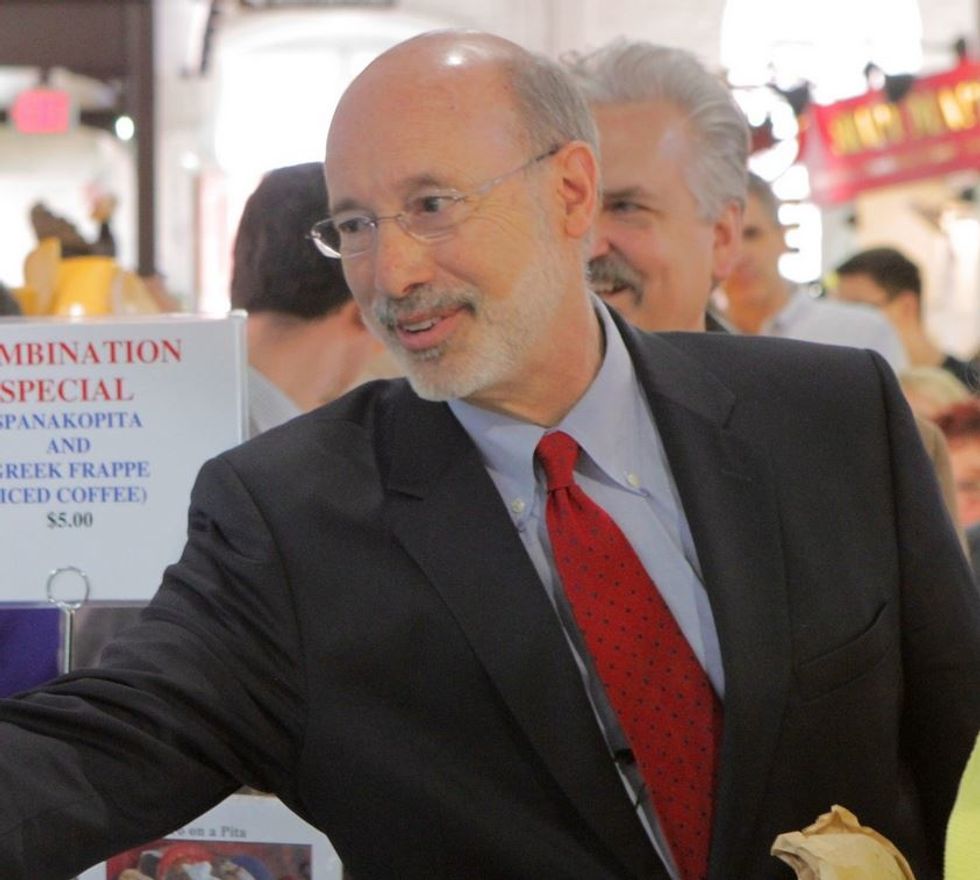 Tom Wolf is not the typical businessman-turned-politician.
By most accounts, the previously little-known executive from York, Pennsylvania, is going to win the upcoming Democratic gubernatorial primary and cruise to victory over embattled GOP governor Tom Corbett in the November general election. That prospect alone separates him from other businessmen and women who seek public office — most of whom fail, badly.
So what's behind his successful campaign?
Wolf's appeal as a candidate seems to lie in his upbeat campaign, which ultimately has roots in his previous career as CEO of a building products distributing firm, The Wolf Organization Inc. His sophisticated understanding of how government should function was also shaped by his time in the private sector.
Unlike other politicians (such as Mitt Romney) who tout their business acumen as a primary rationale for holding public office, Wolf fully acknowledges that running a business and running a state government are two completely different jobs.
"Government has the task of doing things, a lot of things, that businesses don't have to do, like ensure a good public education for every child in Pennsylvania; roads and bridges; providing a safe environment; providing a legal system," Wolf told the Central Penn Business Journal last August. "These are public goods that by definition are outside the purview of private enterprise, so the mission of government is very different from business."
While the two jobs are very different, for Wolf, their paths necessarily cross — and that's not a bad thing. Warming to this theme, Wolf explained later in the interview why he views government as a necessary and beneficial force in the private sector.
"I've been running a business, and I depend on a lot of things that government needs to deliver on. I depend on employees who are products of a really first-rate education system," he said. "I depend on good roads, I depend on bridges that are not falling down, I depend on communities that are safe and are places where my employees, my customers and my vendors want to live."
With his poll numbers through the roof, it's fair to say that Wolf's positive campaign message has resonated with Pennsylvania Democrats.
But there are more obvious benefits to being a prosperous businessman when running for public office. Wolf's advertising, for example, is so far unmatched by primary opponents who cannot pour the same amount of their own money into the race. He's dumped $10 million of his personal cash into the campaign so far, $4.5 million of which was secured through a personal loan.
That loan has been seized upon by Wolf's detractors. Republican strategist Ray Zaborney is convinced that the loan controversy will have lasting effects. As Zaborney told National Journal,  "The danger for Wolf and Democrats is the question of whether this is just scratching the surface, or is there more to come. Will Democrats be able to sort it out in five weeks? Probably not."
Before the mudslinging began, Wolf explained why his self-funded blitz really worked to his advantage.
Like business and government, name recognition through advertising and an inspiring campaign narrative do not work well without each other, the Democrat told Ben Jacobs of The Daily Beast.
"Usually people take a look at people who do [self-fund], say 'Now you've got name recognition but I don't like your story,'" Wolf said. "But people seem like to like what I did."
 Photo: Tom Wolf via Flickr