How Black Is Black Enough?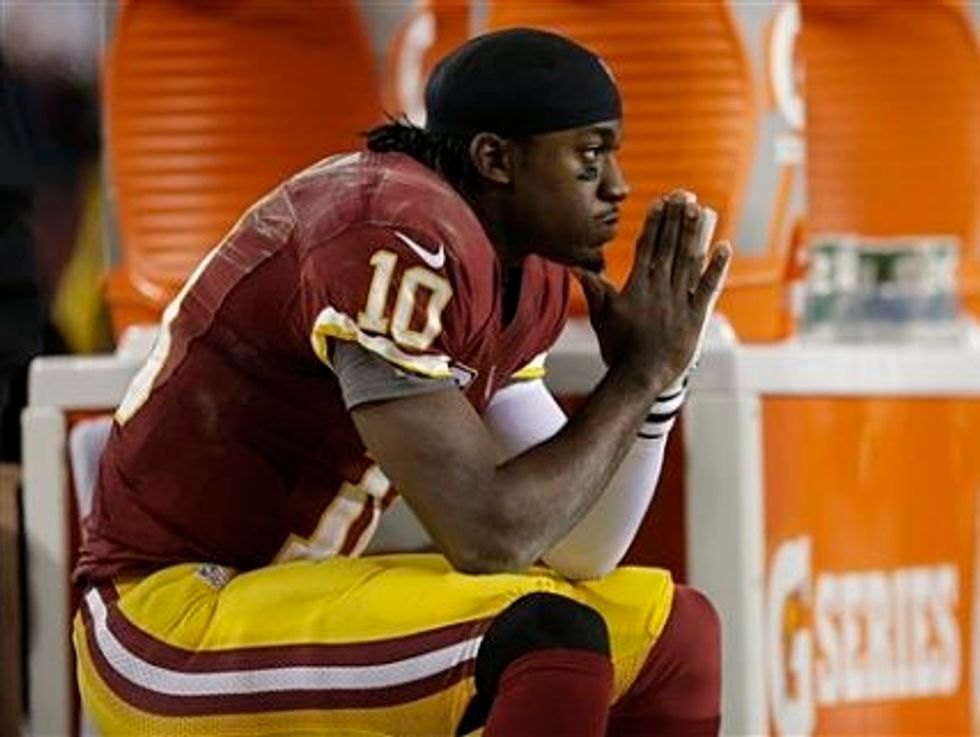 I suddenly find myself concerned about my blackness.
It had never occurred to me to worry about it before. Then came the incident last month on ESPN's "First Take" program that initially got commentator Rob Parker suspended and then, last week, fired outright. It seems Parker, who is African-American, analyzed what he saw as the insufficient blackness of Robert Griffin III, rookie quarterback for the Washington, D.C., football team that is named for a racial slur.
Having returned their team to relevance for the first time since the Clinton era, RG3, as he is known, can do no wrong in the eyes of Slurs fans. But Parker, saying that the young man's fiancée is (gasp!) white and that he himself is rumored to be — cover the children's ears — a Republican, found him lacking in the area of authentic blackness. "My question," he said, "which is just a straight, honest question: is he a brother, or is he a cornball brother? He's not really … OK, he's black, he kind of does the thing, but he's not really down with the cause. He's not one of us. He's kind of black, but he's not really like the guy you really want to hang out with…"
That explosion you hear is the sound of my mind, blown. I'm left second-guessing my own blackness.
I mean, I listen to Bruce Springsteen, for crying out loud! There's even a Dixie Chicks album on my iPod. Should I download more James Brown and Al Green to save my, ahem, soul?
And I read books sometimes, man — even when no one's making me do it. Some of them are thick as bricks. Some aren't even about African-American themes.
It gets worse. I have no natural rhythm, no criminal record and can correctly pronounce the word "ask." I don't curse nearly as much as I ought to. Oh, and I went and married my baby mama.
Obviously, my blackness is on life support.
Many of us have been taught that it is demeaning and delimiting when someone presumes to say who you are, how you will behave, what you think, what you like, and how intelligent you are, from the color of your skin. We have been taught that such behavior abridges the other person's individuality.

But apparently, that's only when white people do it to black people. When black people do it to black people, it's called assessing your blackness, making sure you aren't some "cornball brother."
How enlightening to learn that. It is even more enlightening to discover that we have such easy-peasy rubrics to go by. You can't be black if you are a Republican? That means Colin Powell isn't black. Neither, if published reports are to be believed, are rappers LL Cool J and 50 Cent. Who'd have thought?
And if you can't be black and have a white significant other … wow. There goes — what? Half? 90 percent? — of all the brothers in the NBA.
Poor Frederick Douglass has a double whammy. He was a Republican and had a white wife. Who'd have thought this former slave, one of the towering heroes of African-American history, wasn't black enough?
It is this kind of bold insight and trenchant analysis ESPN loses in sacking Rob Parker. What is the network thinking? Parker, who also contributes commentary to WDIV television in Detroit, defended himself in an interview with the station that aired just before ESPN dropped the axe. He pronounced himself shocked by the fallout and suggested his comments were taken out of context.
"You can't be afraid to talk about race," he said. He's exactly right. In discussing race, we must be fearless. We must also be thoughtful. And informed. And exact. And alive to the ramifications of what we say.
Surely, Rob Parker knows this. Or if he didn't before, he does now.
As for being black enough, he is probably a greater expert than he was before. He is, after all, a man out of work. It doesn't get much blacker than that.
Photo credit: AP/Evan Vucci