How Much Time Does Trump Spend Tweeting? Too Much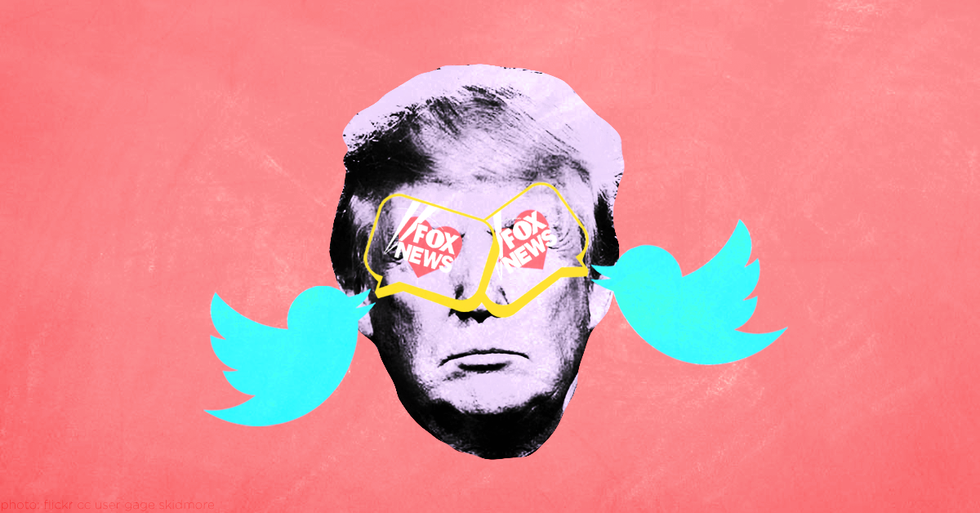 Reprinted with permission from AlterNet.
What has he tweeted now? Odds are you've asked yourself this question in the wee hours of the morning with a knot in your stomach or a tightness in your chest. And while there's no way to anticipate what horrors await—threat of nuclear war? Personal attack on a private citizen? The possibilities are endless!—we now have an idea of precisely how much time Donald Trump has spent torturing the country on social media since he assumed office. (An ABC poll found that 67 percent disapprove of the president's use of Twitter.)
According to an intrepid Washington Post report, Trump takes an average of six minutes and 24 seconds composing his missives. Post reporter Philip Bump arrived at this number by measuring the time gap in his multi-part tweets, which ranged from 12 seconds for pre-programmed, lawyer-vetted messages to more than three hours for the president's more free-associative screeds.
"These are estimates and they are impossible to verify," he writes. "But the evidence at hand supports the idea that days of Trump's time in the White House have been spent on sending out his Twitter messages."
Trump has tweeted an astounding 1,817 times since becoming president. That amounts to 11,653 minutes—8.1 days, or approximately 3 percent of his time in office. And that figure doesn't account for the time he's expended perusing his timeline for dank white supremacist memes.
We can only begin to fathom how many weeks he's spent watching "Fox & Friends."
H/T Washington Post
Jacob Sugarman is a managing editor at AlterNet.
Header image by Sarah Wasko / Media Matters