How Nancy Pelosi Can Lead Democrats To Impeachment Victory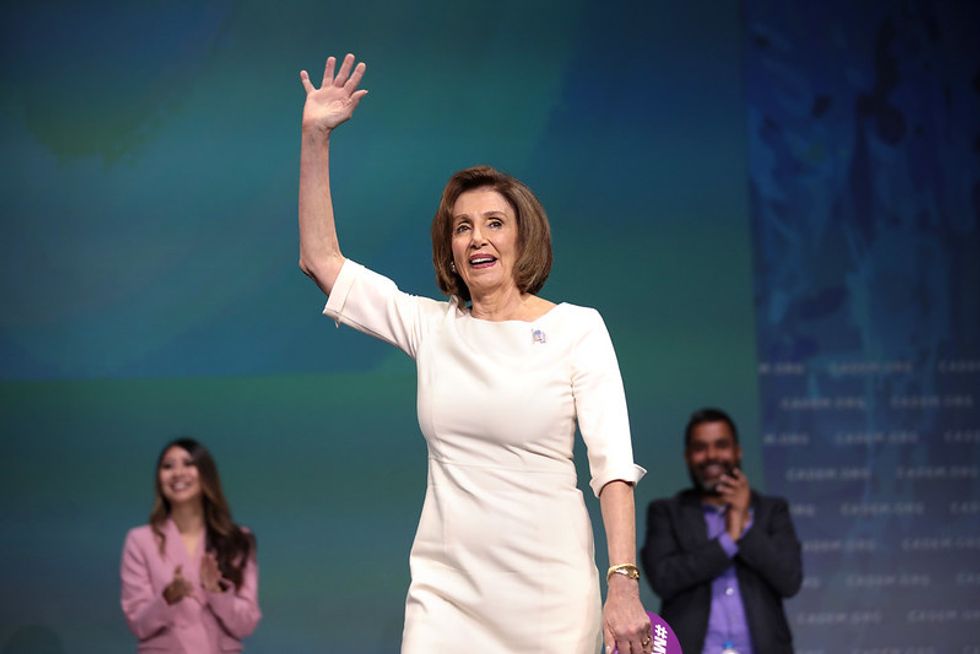 Reprinted with permission from Alternet
Last week, the resistance movement against President Donald Trump and the Trump White House's continuing obstruction of Congressional oversight finally pushed House Speaker Nancy Pelosi to call for impeachment hearings against the most corrupt president in U.S. history.
It is now up to Pelosi to orchestrate the hearings so that the American public understands that Trump's misdeeds and lawlessness not only feathered his own nest but also put the country's national security and democracy at risk.
Democrats should bluntly call for Trump to resign in order to spare the country the agony and expense of an impeachment trial.  Of course, he won't quit, but demanding that he do so will rattle him and help frame the debate going forward. Nor will the Republican-controlled Senate convict him after the House votes for impeachment. Even if one or two Senate Republicans join the Democrats in voting to remove him from office, Majority Leader Mitch McConnell and the GOP's activist base will make sure that there aren't the necessary 67 votes to convict.
In other words, Trump will be the Republican candidate for president next year.
For the Democrats, therefore, the goal of the impeachment proceedings is education, not conviction.
The impeachment proceedings will provide many opportunities for televised drama. But the facts of Trump's corruption won't just speak for themselves.  As he has repeatedly done, Trump will seek to muddy the waters by claiming that the inquiry is a "witch hunt" and will enlist the help of his fanatic supporters, including Fox News, to defame his accusers, as he did to Hillary Clinton and as he's now trying to do with Joe Biden and other Democratic rivals. Trump, his henchman Rudy Giuliani, and other enablers have already ranted and raged about conspiracies to undermine the Trump presidency.
Trump and his allies have already started an intensive investigation hoping to discredit the intelligence agency whistleblower who revealed that Trump had sought to rig the 2020 election by pressuring Ukrainian President Volodymyr Zelensky to undertake a sham investigation to dig up dirt on former Vice President Joe Biden, using the stick of withholding $391 million in U.S. military aid to the country.
Trump will continue to stonewall any efforts by Congress to obtain records of meetings, phone calls, and emails that could put the president in a bad light.
Some pundits have argued that Trump's re-election chances will be bolstered if the Senate fails to convict him. "I've been exonerated," Trump will claim.
For sure, Trump's fanatics will draw that conclusion. But if the Democrats do their job, and as the evidence of his transgressions piles up, Trump and some key Republicans in both the House and Senate who stick by him, will be weakened, and more vulnerable to defeat.  The objective is to help persuade American voters – especially in swing states and purple Congressional districts – that Trump and his Republican enablers are not morally fit to govern the country.
The impeachment proceedings will totally absorb Trump and his inner circle. He will no doubt double down – through Twitter rants, campaign rallies, and statements to the media – on his key themes: The Democrats are engaged in a "witch hunt," they are all socialists, the country is in better shape than it's ever been, the media are conspiring against him, and he's stemmed the "invasion" of immigrants despite his opponents' best efforts to stop him.
While Trump is raving and ranting, and while the House Democrats pursue the impeachment hearings, it is important that the Democratic candidates for president continue to show the American people that they have a positive agenda — raising the minimum wage, reducing tax cuts for the super-rich, strengthening environmental regulations, expanding health insurance coverage, addressing the housing crisis, reducing student debt, and other popular reforms.  By doing so, they will remind Americans that only by electing a Democratic president, Senate and House will they be able to end the chaos that is the Trump presidency.
There are many reasons for Americans to be outraged by this president.  Some of them involve clear violations of the law, including impeachable offenses, while others are simply offenses against basic human decency – separating children from their parents, neglecting the victims of natural disasters, describing the Nazis who marched on Charlottesville as "fine people,"  and many others.
The big debate among political observers is whether the House Democrats should focus the impeachment proceedings entirely on his efforts to get the Ukrainians to help his re-election campaign, or to include the Ukrainian incident as part of a long list of impeachable offenses for which Trump is already under investigation by six House committees. These include his collusion with Russia, his use of his office to enrich himself and his family, his refusal to provide Congress with his tax returns despite a legal requirement that he do so, his efforts to obstruct the investigation by Special Counsel Robert Mueller, and others.
Those who support a sole focus on Trump's Ukrainian controversy make the valid point that it is simple to understand, that Trump has already admitted to asking the Ukrainian president for help and withheld almost $400 million in U.S. military aid as an inducement, and that the American public has a short attention span, especially for scandal.
Since Trump took office almost three years ago, his favorability ratings have remained low, but public opinion polls showed little hunger for impeachment, despite his consistent behavior of violating the law and breaching national security. Immediately after his Ukrainian folly came to light, however, public support for impeachment hearings increased and, after Pelosi made it official, grew even more. So it is understandable why some Democrats want to shine the spotlight solely on Trump's clear effort to extort a foreign power to interfere with the 2020 election on his own behalf.
But there is no reason why the House Democrats can't do both. They can initially hold an impeachment inquiry about Trump's Ukrainian hijinks, and, after the drama of televised hearings and persuasive witnesses (including the intelligence agency staffer who blew the whistle on Trump), vote to send the case to the Senate with a recommendation that he be removed from office for high crimes and misdemeanors. This can take place by early 2020, as the election season is heating up.  Once they have accomplished that historic feat, the House Democrats can proceed with another impeachment inquiry that focuses on Trump's other offenses. The second phase of the impeachment inquiry should provide the public with the full menu of Trump's corruptions, to reveal that the Ukrainian incident is simply the latest episode in the ugly reality show called the Trump presidency.
Nobody is better prepared to lead the impeachment inquiry than House Intelligence Committee chair Adam Schiff of California, a former U.S. attorney with a remarkable ability to remain composed while dissecting witnesses. He and Pelosi will surely hire the right lawyer to help the politicians question the witnesses.
We cannot expect the current crop of Republican politicians to do what their counterparts did in 1974, when -– in the wake of the  Watergate hearings and news reports of President Richard Nixon's cover-up — key GOP leaders told Nixon that his gig was up and that he had to resign from office or he'd be impeached.
But the unfolding impeachment inquiry will put some Senate Republicans in a vulnerable situation. This is particularly true of Maine's Susan Collins, Colorado's Cory Gardner, Arizona's Martha McSally, North Carolina's Thom Tillis, and perhaps even Texas' John Cornyn, who face difficult re-election races next year. They may seek to distance themselves from Trump by making obligatory statements criticizing Trump's interactions with the Ukrainian president without expressing support for impeachment.  Democrats running for those battleground Senate seats will be able to use the GOP incumbents' unwillingness to hold Trump accountable as a sign of their lack of courage and independence, and their complicity with Trump's crimes.
Because the Democrats' goal of the impeachment inquiry should be to educate the American public about Trump's transgressions, how they orchestrate the hearings is critical.
The Democrats should review the 1973 Watergate hearings.  The Senate Democrats built their case slowly, starting with the least prominent and influential witnesses, and then, when the evidence of Nixon's crimes and his inner circle's complicit was obvious to most Americans,  calling those closest to Nixon, expecting that they would turn against him.  The testimony of Nixon's White House Counsel John Dean, saying that there was a "cancer on the presidency," was the knock-out punch.
The impeachment inquiry about the Ukrainian scandal should be able to catch many Trump insiders in its net. Trump was not acting alone. In May, after Giuliani had met several times with Ukrainian officials, Trump recalled U.S. ambassador Marie Yovanovitch, a career foreign service officer.  This couldn't have happened without the cooperation of Secretary of State Mike Pompeo.  Trump's withholding of U.S. military aid to Ukraine as leverage to get the Ukrainian president to investigate the Bidens couldn't have occurred without the complicity of Trump budget director and acting chief-of-staff Mick Mulvaney.  The fingerprints of Attorney General William Barr are all over this scandal.  No doubt other members of Trump's inner circle cooperated in both the campaign to influence Ukrainian officials and the effort to cover it up.
We don't know if Pompeo, Mulvaney, Barr, or other members of Trump's inner circle will turn on him – as his lawyer Michael Cohen did when his own freedom was at stake – but the hearings can at least demonstrate that Trump's administration is littered with see-no-evil sycophants and enablers.
The media have an important role to play to make sure that Trump and his allies don't hijack the process. They do not need to report on every Trump twitter rant, false accusation against the Democrats, and attacks on witnesses that the president will undertake to deflect attention away from his own crimes and misdemeanors.
Nor should the media fall into the false equivalence trap of permitting Trump to claim that what he did is no better or worse than what Democrats have done. Already, some media outlets are inadvertently abetting Trump by referring to "unproven allegations" against Joe Biden, as if turning over a few more stones might uncover hidden evidence of wrongdoing.  Biden's son Hunter clearly traded on his father's name to get himself appointed to a well-paying position on the board of a Ukrainian private gas companies. But there is absolutely no evidence that his father knew about, helped or benefited in any way from his son's business dealings. By accusing Biden of wrongdoing, Trump is hoping that most Americans won't understand the distinction between Joe and his son Hunter. And the media, in an effort to be "balanced," are giving Trump a platform to smear Joe Biden without explaining that Trump is lying. This is not fair to Biden.
The political press should learn a lesson from its mistaken effort during the 2016 election to balance Trump's long history of corruption with Hillary Clinton's use of personal emails while conducting State Department business.
The media need to broadcast all the hearings, as the three major TV networks did during the investigation of Nixon's Watergate cover-up.  If the Democrats strategically interrogate witnesses with the same finesse and drama that occurred during the Watergate hearings, they will make for riveting television.
Pelosi has had a long and successful career as a politician, as well as being a pathbreaker as the first female Speaker in the nation's history. But nothing that she has ever done before matches the challenge she now faces.
The Founding Fathers, concerned that a popular president might become a lifetime monarch, insisted that the president had to face election every four years. But they also worried that a president could engage in corrupt behavior to keep himself in office by rigging or discrediting the elections, or illegally undermining his opponents.  So they gave Congress the authority to impeach the president as a last resort against tyranny.
Pelosi is about to lead a nationwide seminar on the Constitution and the meaning of democracy.
Peter Dreier is the E.P. Clapp Distinguished Professor of Politics at Occidental College.  He is the author of The 100 Greatest Americans of the 20th Century: A Social Justice Hall of Fame (Nation Books). His next book, We Own the Future: Democratic Socialism – American Style, co-edited with Michael Kazin and Kate Aronoff, will be published by The New Press in January.