How Republicans Put Elizabeth Warren In The Senate — And On The Banking Committee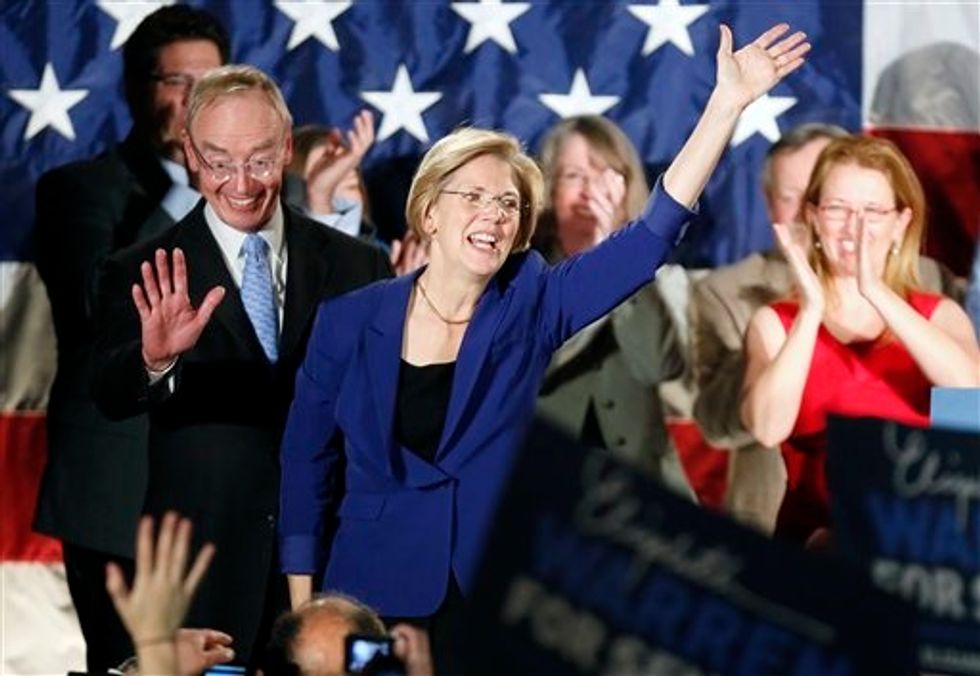 The unfortunate passing of Senator Ted Kennedy (D-MA), a lacklustre opponent, and a truck, all helped send soon-to-be former Senator Scott Brown to Capitol Hill. Republican Congressional obstruction motivated Elizabeth Warren, the woman who defeated Brown, to run for Senate.
Now, thanks to the GOP, Warren — one of the fiercest critics of Wall Street — will be watching over the nation's largest financial institutions as a member of the Senate Banking, Housing and Urban Affairs Committee, according to The Huffington Post.
The consumer rights attorney and Harvard law professor rose to prominence when she began warning as far back as 2001 about an impending crisis caused by middle-class families overwhelmed with usurious debt.
In the immediate aftermath of the financial crisis, she was named chair of the Congressional Oversight Panel of the Troubled Asset Relief Program (TARP). She went on to serve as a special assistant to President Obama and special advisor to the Secretary of the Treasury for the new federal agency she conceived, the Consumer Financial Protection Bureau.
When Republicans vowed to block anyone the president named to serve as director of the CFPB, Warren supported former Ohio attorney general Richard Cordray's recess appointment to the post. At that point, she began to set her sights on opposing Brown, the man who had voted for the Dodd-Frank bill that created the CFPB — but only after he made sure several concessions to Wall Street were put into the legislation.
Warren handily defeated the incumbent, a former town official, in one of most closely watched races of the 2012 election season. Now she will have direct influence over the regulators who monitor the big banks and will be completing many of the regulations called for by the Dodd-Frank reforms.
Her ascent to the Banking Committee is a huge win for progressives, who have championed Warren as an articulate and proven defender of working-class values. Daily Kos and other influential liberal forces were not content with just electing Warren, but insisted that the Senate Democratic leadership put her on the committee where her expertise can do the most good.
And  Warren's rise is likewise a huge loss for Republicans, who cost themselves a seat in the Senate — and have quite unintentionally ensured some much-needed scrutiny of their friends and big donors on Wall Street.
Photo credit: AP Photo/Michael Dwyer