How Right-Wing Media Falsified What Ilhan Omar Said — To Attack Her
@ParkerMolloy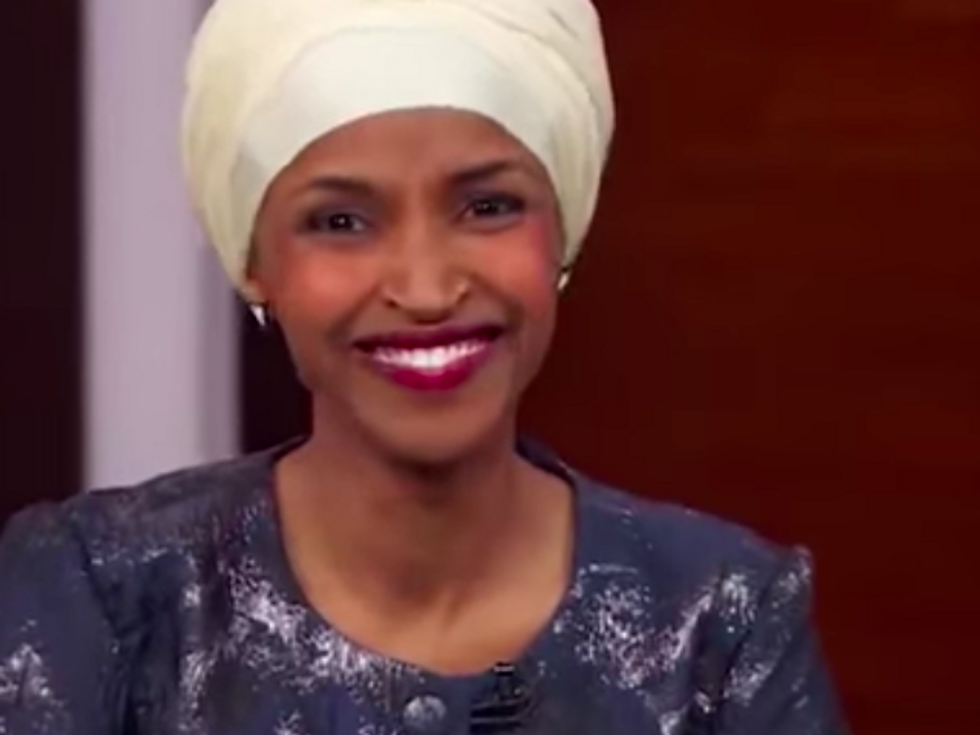 Reprinted with permission from Media Matters.
On March 23, Rep. Ilhan Omar (D-MN) spoke at an event put on by the Los Angeles chapter of the Council on American-Islamic Relations (CAIR) in Woodland Hills, CA. The roughly 20-minute speech, which centered on some of the challenges American Muslims face such as anti-Muslim rhetoric, is attracting new attention weeks later for a line mentioning 9/11.
In context, what she said was clear: No matter how "good" American Muslims are, they'll continue to be treated as second-class citizens because of anti-Muslim attitudes and government policies that intensified in the immediate aftermath of the 9/11 attacks. American Muslims are still treated with suspicion and subjected to undue scrutiny by the government and public alike. The argument Omar was making in her speech was very clearly about how unfair it is to be lumped in with terrorists and constantly stereotyped on the basis of faith. While saying this, she referred to the 9/11 hijackers as "some people." When put in context, that choice of words was clearly meant to differentiate between terrorists and American Muslims. The controversy surrounding this line (in bold below) is based on misinterpreting what she said as downplaying the 9/11 attacks — something that she never did.
Below the video of Omar's speech is a partial transcript:
The truth is you can go to school and be a good student. You can listen to your dad and mom and become a doctor. You can have that beautiful wedding that makes mom and dad happy. You can buy that beautiful house. But none of that stuff matters if you one day show up to the hospital and your wife, or maybe yourself, is having a baby, and you can't have the access that you need because someone doesn't recognize you as fully human.

It doesn't matter how good you were if you can't have your prayer mat and take your 15-minute break to go pray in a country that was founded on religious liberty. It doesn't matter how good you are if you one day find yourself in a school where other religions are talked about, but when Islam is mentioned, we are only talking about terrorists. And if you say something, you are sent to the principal's office. So to me, I say, raise hell; make people uncomfortable.

Because here's the truth — here's the truth: Far too long, we have lived with the discomfort of being a second-class citizen, and frankly, I'm tired of it, and every single Muslim in this country should be tired of it. CAIR was founded after 9/11 because they recognized that some people did something and that all of us were starting to lose access to our civil liberties. So you can't just say that today someone is looking at me strange, that I am going to try to make myself look pleasant. You have to say, "This person is looking at me strange. I am not comfortable with it. I am going to go talk to them and ask them why." Because that is a right you have.
A bad-faith reading of Omar's speech sparked the latest in an increasingly long line of attacks on the congresswoman.
On April 8, Imam Mohamad Tawhidi tweeted a 19-second clip from the speech, falsely stating that Omar doesn't consider 9/11 a terrorist attack. He also called CAIR a "terrorist organization."
Ilhan Omar mentions 9/11 and does not consider it a terrorist attack on the USA by terrorists, instead she refers to it as "Some people did something", then she goes on to justify the establishment of a terrorist organization (CAIR) on US soil. pic.twitter.com/ixP3BJfqxS

— Imam Mohamad Tawhidi (@Imamofpeace) April 9, 2019
By the afternoon of April 9, right-wing media were all over this story, perhaps nudged on by tweets from Rep. Dan Crenshaw (R-TX) and Republican National Committee Chairwoman Ronna McDaniel, the latter of whom accused Omar of being "anti-American."
Breitbart, The Washington Times, and the Christian Broadcasting Network published articles about the video. The Daily Wire's Ryan Saavedra, who called Omar an "idiot" earlier in the week, wrote that Omar "trivialized the deadliest terrorist attack in U.S. history." Conservative Review went so far as to baselessly suggest that Omar appeared "to be entertaining a conspiracy theory when she [said] that 'some people did something.'" On the April 9 edition of The Glenn Beck Program, co-host Pat Gray commented on the clip, saying that Omar "makes American Muslims sound like the victims of 9/11. They weren't."
During his April 9 Fox News show, Sean Hannity criticized Omar, referring to the "just unearthed" video. Describing the video as "unearthed" might give the impression that there was an attempt to hide it, but it was actually posted on YouTube, and Fox News even streamed it live on Facebook.
On the April 10 edition of Fox News' Fox & Friends, co-host Brian Kilmeade questioned whether Omar was sufficiently American, saying, "Really? 'Some people did something'? You have to wonder if she is an American first. … Can you imagine if she was representing your community, and you were in her district, how embarrassed you must feel today."
Brian Kilmeade on @IlhanMN's 9/11 comments: "You have to wonder if she's an American first." pic.twitter.com/2y63PTsQEh

— Bobby Lewis (@revrrlewis) April 10, 2019
Kilmeade continued: "This would've been an opportunity for a Muslim American to say, 'Let me just tell you how Al Qaeda, ISIS, al-Shabab, and others don't represent our religion and that maybe we got lumped in together.'" He also said that the U.S. is "trying to contain this infection which is Muslim extremists. Why she wouldn't use herself and her leadership position to separate the American Muslim from that school of thought is beyond me."
Obviously, it wouldn't have made much sense for Omar to explain to an audience of Muslims at a Muslim advocacy organization fundraiser something they very obviously already know — that they're not the same as the 9/11 terrorists. Kilmeade didn't let that stop him, however.
This is the latest example of right-wing media willfully offering obtuse and sinister interpretations of something a Democrat said.
Recently, the RNC published an 18-second clip of Sen. Kirsten Gillibrand (D-NY) saying, "We need comprehensive immigration reform. If you are in this country now, you must have the right to pay into Social Security, to pay your taxes, to pay into the local school system, and to have a pathway to citizenship."
A reasonable interpretation of what she said is that many undocumented immigrants pay into our systems as it is, and these productive members of society should have a right to pursue citizenship if they want to. The right-wing narrative, however, coalesced around an obviously false claim that she was suggesting giving Social Security money to undocumented immigrants.
The same thing happened last year after a clip of former Attorney General Eric Holder was widely spread with the claim that he was calling for violence when he said "when they go low, we kick them," even though he went on to very explicitly say what he meant by "kick."
In addition to being undercut by the context of the event, their argument against Omar's speech is further demolished when you consider that President Donald Trump has a history of referring to terrorists as "losers" — which Fox News defended at the time. The one real point they might have is that she misstated when CAIR was founded. The organization was founded in 1994, not after the 9/11 attacks.
Update: Right-wing media continued their anti-Omar pile-on into the evening and morning after this piece was originally published. During the April 10 edition of Fox Business' Lou Dobbs Tonight, Dobbs and guest Tammy Bruce laid into Omar for the "some people did something" line.
"She sounds like she hates America, Tammy," said Dobbs. "She sounds like she hates Jews; she hates Israelis. What is it she doesn't hate?"
Bruce then baselessly claimed that the line was intended to convey a belief that "we deserve, perhaps, what happened to us [on 9/11]. That those innocent victims deserve that in some fashion."
On April 11, the New York Post published a front page story based on the distorted comment accompanied by a photo of one of the planes crashing into the World Trade Center and the headline "Here's your something." This, again, doesn't fairly reflect what she said.
This is a smear campaign. @nypost cover, below. For context, click this WP link. It shows Omar used the word "some" to distinguish terrorists from "all" Muslims.

For this, self-styled opponents of prejudice have chosen to attack and misrepresent her. https://t.co/MBPt8HMmK0 pic.twitter.com/p8S06Nq4EY

— Will Saletan (@saletan) April 11, 2019
The message of her speech was specifically that American Muslims often get unfairly lumped in with terrorists. On March 1, NBC reported that the West Virginia Republican Party allegedly set up an anti-Muslim display in the state capitol building. Among the items was a picture of the World Trade Center being hit by a plane with the words "'Never forget' – you said.." Below that was a photo of Omar with the text "I am the proof – you have forgotten."
In February, a Coast Guard lieutenant named Christopher Paul Hasson was arrested on drug and gun charges, and prosecutors found that he had been creating a hit list of prominent Democrats and journalists to attack. Omar was among the names. In early April, a Trump supporter named Patrick W. Carlineo was arrested for threatening to assassinate Omar.
Ramping up anti-Omar sentiment based on a willful misreading of something she said will only put her in more danger.