How Sanders Made Clinton's Win Illegitimate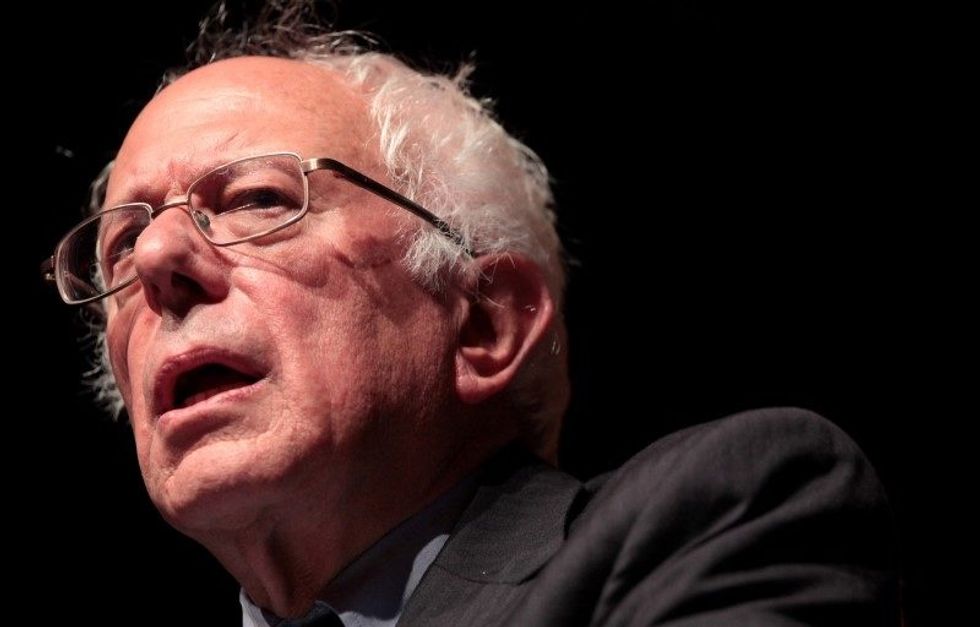 OK, so the fix is in. In one sense, it's too bad the Associated Press and the TV networks called the Democratic race for Hillary Clinton before New Jersey, California and four smaller states voted on June 7. Judging by my email and Facebook feed, this decision has inflamed the Bernie-cult's belief that they've been cheated by the "establishment."
Whatever the results, they've been rendered illegitimate in some eyes by the news media's premature call. Never mind that news organizations feel a professional duty to report the facts as quickly as they are ascertained. Not much imagination is required to grasp the mischief that could result from their doing it any other way.
Never mind too that anybody who can do the electoral arithmetic knows that Hillary Clinton has been the inevitable Democratic nominee since April, when she prevailed in New York and Pennsylvania by 16 and 13 points respectively. There simply weren't enough populous states left for Sanders to catch up—unless he could win California by an impossible 60 points.
Nevertheless, Bernie soldiered on. Doing his best impersonation of Prof. Irwin Corey, the Brooklyn-born comic billed as "The World's Greatest Authority," Sanders (and his advisors) began to make ever more absurd analyses of how he'd wind up on top. Like Corey, who appeared frequently with Johnny Carson on the old Tonight Show in professorial garb, spouting hilariously self-contradictory gibberish, Bernie sought to explain away electoral reality.
First came the argument that Clinton's wins in "red state" Southern primaries shouldn't count, because the South is the most conservative region of the country. These same strictures did not apply, of course, to Sanders' victories among downtrodden white Democrats in the Cow States—Kansas, Oklahoma, Utah and Idaho, actually more one-sidedly Republican. Not to mention thinly-populated.
Notwithstanding the likelihood that several Southern states could be in play come November, as Kansas and Idaho almost certainly won't be, his insult to African-American voters could hardly have been more ill-advised. If it was Sanders' intention to turn himself into the white-bread college kids' candidate, he couldn't have done better.
It must be thrilling to be the 74 year-old Pied Piper of the campus set, because Bernie was hard at it during a recent California stadium rally. He interrupted his ritual chant about millionaires, billionaires and Wall Street to favor the crowd with some old-timey Marxist-style cant.
"'Any objective analyst of the current campaign understands that the energy and the grass-roots activism of this campaign is with us,' Sanders bellowed, putting an emphasis on that last word. "Not Hillary Clinton.'"
"Objective," you see, has always been radical-speak for "in my opinion." Back in his Socialist Workers Party days, I'm sure Bernie won a lot of arguments browbeating people that way.
My own scientific view is that twenty-somethings go to rallies; older people vote. As New York magazine's Jonathan Chait put it: "Energy and activism are definitely part of the election process. But the way you determine the winner is by holding elections."
Meanwhile, instead of complaining about the complexity of election rules, Sanders would have been wiser to ignore Wall Street and billionaires for a few minutes to explain those rules to his supporters. No, you can't vote in a New York Democratic primary unless you're a registered Democrat. Too bad, but there it is, and it's been that way for a generation.
Instead, Sanders and his minions went around kvetching that ineligible voters would have put them over the top. They seized upon every election glitch nationwide to complain that they were being cheated.
For example, 132,000 mostly black voters in Brooklyn somehow got left off the rolls. Bernie supporters all, his campaign would have you believe, although Sanders otherwise lost the borough 60-40—and African-American New Yorkers worse than that. Probably the voting errors hurt Clinton, although there's no real way to know.
Chait acidly sums up the rest of the Sanders camp's extended whine:  Bernie has won a lot of states, they say. Yeah, 20 as of this writing, exactly 40 percent of the total. With several small grazing states in play on June 7, this number will doubtless change.
No matter, in Electoral College terms, Sanders is nowhere.
The rest of it amounts to a shell game.
Chait: "Clinton has a large lead in pledged delegates, and an even larger lead in super-delegates. You could rely entirely on one or the other, or change the weights between them in any fashion, and Clinton would still win. Sanders simply refuses to accept the combination of the two, instead changing subjects from one to the other. Ask him about the pledged delegates, and he brings up the super-delegates. Ask about the super-delegates, and he changes to the pledged delegates. It's an infinite loop of bullshit."
First Bernie denounced "super-delegates" as an impediment to democracy; now he's counting upon them to begin the revolution by overturning the will of Democratic voters.
Fat chance.
Photo: U.S. Democratic presidential candidate Bernie Sanders addresses the audience at the theater of the University of Puerto Rico in San Juan, Puerto Rico, May 16, 2016. REUTERS/Alvin Baez