How The Clinton Foundation Became A 'Scandal'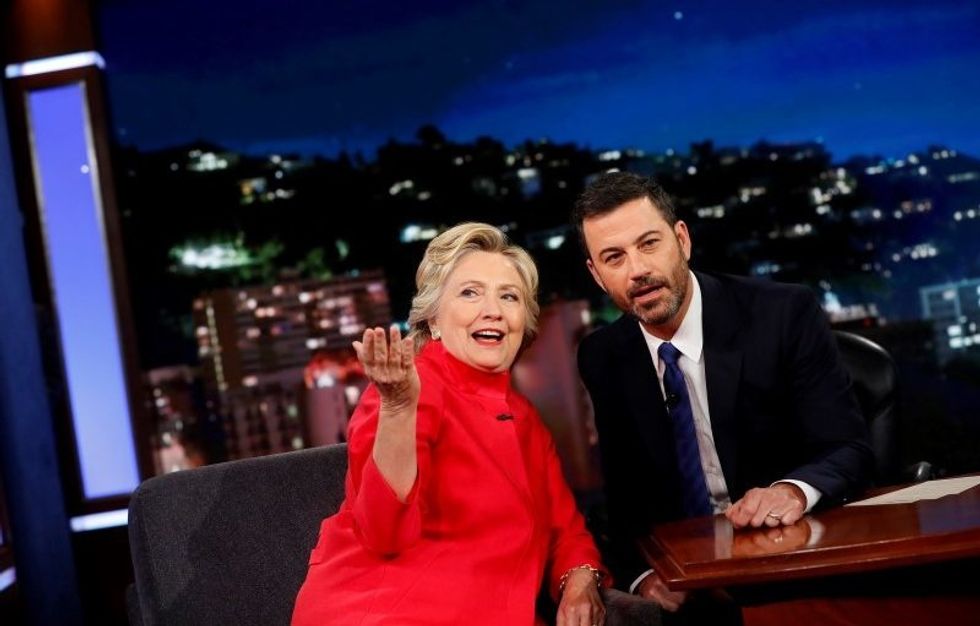 Twenty years ago, James Fallows wrote an essay for The Atlantic called "Why Americans Hate the Media." Fallows' thesis was illustrated today by the political media's coverage of the release of emails associated with Hillary Clinton while secretary of state.
His thesis was this: Instead of reporting the policy positions of candidates, and assessing their merits, the political press tends to abdicate its responsibilities in favor of reporting "politics."
Put another way, instead of telling Americans the truth of the matter, anchored in observable reality and concrete fact, the political press tends to chase after "appearances," "atmospherics," and "optics."
The outcome of this is the politicization of everything.
Let me explain.
The Washington Post yesterday reported that on three occasions Clinton's top aide Huma Abedin was contacted by donors to the Clinton Foundation asking for favors. The outcome of one was a meeting. The outcome of the others was nothing. That's it.
More specifically, Doug Band, a chief executive at the Clinton Foundation, emailed Abedin about meeting with a Crown Prince of Bahrain. According to the Wall Street Journal, Abedin chided Band for not going through "proper channels." After doing that, the prince got a meeting with Clinton. Nothing was reported of its substance.
Band contacted Abedin on behalf of U2's Bono and sports executive Casey Wasserman, both foundation donors. Could Clinton help Bono promote an overseas charity event? "No clue," Abedin said. Could Clinton help fast-track a visa for a British soccer player? Abedin said she had reservations. Band said never mind. No visa resulted.
That's the story. In other words, there is no evidence from these emails to support claims by Judicial Watch, a right-wing group, or Donald Trump that the Clinton Foundation was rife with pay-for-play.
Yet our media isn't saying this.
Instead, it is playing up Clinton's "struggle" to figure out a way to "handle" the controversy and its challenging "optics." Never mind that quid pro quo means something for something. In this case, the emails show the opposite–favors requested, favors denied.
Now, some are asking whether executives at the Clinton Foundation should be making these requests at all, and I think we can all say that no, they should not. If I can't get an audience with the nation's top diplomat, why should Bono just because he gave a lot of money?
But that's how power works. We know this. We also know that very rich people often believe they are entitled to access to power by dint of being very rich. Like it or not, that's the norm. In other words, rich people will ask for favors just as the sun rises in the east, sets in the west. The question is how do you deal with that ethically.
It turns out, pretty well. Thanks to a lawsuit brought by Judicial Watch to unseal these emails in an attempt to damage Clinton's campaign, we know that Huma Abedin did a good job. As political blogger Kevin Drum over at Mother Jones noted:
"What's really noteworthy about the most recent email releases is that they demonstrate a surprisingly high level of integrity from Hillary Clinton's shop at Foggy Bottom. Huma Abedin was tasked with running interference on favor seekers, and she seems to have done exactly that."
I don't expect reporters to make such judgments, but I do expect them to do their jobs, which brings me back to Fallows' classic essay. Americans expect the media to do something no one else can do: report what politicians say, but also assess and report the truth.
In the case of this so-called "scandal," assess whether there is any merit to Trump's assertion that the emails prove Clinton is for sale. If that's true, the emails should show us. But they don't. Indeed, they show the opposite, a team that's surprisingly ethically aware.
But reporters covering the campaign are not saying that.
It gets worse.
When reporters abdicate their duties, they created an environment in which everything has the potential to be political, even the truth.
When reporters didn't report, for instance, that Judicial Watch is indeed a right-wing group, it was left to Clinton's campaign spokesman to say it. As soon as he did, he legitimized Judicial Watch's toxic effort, because his remarks were seen as partisan.
When reporters didn't conclude there was no basis to Republican claims that Clinton's State Department was accessible to the highest bidder, it was left to a State Department spokesman to say it. As soon as Mark Toner uttered the words, he validated the accusation.
This story was a no brainer. All reporters had to say was say: Trump said blah blah blah, but it doesn't look like there's anything to it.
But they didn't.
No wonder, as Fallows said, Americans hate the media.
Photo: Democratic presidential nominee Hillary Clinton tapes an appearance on the Jimmy Kimmel Show in Los Angeles, California, August 22, 2016.  REUTERS/Aaron P. Bernstein