Huckabee Video Highlights Themes Of Likely Presidential Run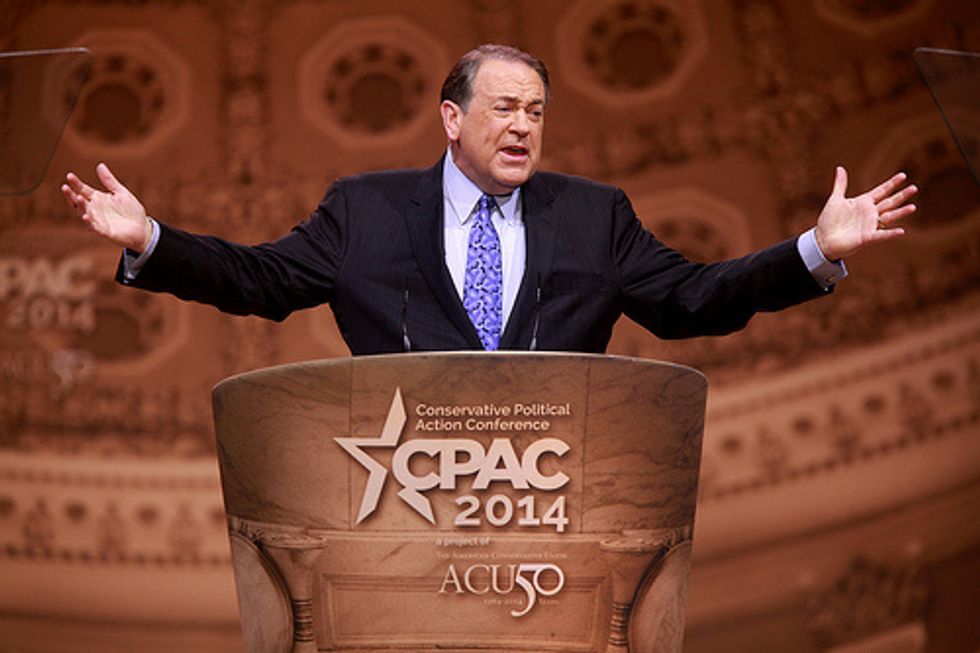 By Seema Mehta, Los Angeles Times (TNS)
Mike Huckabee, on the verge of announcing whether he will run for president a second time, on Friday released a video that outlined the foundation of his potential campaign.
"Every day of my life in politics was a fight and sometimes it was an intense one. But any drunken redneck can walk into a bar and start a fight," Huckabee says in the video. "A leader only starts a fight that he's prepared to finish."
Huckabee, a former Arkansas governor who is scheduled to announce his plans in his hometown of Hope, Ark., on Tuesday and is widely expected to run, outlined his record as a Republican elected in a then-overwhelmingly Democratic state and highlighted his humble roots.
"I'm not a Republican because I grew up rich, I'm a Republican because I didn't want to spend the rest of my life poor, waiting for the government to rescue me," says Huckabee, 59, who unsuccessfully ran for the GOP presidential nomination in 2008.
In the video, which runs a little over two minutes, Huckabee points to successes that he will likely argue make him the best foil to Hillary Rodham Clinton, the Democratic front-runner for president: He says that he defeated what he has called the Clinton "machine" in numerous statewide contests, and that during his decade-long tenure as governor, he worked across the aisle.
He also hits populist notes that separated his 2008 campaign from those of his GOP rivals.
"As governor of Arkansas, I cut taxes and welfare, balanced the budget every year for 10 years, and raised average family income by 50 percent. We didn't slash, burn, hurt people, leave people impoverished. We empowered people to live a better life," Huckabee says.
But such words also point to his vulnerabilities as a GOP presidential candidate. Although Huckabee did cut some taxes while governor, he also supported raising other taxes, which drew the ire of anti-tax groups in the 2008 campaign. A group affiliated with the Washington-based Club for Growth ran blistering TV ads in Iowa, which holds the first presidential nominating contest, calling Huckabee a "tax-and-spend liberal."
The video's historic pictures of Huckabee — and the Clintons — also point to the fact that he has been out of office for some time. If he runs, Huckabee will be competing in a GOP field that includes younger politicians who are openly calling for generational change, notably Sen. Marco Rubio of Florida.
Huckabee concludes the video by offering broad policy strokes but no detail — localizing power, protecting Social Security and Medicare, and defeating "radical Islam."
"We believe in some things. We stand for those things. We live or die by those things!" he says. "Let's win the fight for what matters most."
(c)2015 Los Angeles Times, Distributed by Tribune Content Agency, LLC.
Photo: Gage Skidmore via Flickr