After Huge Washington Mudslide, There's 'No Sign Of Life'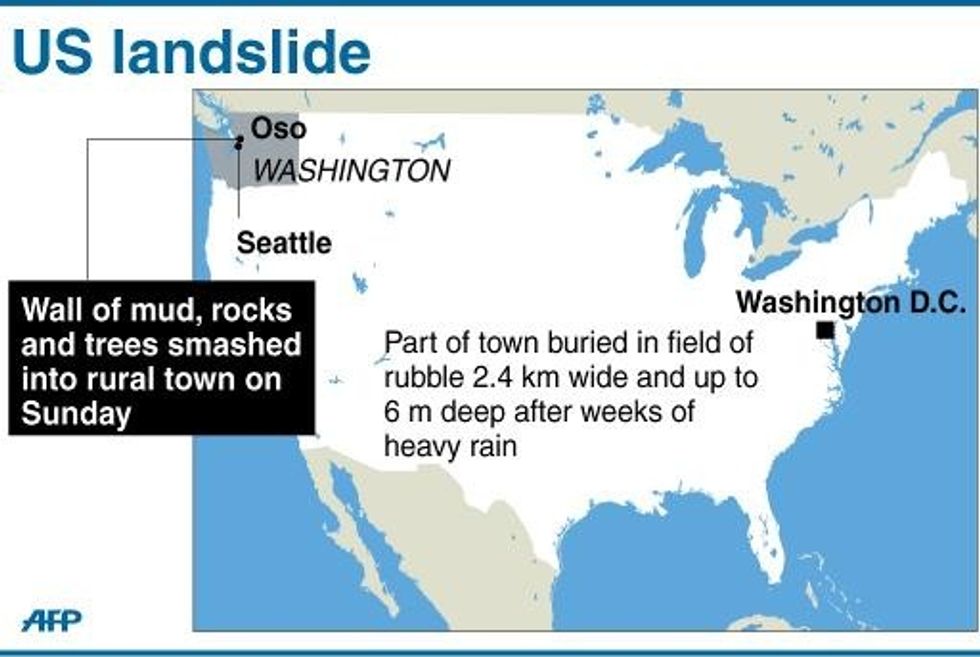 By Maria L. La Ganga and Matt Pearce, Los Angeles Times
ARLINGTON, Wash. — The voices heard late Saturday night from the rubble of a massive mudslide have gone silent.
Thwarted for hours by ooze treacherous as quicksand, rescuers were able to resume their search for victims Sunday. But instead of survivors, they found more bodies.
What remains on the banks of the Stillaguamish River about an hour north of Seattle is a square mile of damp destruction and a small town's worth of sadness and fear. Elected officials grappled to describe the devastation, which was as bad, one said, as "Mout St. Helens 34 years ago when it erupted."
At least eight people were confirmed dead, officials said late Sunday. Seven victims remained hospitalized, including a 6-month-old in critical condition. Harborview Medical Center spokeswoman Elizabeth Hunter described most of the wounds as "crushing injuries."
"Basically the people were swept away, pinned up against things, covered," she said.
About 18 people are missing, and officials characterized that tally as "fluid" and "growing."
"I get a sense we're going to have some hard news here," Governor Jay Inslee said at an afternoon news conference.
Reed Miller was in the grocery store check-out line here in Arlington on Saturday morning when ambulances began to scream by. His son Joseph, 47, who has a history of mental illness, was home in the tiny rural enclave of Oso about 12 miles northeast.
"The grocery lady said there was a big mudslide in Oso, and to call her back when I got home OK," the 75-year-old resident of a hard-hit neighborhood recounted Sunday. "I never got there. Nope."
Instead, the retired sawmill worker spent the night on a hard cot at a Red Cross shelter in the Post Middle School gymnasium here. His home is destroyed. His son is missing. And there is nothing he can do but wait.
"I was planning on moving this year," Miller said, looking frail and dazed in over-sized aviator glasses and a baggy blue-and-yellow jacket. "But not this way."
The Millers planned to sell the house where the elder Miller had lived for a generation. Joseph Miller was at the top of the list for an apartment in nearby Darrington, population 1,359, which has been largely cut off by the slide. His father was next in line.
"Joe was going to move in the first of April," Miller said.
For about 24 hours after the mudslide swept across State Route 530 in rural northwest Washington, water dammed up behind the debris field made approaching the wreckage largely too perilous, officials said.
A crew of geologists flew over the disaster site Sunday morning and deemed the risk to have diminished, said Travis Hots, chief of Snohomish County Fire District 21. So rescue workers resumed their search of the region, where an estimated 30 homes were destroyed.
"I'm disappointed to tell you, after searching a very large area of that debris field on foot, we didn't find anybody alive," Hots said Sunday evening. "There was no sign of life.
"The person that we found out there that was deceased is still out there and mostly buried in the mud," he said in the afternoon, after searchers found the first body of the day. "It's going to take quite a bit of time to get that person out of there."
Inslee, who issued a disaster declaration Saturday, flew up from the state capital Sunday for an aerial tour. He attended a community meeting in Darrington and met with local officials.
"Mother Nature holds the cards here," Inslee told reporters, describing the destruction as "just unrelenting and awesome — there really is no stick standing in the path of the slide."
Under sunny skies and crisp spring temperatures that gave lie to the nearby damage, a stream of worried people made their way to the Arlington shelter on Sunday.
A little boy brought a plastic bag of cookies his mother had baked for the 27 men and women who spent the night there in the slide's wake. A coffee shop owner brought strong brew. A couple drove up with a big tub of paper towels and blankets. Others came with checkbooks.
And Caroline Neal came looking for word of her father, Stephen. The 52-year-old plumber lives in Arlington but had been called to Oso on Saturday morning to service a hot water tank for a woman who had just moved to the area.
Stephen Neal was nowhere to be found on Sunday. Nor was the woman who hired him, nor another contractor working on her house. Caroline Neal, 31, stood outside the Red Cross shelter, clutching pictures of her father and hoping against hope.
"I just have to think he's somewhere safe and they can't reach him," she said, looking stunned behind big, dark sunglasses. "He thinks fast on his feet. If he had any warning, he would have done everything he could to stay safe."
Neal said she was playing Monopoly with her sons Saturday afternoon when she got word of the mudslide. Her mother called, asking her to go the hospital near her Arlington home to see whether her father had been admitted.
The hospital was teeming with neighbors wanting to volunteer, she said, but her father wasn't there. So she headed to the Red Cross shelter. Ditto. She returned Sunday morning.
"My mother keeps saying she doesn't think he's gone," Neal said. "They've been together 33 years. I have to believe her. They have a really good connection."
The mudslide, which has blocked rural State Route 530 as well as the Stillaguamish River, came after an unusually heavy month of rain. More precipitation is expected in the week ahead, with Snohomish County on flash flood watch through Monday afternoon.
An evacuation order for residents downstream was lifted Sunday morning, but officials warned that it could be reinstated: Water was building up behind a dam created by the mudslide and could give way again. By late Sunday, however, officials said the risk was easing, with the river carving a path through the slurry.
AFP Photo