Hundreds Mourn 3 Children Killed In Philadelphia Carjacking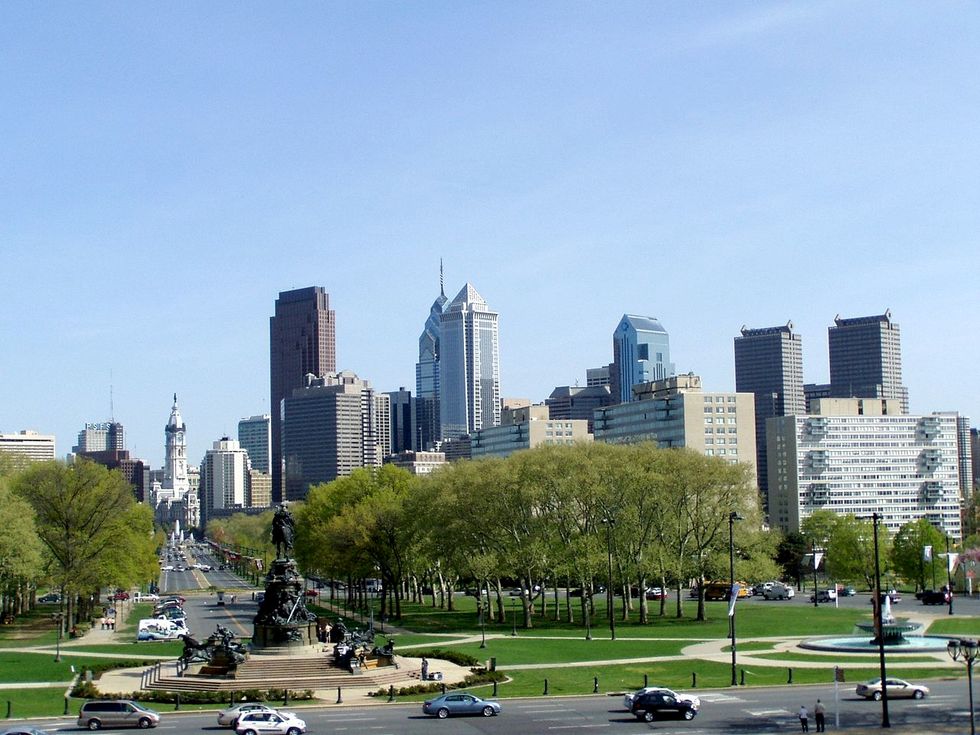 By Robert Moran, The Philadelphia Inquirer
PHILADELPHIA — Hundreds of people gathered at a rally and vigil Tuesday evening on the grassy lot where three children were killed by a carjacked SUV that veered out of control in Philadelphia last week.
Cassandra Alexander, a relative who spoke on behalf of the family, described their anguish and bewilderment.
"Our hearts are broken. We can't believe this is our new reality: a nightmare with no end," she told the crowd.
Killed in the crash were 15-year-old Keiearra Williams, 10-year-old Thomas Joseph Reed, and 7-year-old Terrence Moore.
Their mother, Keisha Williams, 34, was still in critical condition in a medically induced coma at Temple University Hospital, said another relative, Antonio Moore, who attended the rally.
The children and their mother were at the corner selling fruit to raise money for a neighborhood playground.
The 45-year-old woman whose car was stolen during the carjacking was also injured in the crash, as was another woman selling fruit, Thelma Brown, 69.
Alexander said a funeral for the children had been set for 11 a.m. Monday, and she thanked the North Philadelphia Seventh-day Adventist Church. "Pray for our family," she said, mentioning the children's two surviving sisters.
Moore thanked former Philadelphia 76ers star Charles Barkley for offering to pay for the funeral.
Jonathan Rosa, 19, and Cornelius Crawford, 24, were charged with second-degree murder, kidnapping, sexual assault, and related offenses. They were arraigned and were being held without bail Tuesday.
Police said Rosa and Crawford approached the 45-year-old woman, a real estate agent, Friday morning, forced their way into her Toyota 4Runner by implying they had a weapon, and sexually assaulted her.
The men drove the 4Runner north at high speeds and lost control at the corner of Germantown and Allegheny, police said. The SUV jumped the curb and careered into the fruit stand.
Police launched a manhunt to find the two suspects, receiving help from witnesses who flooded the department with tips. Neighbors and local businesses sent in video footage of the area, and police said several witnesses were able to identify Rosa and Crawford once they were taken into custody.
Rosa turned himself in Sunday night. Crawford was found hiding in a shed behind a building the same night and was taken into custody. Both men gave statements to homicide detectives, police said.
The crowd assembled for Tuesday's rally spilled into the streets, which were shut down by police.
Deputy Mayor Everett Gillison, Mayor Michael Nutter's chief of staff, thanked the community for providing crucial leads for homicide investigators.
"You helped solve this case," Gillison said. "Thank you for what you did. You stood up and did the right thing."
Anthony Murphy, executive director of Town Watch Integrated Services, also focused on how residents who had information did not abide by the "don't snitch" street code.
"This is our community and we are responsible for what takes place," he said.
He added, "Working with the Police Department makes a difference. You proved that."
Inquirer staff writers Mike Newall and Aubrey Whelan contributed to this article.
Photo via WikiCommons
Interested in national news? Sign up for our daily email newsletter.