Hustle, Gravity Lead Oscar Nominations In Crowded Race
@AFP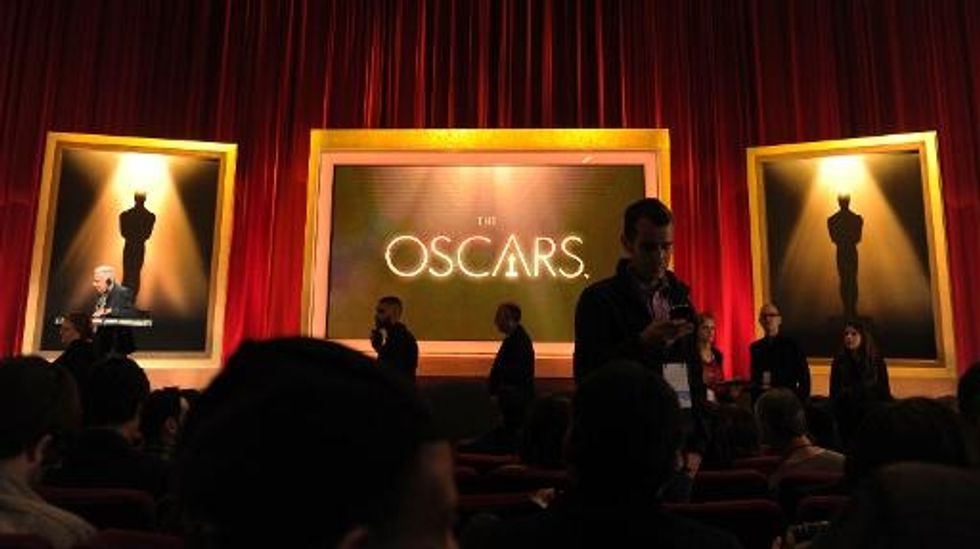 Los Angeles (AFP) – Hollywood fired the starting gun Thursday on the most crowded Oscars race for years, with American Hustle and 3D space drama Gravity topping nominations but a wide field of movies hoping for glory on March 2.
American Hustle and Gravity each racked up 10 nominations, and historical drama 12 Years a Slave was close behind with nine, in a year chock full of critically acclaimed movies, leaving few clear frontrunners ahead of the Academy Awards on March 2.
"I had already felt overwhelmingly blessed to have had the creative 'once-in-a-lifetime' opportunity that I did on Gravity," said Sandra Bullock, nominated for best actress.
"The life experience I garnered on this journey is something for which I will forever be grateful," added Bullock, who plays an astronaut stranded in space with George Clooney.
American Hustle already had momentum after winning three major prizes at last weekend's Golden Globes, Tinseltown's second most high profile awards show, while the harrowing 12 Years a Slave took best drama.
All four key American Hustle actors — Amy Adams, Christian Bale, Jennifer Lawrence and Bradley Cooper — won nods.
"To have these actors really put their hearts in it all together, to have them each get a nod is a big deal for us… We created a family together," said director David O. Russell, who himself was also nominated.
Hustle, Gravity and Slave were among nine movies nominated for the best picture Oscar, along with Captain Phillips, Dallas Buyers Club, Her, Nebraska, Philomena, and The Wolf of Wall Street.
Somali pirate drama Captain Phillips, AIDS activist film Dallas Buyers Club and black and white road movie Nebraska won six Oscar nods each, according to a list released by the Academy of Motion Picture Arts and Sciences.
Martin Scorsese's epic about financial greed, The Wolf of Wall Street, and futuristic love story Her each got five nominations.
But there were also snubs: two-time Oscar winner Tom Hanks failed to win a nomination for his roles in Captain Phillips or Saving Mr Banks, while awards season perennials Ethan and Joel Coen got only two nods for Inside Llewyn Davis — neither of them in the main categories.
Veteran actor Robert Redford did not make the best actor shortlist for his powerful solo performance in shipwreck movie All is Lost. Britain's Emma Thompson, who played Mary Poppins author PL Travers in Saving Mr Banks, also was shut out.
Redford took a jab at his film's studio, Lionsgate. "I think we suffered from little to no distribution," he said, adding "I don't know why, they didn't want to spend the money, they were afraid, they were just incapable, I don't know."
And there will be no Oscars gold for Lee Daniels' The Butler, about the civil rights era as seen through the eyes of a black White House servant. Star Forest Whitaker and talk show icon Oprah Winfrey, who played his wife, were both shut out.

For best actor, the nominees were Bale, Bruce Dern for Nebraska, Leonardo DiCaprio for The Wolf of Wall Street, Chiwetel Ejiofor for 12 Years a Slave and Matthew McConaughey for Dallas Buyers Club.
"The Wolf of Wall Street has been a passion project of mine, and I found the role to be one of the most challenging and rewarding of my career," DiCaprio said.
Up for the best actress Oscar are Adams, Cate Blanchett for Blue Jasmine, Sandra Bullock for Gravity, Judi Dench for Philomena and Meryl Streep for August: Osage County.
"I'm ecstatic," Blanchett, who took home a Globe on Sunday along with Adams, told AFP.
Nominated for best director were Russell, Alfonso Cuaron for Gravity, Alexander Payne for Nebraska, Steve McQueen for 12 Years a Slave, and Scorsese for The Wolf of Wall Street.
Oscar winner Lawrence, who won the best supporting actress Globe, is a favorite in the same category at the Academy Awards.
But she will have stiff competition from Sally Hawkins (Blue Jasmine), Lupita Nyong'o (12 Years a Slave), Julia Roberts (August: Osage County) and June Squibb (Nebraska).
For best supporting actor, the nominees are Cooper, Barkhad Abdi for Captain Phillips, Michael Fassbender for 12 Years a Slave, Jonah Hill for The Wolf of Wall Street and Jared Leto for Dallas Buyers Club.
The 42-year-old Leto, who had not made a movie for six years, won the Globe and has earned widespread praise for his searing performance in a transgender role.
Reactions poured in within minutes of the announcements.
Meryl Streep said: "I am so happy for our film that Julia and I have been nominated. We are both so proud of August: Osage County."
Clooney, Bullock's Gravity co-star, paid tribute to their director. "Alfonso Cuaron is one if the great geniuses in the game. He really is a genius. He hasn't made a bad film," he told AFP.
The five contenders for best animated picture are Disney's fairy tale musical Frozen, which won the Golden Globe. It is up against The Croods, Despicable Me 2, Ernest & Celestine and Japanese historical fantasy The Wind Rises.
The best foreign language film nominees include Italy's The Great Beauty, which won the Globe, The Broken Circle Breakdown from Belgium, Denmark's The Hunt, Cambodia's The Missing Picture and Palestine's Omar.
Photo: Robyn Beck via AFP