Ian Paisley, Key Figure In Northern Ireland Peace Process, Dies At 88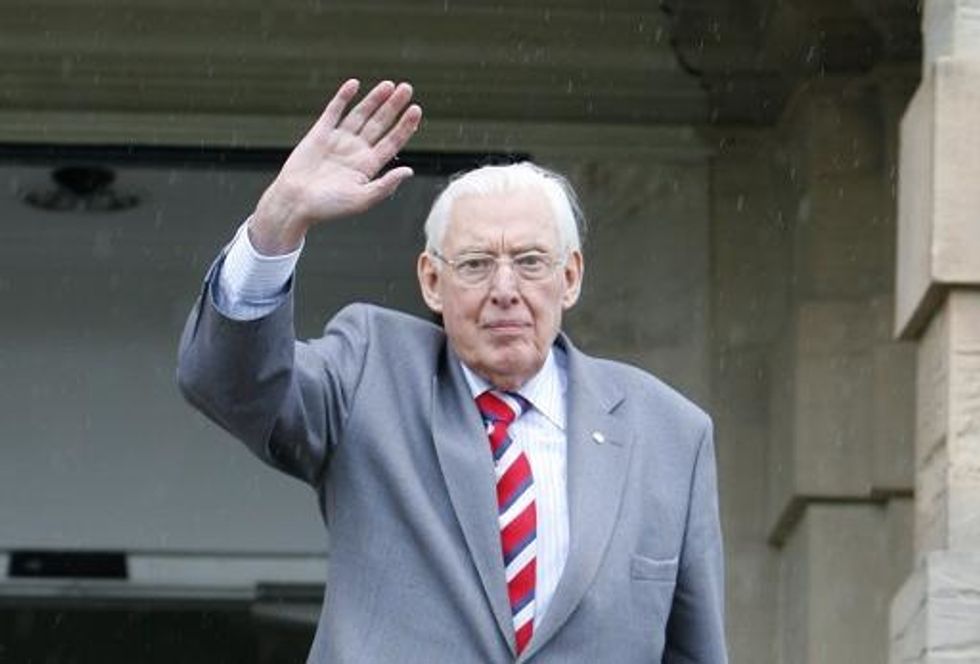 By Helen Livingstone, dpa
LONDON — Ian Paisley, the former leader of the mainly-Protestant Democratic Unionist Party (DUP) and a key figure in the Northern Irish peace process, has died at the age of 88, his wife said on Friday.
"My beloved husband, Ian, entered his eternal rest this morning," Eileen Paisley said in a statement. "Although ours is the grand hope of reunion, naturally as a family we are heartbroken.
"We loved him and he adored us, and our earthly lives are forever changed. According to Ian's wishes his funeral will be private and attended only by the immediate family, as will be his burial," she continued.
There would also be a public memorial service later in the year, she said.
Paisley made a reputation for himself as a firebrand fundamentalist Protestant preacher in British-run Northern Ireland, and spent decades railing against any form of unionist reconciliation with Northern Irish Catholics and republicans favoring a united Ireland.
That included rejecting the 1998 Good Friday Agreement which brought an imperfect peace to Northern Ireland after decades of violent conflict and more than 3,000 deaths.
However he turned peacemaker in 2006, when he made an abrupt U-turn to become first minister in a landmark power-sharing agreement with Sinn Fein, the Irish republican party.
To the amazement of many onlookers he developed a good relationship with his deputy first minister, Sinn Fein's Martin McGuinness, so much so that they were nicknamed the "Chuckle Brothers," after a British comedy duo.
McGuinness paid tribute to Paisley on Friday, saying: "Over a number of decades we were political opponents and held very different views on many, many issues but the one thing we were absolutely united on was the principle that our people were better able to govern themselves than any British government.
"I want to pay tribute to and comment on the work he did in the latter days of his political life in building agreement and leading unionism into a new accommodation with republicans and nationalists."
Northern Ireland First Minister Peter Robinson also expressed his sadness at Paisley's death, telling BBC radio, "He was a colossus in unionism and made such a massive contribution, particularly to the process in which we are presently involved."
Paisley stepped down as first minister and leader of the DUP in 2008, and from the Northern Ireland Assembly three years later. In 2010 he became a member of Britain's House of Lords as Baron Bannside.
Despite being largely out of the public eye, he could not resist courting controversy.
In a BBC interview broadcast in early 2014 he claimed he had believed the 1960s Catholic civil rights movement had been right all along, but said he could not have supported their demands because they were Irish nationalists.
And though he still refused to take responsibility for the violence which sometimes followed his own inflammatory speeches, he blamed Irish leaders for bringing on themselves the 1974 Dublin and Monaghan bombings in the Irish Republic, in which 33 people were killed by loyalist paramilitaries.
Asked by the interviewer if he had failed in any way during his life, he, for one of the last times, said "no."
"I have regrets that we're not yet out of the difficulties that we have been in, but I have also rejoicing in my heart that I kept the faith," he said.
AFP Photo/Peter Muhly
Interested in world news? Sign up for our daily email newsletter!