If Perry Wants To Help Texas, He Should Follow Brown's California Model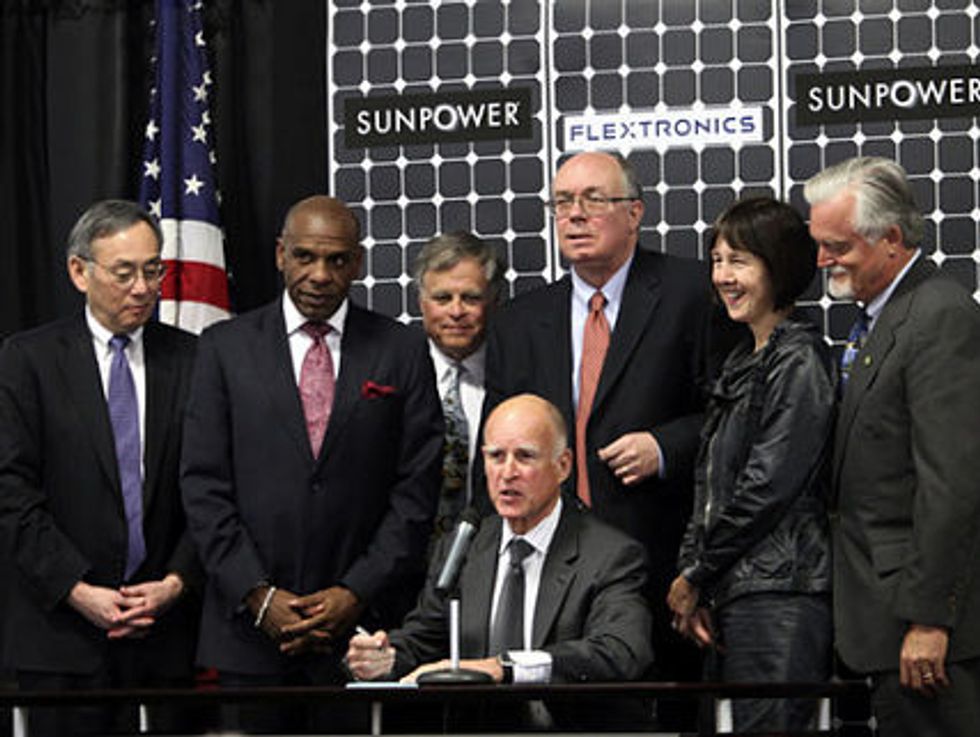 Remember Rick Perry and his inability to name the three federal government agencies he would eliminate if, God forbid, he won the White House? Yeah, that guy. Oh yeah, and he is still the governor of Texas, a red state with a growing Hispanic population that has Democrats dreaming blue.
Perry's latest late-night punchline is a $26,000 radio buy in California markets aimed at luring Golden State businesses to the Lone Star State. In the ad, Perry says "building a business is tough. But I hear building a business in California is next to impossible. This is Texas governor Rick Perry, and I have a message for California businesses: Come check out Texas."
California governor Jerry Brown fired back, calling Perry's ad "barely a fart." In a scathing editorial, the Sacramento Bee went even further, writing that "we think it's more than a fart. It's a cry for help. Perry can't create jobs, he can only steal them from other states. His campaign for the Republican presidential nomination was a joke. His beloved Dallas Cowboys haven't been in the Super Bowl since 1996."
Perhaps Perry should spend less time trying to poach businesses from California, and more time learning from how Brown and the majority Democratic state legislature finally balanced the budget after years of shortfalls. And listen closely, Governor Perry: California is poised to end its next fiscal year with an $851 million surplus, the first in more than a decade, Governor Jerry Brown said as he unveiled a budget that includes revenue from voter-approved tax increases. And how did Brown do it? By doing what President Obama has repeatedly called for on a national level: a mix of spending cuts and tax increases. A recovering economy has helped too.
Meanwhile, Texas is facing a $5 billion budget shortfall because the state intentionally underfunded Medicaid last year. Texas also slashed $5.4 billion from public schools. In 2011, Texas faced a similar $27 billion budget gap to California. But their approach, with only spending cuts and no new tax revenues, has resulted in the $5 billion budget deficit. Compare that to a $2.4 billion budget surplus this fiscal year in California, as the result of a mix of spending cuts and tax increases on the wealthy.
What was the election line about Republicans and math?
But Perry has bigger problems to worry about. The state that continues to elect politicians — including Perry — who deny manmade global warming is facing the second-worst drought on record, and state climatologist John Nielsen-Gammon predicts some parts of the state will experience the worst drought in history this year, saying, "high temperatures caused by climate change have exacerbated the drought. Increased evaporation because of climate change also increases the severity of wildfires."
Photo credit: Senate Majority Caucus via Flickr